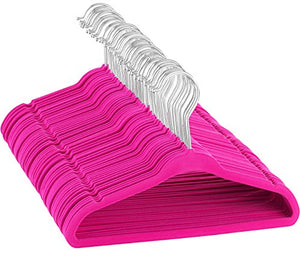 ZOBER Premium Kids Velvet Hangers (14" Inch - 50 Pack) Non Slip Junior Hangers, Ultra Slim Space Saving Childrens Hangers - 360° Swivel Hook, Strong & Durable Preteen Hangers (Medium)
Regular price
$20.99
$0.00
Set of 50 adorable, pink children's velvet clothes hangers perfect for kids jackets, pants, shirts, dresses, and more. The velvet clothes hangers are also perfectly sized for hanging women's adult delicates such as bras, nightgowns, and camisoles.
Velvet flocking on the children's closet clothes hangers gently grips garments preventing them from slipping off the hanger. A 360 degree swivel stainless steel hook on the kids hangers with chrome finish fits standard closet rods.
The toddler clothes hangers feature contoured shoulders that keep clothes shape while cut notches keep straps in place. A horizontal bar covered in the velvet grips pants and prevents unsightly creases.
Ultra thin kids size hangers maximize closet space by adding up to 50% more room; a welcome feature in an adolescent's often crowded closet.
Lightweight yet sturdy clothes hangers for children can hold clothing up to 5 pounds in weight ideal for children's coats and outerwear. Dimensions: L 14" x W .2" x H 7 ".
ZOBER Amazon ASIN B06Y2LH6LD Home & Kitchen Storage & Organization, Clothing & Closet Storage, Clothes Hangers, Children's Clothes Hangers