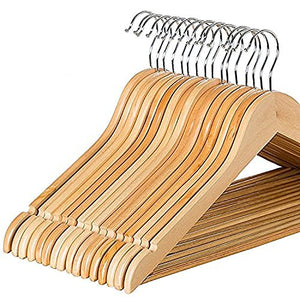 Zober Solid Wood Suit Hangers - 30 Pack - with Non Slip Bar and Precisely Cut Notches - 360 Degree Swivel Chrome Hook - Natural Finish Super Sturdy and Durable Wooden Hangers
Regular price
$64.99
$0.00
Set of 30 natural wood suit hangers featuring anti-rust chrome 360 degree swivel hook.
Lightweight, yet incredibly strong natural hardwood clothes hangers efficiently hang winter coats, suits, and jackets with ease.
These space saving hangers flat body accommodates clothing of all shapes and styles ensuring these to be the best hangers for maximizing closet storage space.
Convenient, perfectly-cut notches along the hanger shoulder allow you to effortlessly hang shirts, blouses, and dresses.
The wooden bar with grooved plastic cover makes these non-slip hangers the perfect solution to hanging pants without worry of falling off the pant hangers or creasing.
ZOBER Amazon ASIN B06XRG2PXB Home & Kitchen Storage & Organization, Clothing & Closet Storage, Clothes Hangers, Coat Hangers