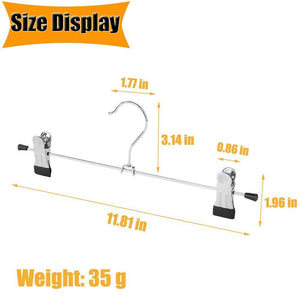 Clothes Hangers Stainless Steel with Non Slip Clips Hangers for Pants Metal Skirt Hangers Heavy Duty Slack Hangers Adjustable Clips Resistant Plated for Skirt Clothes Jeans Shorts Trousers (20 Pack)
Regular price
$18.95
Sale price
$26.72
Brand: Asushine
Color: 20 Pack
Features:
PERFECT STORAGE DESIGN: These clothes hangers are perfectly designed to securely hold all your garments in place! Keep your clothes clean and neat, tidy, and wrinkle-free with these useful clips grip pant hangers. Ideal for hanging trousers, skirts, and other items of clothing, our Silicone clasp and stainless steel hangers are sturdy enough to withstand daily use and look so smart in your closet.
SIMPLE AND GRACEFUL DESIGN: The Hook Fits most standard closet rods. Extra accessory stackable hooks on hanger is great for belts or ties. Can also be used as a stack feature for hanging. Strong ability for heavy duty, sturdy stainless steel strong construction.
HEAVY-DUTY HANGER CLIPS: Featuring a robust pinch grip clip at each end, these clip pant hangers are strong enough for both domestic and commercial usage. Our multipurpose swivel hook pants hangers can hold a variety of garments without snagging the material or causing deep indentations on more delicate fabrics. Hooks Fits most standard closet rods: Simple and graceful design.
ADJUSTABLE ABD NON-SLIP CLIP: 2 adjustable extra strong non-slip and wrinkle-free clip with soft rubber surface grips fit a variety of sizes and fabric of garments.
GUARANTEED: We offer 12 months Warranty. (30 days change or return money, 11 months change or repair). No Risk Oder. If you like them, click "add to cart" today and keep your clothing stored safely!
Publisher: Asushine
Details: Environmental Friendly Material: Using the Original 95% stainless steel Material and 5% Silicone

SAFE ORGANIZED
Separate your pants and skirts from your blouses and t-shirts with these snap-resistant stainless steel clip hangers. Organize your cupboard or closet so you can see each item of clothing at a glance to help you get ready more quickly in the morning!
Our cloth hangers with clips will protect your clothes from creases and damage and stop them falling to the floor of your closet and becoming dusty. The clips with Silicone offer excellent grip to help you to keeping all your clothes in place and leave no trace of your clothing.

HEAVY DUTY HANGER
2 adjustable clips for all kind of pants, skirts, slack. Hook radians: Appropriate hook radians design for all standard clothes rods
Rubber cap: A rubber cap is used at the end to prevent scratches. The connection adopts superb welding technology
UPC: 659676136409
EAN: 659676136409
Package Dimensions: 13.9 x 8.8 x 2.7 inches