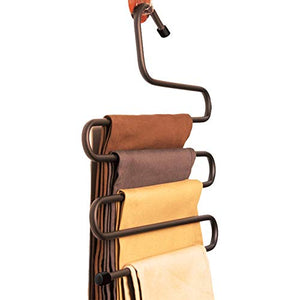 CmfwaMedsr S-Type Metal Trousers Hanger,5 Layers Multipurpose Magic Space Saver Closet Storage for Towel Scarf Ties Belts Jeans-A 2 Pack
Regular price
$37.99
$0.00
Pants Hangers Meterial Is Metal And Not Easy To Be Out Of shape.
Each Hangers Can Be Hanged For 5 Jeans/Trousers At Same time.
SIZE:Height 39cm,Width 39cm,The middle distance:4.5cm.
Perfect for hang your jeans,Pants,Trousers,Ties,Scarf,Etc.That make it compact and organized.Keep Pants neat and organized on the poles and tidy.
Smooth surface with transparency rubber coating at the end of the hanger to avoid the clothes fall down from the hanger.
No More Messy.keep Your Closet Clean And Orderly With Multipurpose Space Saving Pants Hangers.prime Quality Meta Steel Made Ensure Stury And Lasting Use.super Space Saving.Suitable For Most Closet.You Definetly Can't Miss This Closet lifesaver.

CmfwaMedsr Amazon ASIN B07K7S5QS4 Home & Kitchen Storage & Organization , Clothing & Closet Storage , Clothes Hangers , Standard Hangers