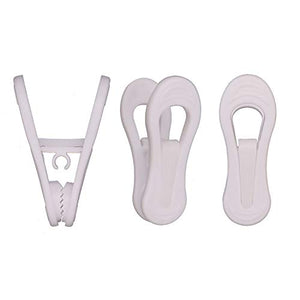 Corodo Hanger Clips 60 Pack, Multi-Purpose Hanger Clips for Hangers, White Finger Clips for Plastic Clothes Hangers, Pants Hangers Clips
Regular price
$19.99
$0.00
HIGH-QUALITY MATERIAL - The Corodo plastic hangers clips are made from tough white ABS plastic, these grip clips for hangers have a super-strong clamping force to keep your clothes securely fastened to the hanger, to prevent being blown off your clothes, holds clothes in place without falling or sagging.
GREAT STORAGE SOLUTION - Folding skirts and pants over regular bar hangers can cause the fabric to wrinkle and leave annoying creases. Attach these plastic finger clips to your existing hangers and keep your garments hanging freely, preventing them from becoming crumpled. Use these clothes hanger fixtures to peg your laundry outside on hangers - the firm gripping action will prevent your clothes from blowing away in the wind, and saving your iron clothes time!
MULTIPLE USES - The hangers clips package is 60pcs. These hanger clip are perfect for hanging up pants, skirts, shorts. The pants hanger clips can be used with the round plastic children's hangers and the adult ones as well. You could also uses around the house, kitchen and office, to clip small bags, papers, food and so on. These plastic clips would be a good helper tools in your household.
SAVING SPACE - The white hangers clip suitable for plastic hangers, the pant hanger clips for trouser hangers will keep those awkward to store items clean and tidy. You no need separate hangers for skirts and pants anymore, and these clips can be positioned wherever you want along the lower bar of the hanger, you can put them closer together for smaller clothes like kids' clothes, or farther apart as needed. Allows you to maximize space in your closet and keeping your clothes secure being stored
MEASURING - The huggable hanger clips measuring 2.75"x0.98"x1.57", have smooth edges with no metal parts that could snag, tear, or damage your clothes. The secure no-slip teeth grip onto garments without leaving deep indentations on even the most delicate of fabrics.
You can use with these hanger clips to hang pants and skirts on hangers, you can also using them for lots of things, like clipping bags of food that have been opened.

If you want to organize your kid's closet and get rid of the hangers that come with her or his clothes. You also didn't have enough hangers for their shorts and pants and also didn't have room to buy this type of hangers... These baby hanger clips would be meet for you. The white plastic hanger clips strongly attach to the hangers that increasing more storage space, and these plastic finger clips are durable enough to withstand daily usage.

The hangers clip fit perfectly well on the round plastic hangers, the smooth plastic means that these pegs for clothes can be moved along on your hangers to accommodate various clothing sizes and styles.

Corodo Amazon ASIN B07HFNMLJY Home & Kitchen Storage & Organization , Clothing & Closet Storage , Clothes Hangers , Standard Hangers