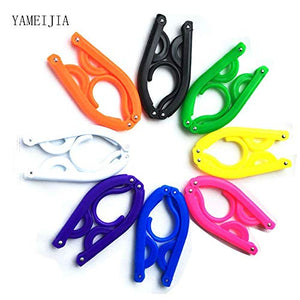 Folding Hanger,Portable Folding Clothes Hanger, Lightweight,Extra-Large Load-Bearing, Foldable,Non-Slip, Travel,Home,Gift Pack Of 8 (Random Color)
Regular price
$6.90
$0.00
* REALLY SMART AND PRACTICAL---Child adult hanger It's for baby's clothes when it's half unfolded, while it's for adult's clothes when it's fully unfolded.Clothes can be held firmly by the design of anti-skid grooves.
*CONVENIENT AND LIGHWEIGHT:Foldable and Space Saving Hangers Hangers Clothes Drying Rack,These pack is made out of Premium Quality ABS Plastic and are firmly bonded and affixed with tiny Stainless Steel Screws for efficiency. Each hanger weighs 43 grams and When folded: 13*7.5cm, unfolds: 46*11cm,thus very convenient to carry around either for travelling, hiking, camping or even for home-use.
*SKID-PROOF DESIGN: Portable Folding Clothes Hangers Portable Outdoor Travel Supplies, Allows you to keep your clothes in place without falling or sagging and protects delicate garments. This is ergonomically designed ends to preserve garment shape. This pack will help you organize your dresses, pants, coats, suits, and the like making your closet neat-looking like it should.
*COMPACT FOR EASY STORAGE:Portable Folding Clothes Hanger with Anti-slip Groove Non-slip folding hanger,These hangers can be folded thus it can fit in small pockets of travel bags and luggage. With a slim, compact profile that helps to conserve precious space in your closet. Space-saving and no hassle at all.
*100% Money Back Guarantee---Drying Rack with Anti-slip Groove for Travel When you order our Travel Clothes Hanger today, you're protected by a 30 day, no-questions asked money back guarantee. TOTALLY RISK FREE, why not give it a try
* REALLY SMART AND PRACTICAL---Portable Folding Clothes Rack It's for baby's clothes when it's half unfolded, while it's for adult's clothes when it's fully unfolded.Clothes can be held firmly by the design of anti-skid grooves.


*CONVENIENT AND LIGHWEIGHT: Hangers Clothes Drying RackThese pack is made out of Premium Quality ABS Plastic and are firmly bonded and affixed with tiny Stainless Steel Screws for efficiency. Each hanger weighs 43 grams and When folded: 13*7.5cm, unfolds: 46*11cmthus very convenient to carry around either for travelling, hiking, camping or even for home-use.


*SKID-PROOF DESIGN:Portable Outdoor Travel Supplies Allows you to keep your clothes in place without falling or sagging and protects delicate garments. This is ergonomically designed ends to preserve garment shape. This pack will help you organize your dresses, pants, coats, suits, and the like making your closet neat-looking like it should.


*COMPACT FOR EASY STORAGE: Non-slip folding hangerThese hangers can be folded thus it can fit in small pockets of travel bags and luggage. With a slim, compact profile that helps to conserve precious space in your closet. Space-saving and no hassle at all.


*100% Money Back Guarantee--- When you order our Travel Clothes Hanger today, you're protected by a 30 day, no-questions asked money back guarantee. TOTALLY RISK FREE, why not give it a try
YAMEIJIA Amazon ASIN B07D4812NQ Home & Kitchen Storage & Organization , Clothing & Closet Storage , Clothes Hangers , Coat Hangers