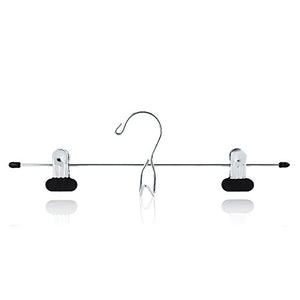 HANGERWORLD 12 Chrome 13.4inch Metal Pants Skirt Adjustable Black Non Slip Clip Coat Clothes Garment Hangers Accessory Hook
Regular price
$32.45
$0.00
Pack of 12 premium metal chrome clip hangers with central hook for belts, ties, accessories. Perfect for hanging trousers & skirts by the waistband.13.4 inches. Packaged with card collar.
Easy to use with 2 strong hinged crocodile clips with anti-slip "grippy" coating. Position of clips can be altered along the length of the hanger - fully versatile.
Useful integral central hook for belt, tie, scarf etc. designer hook with smooth end. Top quality and durable.
Premium chrome hanger in tough, smooth, shiny chrome. Space saving.
For a smart, tidy & organised closet!! Retail & clothing sales. Also listed in discounted packs of 12.
Space saving clip hangers. Strong grip. Additional tie hook integrated.
HANGERWORLD Amazon ASIN B002OXGX4S Home & Kitchen Storage & Organization, Clothing & Closet Storage, Clothes Hangers, Pants Hangers