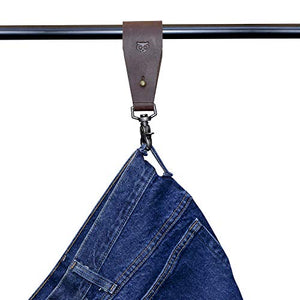 Hide & Drink, Thick Leather Pants Hanger for Clothing Stores or Household/Denim Hanger/Cloth Organizer (2-Pack) Handmade Includes 101 Year Warranty :: Bourbon Brown
Regular price
$25.99
$0.00
HIDE & DRINK'S 101 YEAR WARRANTY: Each one of Hide & Drink's rustic, durable leather products is made with care and craftsmanship, with every item handmade to the highest standard. Our confidence in our products knows no bounds, so we include each product that you purchase with a 101 Year Warranty. We aim for nothing but 100% satisfaction when it comes to our products, so if you're not satisfied, just get in touch with us and we'll help you as quickly as possible.
HANDMADE FROM SOFT & ATTRACTIVE FULL GRAIN LEATHER: All of Hide & Drink's products are hand cut and handcrafted using the highest quality of leather that you will find, namely Full Grain Leather. The quality of this leather ensures a long-lasting life and durability. After time and use, the leather will attain a beautiful and unique patina that will show age and grace.
FINELY HAND CRAFTED: We are proud that each and every one of our products is handmade by expert local artisans of Pastores, Guatemala, a town wholly dedicated to the crafting of leather goods. Each item is hand cut with care and expertise, finished with the best handcrafting methods than not only make our products look good, but also make for a durable finish that will give you a lifetime of use.
MAKES A GREAT GIFT: Hide & Drink swears by its leather, and knows that this fine, rustic Full Grain Leather product will make an excellent gift for friends, family and loved ones. Built to last a lifetime, this item will make a thoughtful, long-lasting gift for anyone and everyone.
Hide & Drink's exquisite products are handmade by expert artisans using beautiful Full Grain Leather, giving you a product that will last you a lifetime.

All Hide & Drink leather products are handmade from rustic, durable, Full Grain Leather. Our Full Grain Leather comes from the top layer of the hide, and has all the natural full grain characteristics of the hide...hence the name. It's the best leather you can buy and the only leather that we use.

The flesh side of the soft leather is first stained with natural drab tone and finished with our proprietary beeswax conditioner. Our unique treatment helps the leather to retain its shape without the aid of synthetic stabilizers, offering a natural and durable look.

Product Features

Durable and long lasting thick, Full Grain Leather


Hand cut and finely hand stitched


Makes an excellent gift for friends and family


Includes a 101 Year Warranty, so if this product breaks within your lifetime, then we'll send you a replacement for free
Hide & Drink is a vertically integrated community-driven brand dedicated to support the local community in La Antigua, Guatemala. Our product is designed, sourced, and manufactured by local artisans for the benefit of local residents. Our wages are fair and we emphasize for-profit development through entrepreneurial education. In addition to creating jobs through the manufacturing and sale of our products, we contribute 5% of our Gross Profits to outstanding non-profit organizations in Guatemala.
Hide & Drink Amazon ASIN B07L354FY2 Home & Kitchen Storage & Organization , Clothing & Closet Storage , Clothes Hangers , Pants Hangers