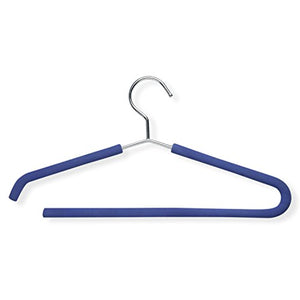 Honey-Can-Do HNGT01333 4-Pack Foam Coated Suit Hanger, Chrome/Blue, 4, Black
Regular price
$0.97
$0.00
Truly a full-featured hanger, this versatile, foam-coated hanger is perfect for all your outfits in a convenient 4-piece pack
Thick foam coating is gentle on delicate garments and provides a non-slip surface that holds fabrics beautifully in place
The smart, open-access bottom bar lets you hang pants or skirts quickly and easily
Size: 15-1/2W x 8-1/2H Inches, Color: Chrome / Blue
Home organization made easy!
Measures: 15.5-Inches L x .45-Inches W x 8.5-Inches H /39.4 cm L x 1.1 cm W x 21.6 cm H
Honey-Can-Do HNGT01333 4-pack foam coated suit hanger, chrome/blue. Truly a full-featured hanger, this versatile, Foam-Coated hanger is perfect for all your outfits in a convenient 4-piece pack. Thick foam coating is gentle on delicate garments and provides a non-slip surface that holds fabrics beautifully in place. The smart, open-access bottom bar lets you hang pants or skirts quickly and easily.
Honey-Can-Do Amazon ASIN B0040XN9BK Home & Kitchen Storage & Organization, Clothing & Closet Storage, Clothes Hangers, Standard Hangers