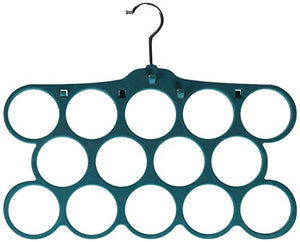 Kenton Grey Adults Size, Premium Heavyweight Velvet Scarf/Accessory Hangers – Ultra-Thin, Space Saving, No-Slip, Strong & Durable - Set of 2, 14 Hole, Teal
Regular price
$15.31
$0.00
Velvet
Imported
TREAT YOURSELF WITH LUXURY: Set of 2 luxurious, Adults velvet clothes Accessory hangers perfect for Adult's scarves and more
NO MORE SLIPPAGE: Velvet flocking on the adult's closet clothes hangers gently grips garments preventing them from slipping off the hanger. A swivel stainless steel hook on the adult hangers with chrome finish fits standard closet rods.
SAVE SPACE: Ultra-thin Adult size hangers maximize closet space by adding up to 50% more room; a welcome feature in an adult's often crowded closet
DIMENSIONS: Lightweight yet sturdy clothes hangers for Adults can hold clothing up to 10 pounds in weight ideal for adults' coats and outerwear.
The smooth velvet layer does not only add a neat organized look to your closet but also help you keep your clothes in place. Our Velvet hangers minimize your hassle, keeping your Adults' accessories from falling or sagging. The non-slip velvet coupled with built in grooves allow you to secure dress/gown straps, keeping the garment secure and off the floor. The soft velvet instead of plastic or metal leaves no crease on the pants and blouse or dress when you fold them over giving you crease free ready to wear closet options. Note that hanging wet clothes is highly discouraged as it may cause the velvet coating to depreciate. Get your clothes organized with our pack of 2 ultra-thin lightweight velvet Adult's hangers and add a touch of luxury to your closet at an extremely affordable price. Unlike other large space-consuming plastic hangers, these elegant Adults' hangers beautifully add class to your wardrobe, making it oddly pleasing to the eyes. Apart from the look, the durable sturdy structure makes them strong enough to hold 5 pounds. Moreover, the extra sturdy construction reinforces durability making them last for longer time. The no-shed velvety coating will keep up to your expectations and will not come off on clothes or closet. The strong metal hanging hook is given a polished chrome finish to complement almost any closet decor. With a complete pack of 2 you will not run short of hangers anytime soon, giving your closet a consistent unique look. Last but not the least, this set works great as a unique present idea that anyone with Adults would welcome and cherish for long. Work around your closet efficiently, maximizing space and adding a class with these Adults Velvety Hanger Set which helps you organize your wardrobe in the most space efficient manner. The slim and sleek design offers you abundant space option while keeping your clothes secured in place.
Kenton Grey Amazon ASIN B016V3LH9M Home & Kitchen Storage & Organization, Clothing & Closet Storage, Clothes Hangers, Standard Hangers