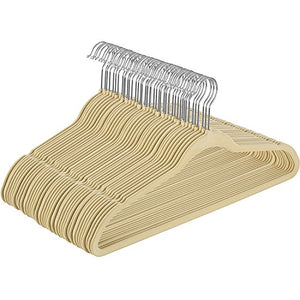 Klager's Ivory Velvet Suit Hangers - Pack of 50 - Featuring Non-Slip, Ultra Thin Hangers with 360 Degree Swivel Hook & Space Saving Design - Premium & Durable Quality!
Regular price
$28.22
$0.00
TIRED OF CLOTHS FALLING OFF THE HANGERS NO MORE! – The velvet suit hangers for pants feature a contoured and notched non-slip shoulders surface. The perfect way to hang up your clothes and preserve the shape and fabric. The notching holds even the thinnest dress straps securely in place so there is no creasing or slipping.
SUPER STURDY, NO MORE SNAPPED OR CRACKED HANGERS – These heavy-duty clothes hangers have an extremely sturdy and durable design. They can hold up to 10 pounds worth of clothing, perfect for suits, shirts, blouses, pants, dresses & of course heavy winter coats.
360 ROTATING HOOK WITH SPACE SAVING DESIGN – The ultimate first world problem is not having enough space in your closet. The ultra slim hanger profile will maximize space in your closet by as much as 50 percent! PLUS, the 360-degree swivel hook makes hanging and taking clothes out your closet a breeze.
COLORFAST FOR HANGING UP WET CLOTHING – If you've ever hung up wet clothes on a black velvet hanger, you may have been frustrated by marks, color or dust on your clean clothing. These white hangers are made with high quality colorfast ivory velvet that will not leak any dye or color onto your clothes.
TRY THEM TODAY AND BUY WITH CONFIDENCE - with our simple, hassle-free, no-questions-asked 100% money back guarantee! If for any reason you aren't happy or not experiencing the results you expected, we will immediately refund your full purchase price. Durable construction and fine workmanship details are confidently backed by the manufacturer's risk-free LIFETIME REPLACEMENT WARRANTY that covers any defect in materials or craftsmanship in the hanger.
Fed up of shoulder bumps in your jackets or shirts… Frustrated at flimsy plastic hangers that snap as soon as you hang up your jeans… Have run out of closet space…Klager's is offering these ultra-thin, non-slip, 360-degree swivel hook hangers for clothes, suits, coats,Toss those cheapo plastic and wire hangers away and make sure to give our velvet space-saving hangers a try.
Klager's Amazon ASIN B074T2Y968 Home & Kitchen Storage & Organization, Clothing & Closet Storage, Clothes Hangers, Standard Hangers