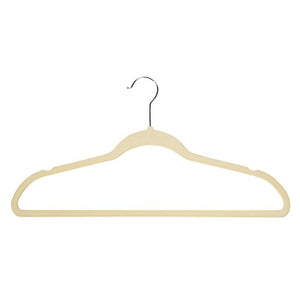 Richards Homewares SOFTGRIP Suit set/35 Set of 35 Flocked Soft Grip Anti Slip, Space Saving Hangers, Ivory
Regular price
$24.45
$0.00
Pack of 35 premium quality slim suit hangers with a smooth soft grip velvety finish. Ultra thin and sleek space saving design allows you to maximize space in your closet while keeping your clothes secure.
The soft grip velvety feel creates a non-slip surface that holds your clothes securely in place without slipping or sagging. Perfect for suits, jackets, pants, shirts, blouses, and more.
Superior, solid and sturdy soft grip hanger. With precisely cut notches on each end, which is designed to hold strapped garments such as dresses and tank tops, and prevent them from slipping.
The soft grip hanger prevents your garments from unsightly hanger bumps and helps maintain the crisp look and distinct shape of your shirts and dresses. Overall dimensions 17.7" x 9.06".
Provides organization with an elegant touch to your wardrobe decor. Great for conveniently coordinating shirts and dresses. For a tidy, organized and great looking closet
Richards Homewares - Enjoy 35 Heavyweight slim design hangers. Ivory Color
Richards Homewares Amazon ASIN B01N7KVSMH Home & Kitchen Storage & Organization, Clothing & Closet Storage, Clothes Hangers, Suit Hangers