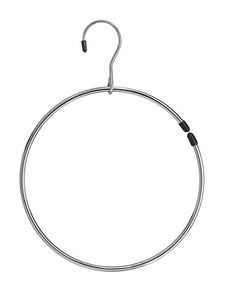 Whitmor Ebony Chrome Belt Hanger
Regular price
$8.03
$0.00
This hanger is made of a durable chromed steel with snag free vinyl coated steel pants bar
Belt rack organizes and hangs a large number of your favorite belts and scarves.
Belt Ring Hanger has two vinyl rubber coated tips that separate and allow for easy organizing, adding and removing of belts.
Ring spins freely on the hanging hook so you can quickly add or detach a single belt at a time
Great for hanging belts, scarf, purses, tank tops and accessories
Dimensions: 1.88" x 7.88" x 11.0"
Service & Guarantee: Whitmor stands by our products. If you have any problems, contact us for help
More Storage Options: To view more of our storage products visit our brand page at amazon.com/whitmor
Organize and conveniently store your belts on Whitmor's Belt Ring Hanger. This space-saving belt rack features a large loop with rubber coated tips that allow for simple organizing and removal of belts and spins freely on the hanging hook so you can quickly add or detach a single belt at a time. Loop has two vinyl rubber coated tips that separate and allow for easy organizing adding and removing of belts. Entire belt ring spins freely on the hanging hook so you can quickly add or detach a single belt at a time. This item is a part of Whitmor's Ebony Chrome Hanger Collection featuring a simple yet unique design that is substantial enough to keep your garments in place while protecting them from unwanted creases or snags. The durable chromed metal construction includes non-slip, snag-free black vinyl coated bars, clips and hook end protectors. The vinyl coated chrome hanging hook fits most standard closet rods. Made from a high quality material, the hanger is well-built and long lasting.  Whitmor is a 4th generation family-owned and operated business. Since 1946, Whitmor has been dedicated to bringing organization home by creating products that simplify everyday life. Ensuring that those products are built with integrity, value, and innovation is our commitment to you. And our promise is that we will always be here for you should you ever need us as we stand behind our product 100%.   Whitmor customer service is available in English and Spanish Monday through Friday from 8am - 4:30pm CST.  Call us and we will gladly assist you in your language.  Whitmor customer service Department, 1-888-944-8667
Whitmor Amazon ASIN B000IF4T72 Home & Kitchen Storage & Organization, Clothing & Closet Storage, Accessory Organizers, Belt Racks