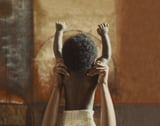 In honor of Juneteenth, the holiday on June 19 that celebrates the last remaining enslaved people being freed in the US, Artifact Uprising is partnering with See in Black - a coalition of Black photographers who serve as storytellers of their own narratives - to commemorate the historic day, also known as Freedom Day.
"We are artists and archivists. We do not merely make images of Black figures, we document history that is often unrecorded with intentionality, respect, nuance, and care," said See in Black founders Joshua Kissi and Micaiah Carter in a press release. "We serve as a platform for Black people to stand proudly in their permanence."
In the two-week sale on See in Black, individuals will be able to purchase more than 70 empowering prints from Black photographers. Each print will retail for $100, and all of the proceeds will be donated to organizations that are dedicated to Black advancement: Know Your Rights Camp, the Youth Empowerment Project, the National Black Justice Coalition, Black Futures Lab, and The Bail Project. Ahead, see a sneak peek at seven of the photographs that will be available for purchase beginning June 19.