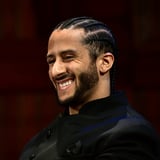 Image Source: Getty / Paul Marotta
Colin Kaepernick is contributing to the children's book landscape with a story touching on race, identity, and adoption. The activist and athlete recently announced he would be releasing I Color Myself Different as part of a multibook publishing deal between Scholastic and his own Kaepernick Publishing.
Illustrated by Eric Wilkerson, the picture book is inspired by a distinct childhood memory for Colin: drawing his family in kindergarten and having to pick a different-color crayon for himself after coloring in his parents and siblings. (Colin was adopted by Rick and Teresa Kaepernick, who are white, when he was 5 weeks old. His parents previously had two children, Kyle and Devon.) Though the moment may have illuminated his differences, it also set Colin on a path of embracing his identity and what makes him unique.
"This story is deeply personal to me, and inspired by real events in my life. I hope that it honors the courage and bravery of young people everywhere by encouraging them to live with authenticity and purpose," Kaepernick said in a statement. "I'm excited for Kaepernick Publishing to be collaborating with Scholastic on books with Black and Brown voices at the forefront. I hope that our books will inspire readers to walk through the world with confidence, strength, and truth in all they do."
I Color Myself Different will be available in print and as an ebook on April 5, 2022. Colin will release additional children's books with Scholastic - though a number has not yet been disclosed - and he is also working on a forthcoming memoir.
Image Source: Scholastic