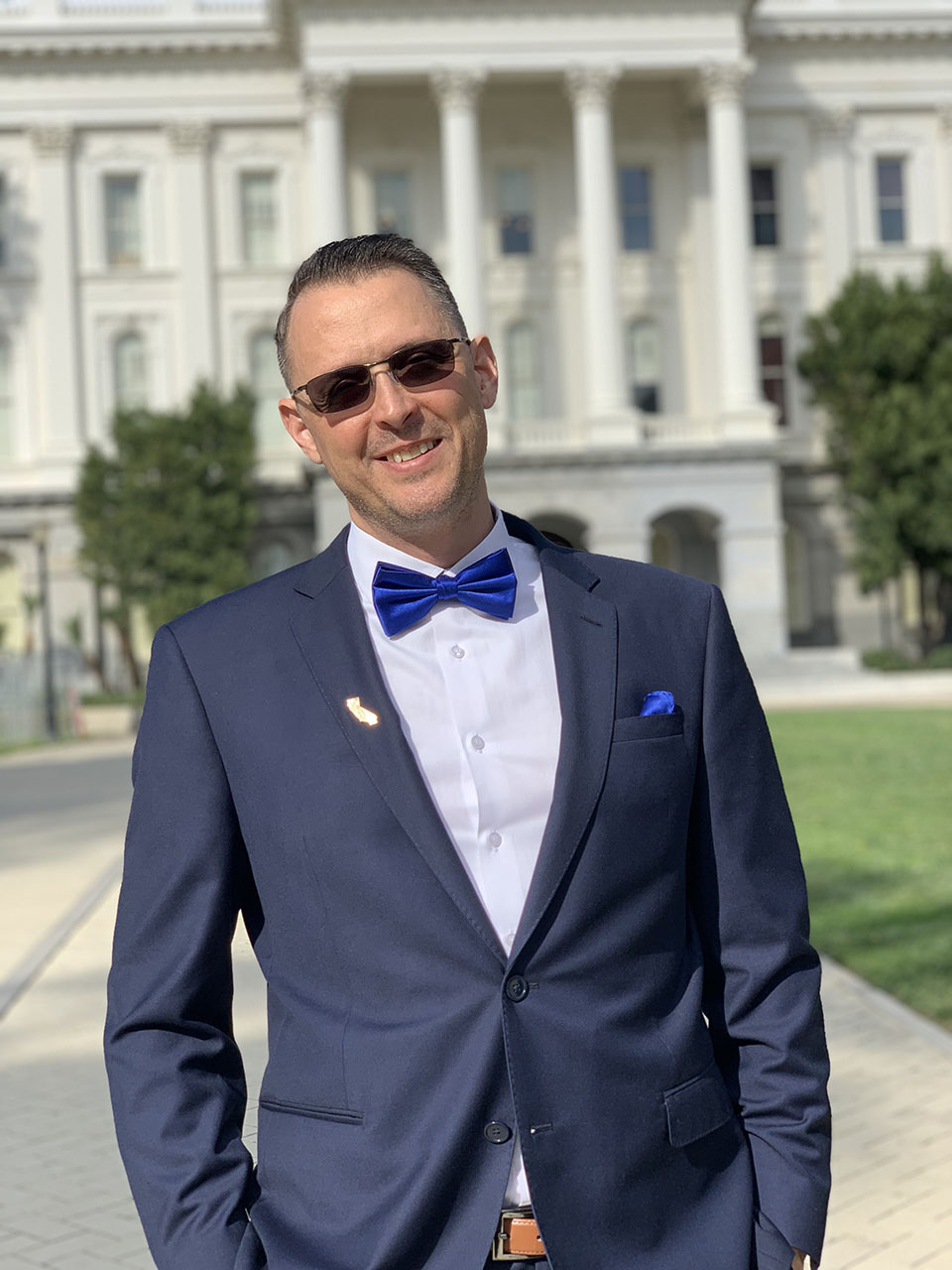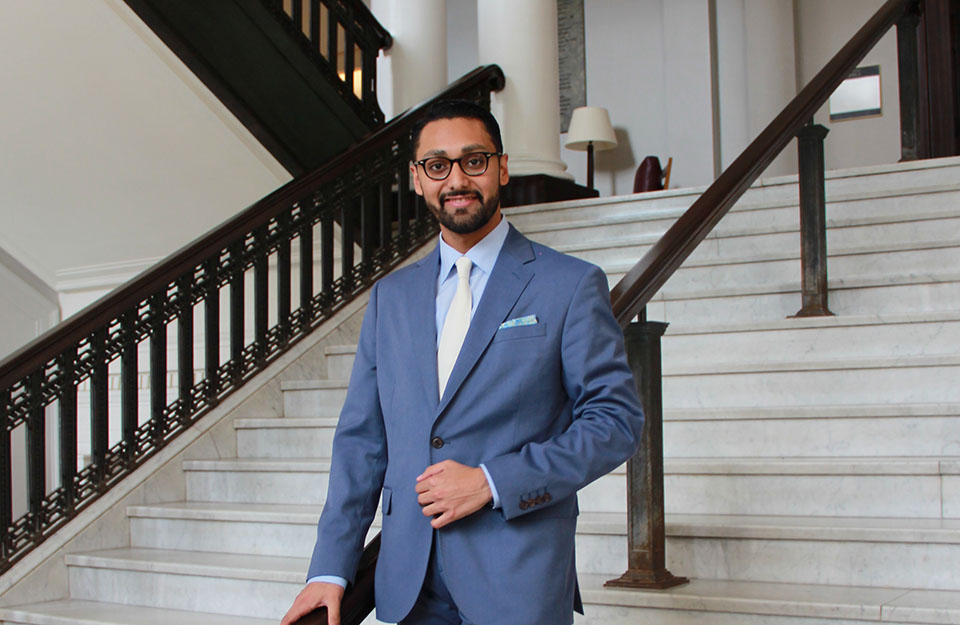 Omar Ullah, the 2020 Wolfson Scholar – the highest honor awarded to a graduating CSUN senior – earned a bachelor's degree in environmental and occupational health, with a concentration in pre-medical studies, social justice and public health. Photo courtesy of Omar Ullah.
Of the approximately 11,000 Matadors eligible to graduate from California State University, Northridge in May, six individuals were singled out for special recognition as outstanding graduating students. And if all goes well and it's safe to do so, CSUN will fete these honorees in person at the university's Commencement ceremonies at year's end.
Among those recognized in May was Omar Ullah, this year's Wolfson Scholar, the highest honor awarded to a graduating senior. It is presented each year in memory of CSUN's first vice president, Leo Wolfson. Not only must the student have an exceptional academic record, but he or she must also have made significant contributions to CSUN or the community through co-curricular and extracurricular activities.
There's a mantra that Ullah recites to himself at times of pressure or self-doubt: "Learn for the sake of others."
"I truly feel that my privilege of pursuing higher education charges me with the responsibility of fighting for others who were never given the chance to receive a college education," he said. "So many people around the world — especially in the developing countries where my parents were born and raised, and even here in the developed world — dream of pursuing a basic education, but don't have that opportunity.
"Education is transformative empowerment," said Ullah, the first in his mother's side of the family to go to college, "because it gives somebody the autonomy, intellectual currency and a powerful platform from which to advocate for others."
Ullah, 24, of Palmdale, is determined to use that power to transform his community for the better.
"I want to become a primary care physician who serves traditionally underserved members of my community," said Ullah, who earned a bachelor's degree in environmental and occupational health, with a concentration in pre-medical studies, social justice and public health. "My goal is to build our community's first-ever entirely community-led and community-designed primary care clinic. I want to partner with my community members and ask them what they envision in the clinic of their dreams, then build it together."
During his time at CSUN, Ullah — who had a cumulative grade point average (GPA) during his time at CSUN of 3.94 — worked with the Monday Night Mission to provide food to the homeless on Los Angeles' Skid Row, spent seven years as a volunteer at Antelope Valley Hospital and served as a community ambassador for the Los Angeles County Department of Public Health's Center for Health Equity Planning Commission, among many other roles. As part of CSUN's BUILD PODER research training program, he served as a research assistant on two projects — one examining the effects of ethnic-racial discrimination on mental and physical health, and the other examining the social and cultural factors influencing the academic, psychological and physical well-being of ethnic minority and immigrant youth.
Currently, he is working with local food-justice advocates to establish a network of micro food pantries at mosques throughout the San Fernando Valley.
Ullah's passion for tackling health disparities and the lack of access to healthcare among low-income communities of color is fueled by the experiences of his own working-class family. His immigrant parents — his mother is from Jalisco, Mexico, and his father is from Bihar, India — lost nearly everything, including their house and most of their belongings, during the financial collapse of 2008. Shortly thereafter, his parents were both diagnosed with debilitating chronic diseases.
"Due to our insufficient healthcare coverage, I [watched] my parents suffer as their health declined," he said. "Because my parents couldn't afford the cost of medical treatment, they avoided seeing the doctor — to keep a roof over our heads and food on the table. I felt a deep sense of helplessness and frustration at our broken healthcare system, which colors the experiences of countless low-income Americans in accessing healthcare every day. I knew I had to go to college to become a physician so that I could come back to my community, open a clinic and provide high-quality healthcare, regardless of ability to pay.
"Systematic poverty, injustice and racism result in poorer health outcomes for underserved communities, and perpetuate [many] of the barriers these communities face in being able to access healthcare services," he said. "As a family physician, I aim to tackle those needs head-on, and eventually work on evidence-based public policy that uplifts and empowers underserved communities."
He may even run for public office, Ullah said, if that's what it takes to make a change.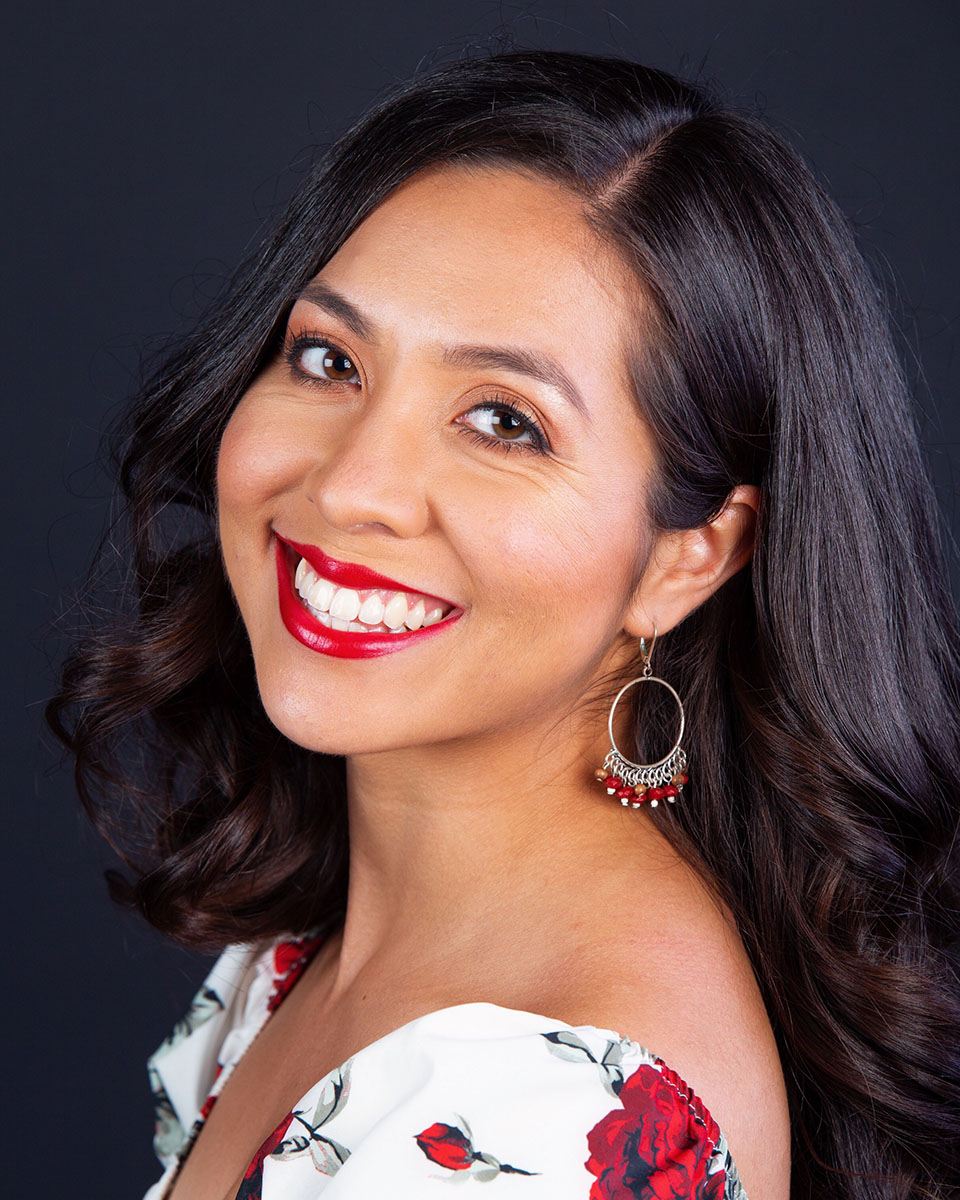 Xochitl Hernandez, 2020 Outstanding Graduating Senior. Photo courtesy of Xochitl Hernandez.
Xochitl Hernandez, Outstanding Graduating Senior
In a summer and year when America is experiencing the most widespread civil unrest since the 1960s — and a global pandemic — music is a balm for millions and a force for change. New CSUN graduate Xochitl Hernandez may be uniquely positioned for this moment in U.S. history. Hernandez, the daughter of LAUSD teachers who met at CSUN, was valedictorian at Northridge's James Monroe High School just four years ago. In May, she completed a Bachelor of Music in vocal arts, with an interdisciplinary minor in Spanish-language journalism. As a CSUN Presidential Scholar, she earned a 3.8 GPA.
Hernandez is passionate about music and the arts, and using them for social advocacy and to empower others. She dreams of becoming a professional singer and a multimedia journalist.
"Xochitl has a gorgeous voice and is capable of performing a wide range of musical styles, from classical opera to musical theatre with equal assurance," vocal arts department Chair Diane Ketchie wrote in a recommendation for Hernandez. "As a result of [receiving CSUN's] Presidential Scholar award, she has started her own podcast entitled, 'Notes from Her,' which focuses on interviewing women of color in the world of classical music. By thinking outside of the box, Xochitl found a very creative way of combining her two passions."
During her four years at CSUN, she endured many personal obstacles, Hernandez said. Despite struggling with insomnia, anxiety and health issues during her senior year, she was active on and off campus. She interned at Los Angeles Opera and completed her "Notes From Her" project, while earning straight A's. She also worked on campus at the Student Recreation Center, performed in CSUN operas, served as an anchor and reporter for CSUN's "Valley View News" and El Nuevo Sol. In student government, she represented the Department of Music, and she was involved in Shepherd Church's Young Adults and Worship Music Ministry.
As she reflected on her final semester — the one where nothing went as planned for CSUN seniors — Hernandez's pride was clear.
"CSUN was the place I rode my bike at as a little girl, when my parents were in class getting their teaching credentials," she said. "[It] was not only the place that shaped a part of my family's legacy, but it grew to become my home away from home — with my wonderful professors, peers, opportunities, and an education that enabled me to become a classically trained singer, performer, multimedia journalist, news anchor, and empowered Latina. My journey and degree at CSUN has meant everything to me because it helped make dreams I didn't even know were possible come true."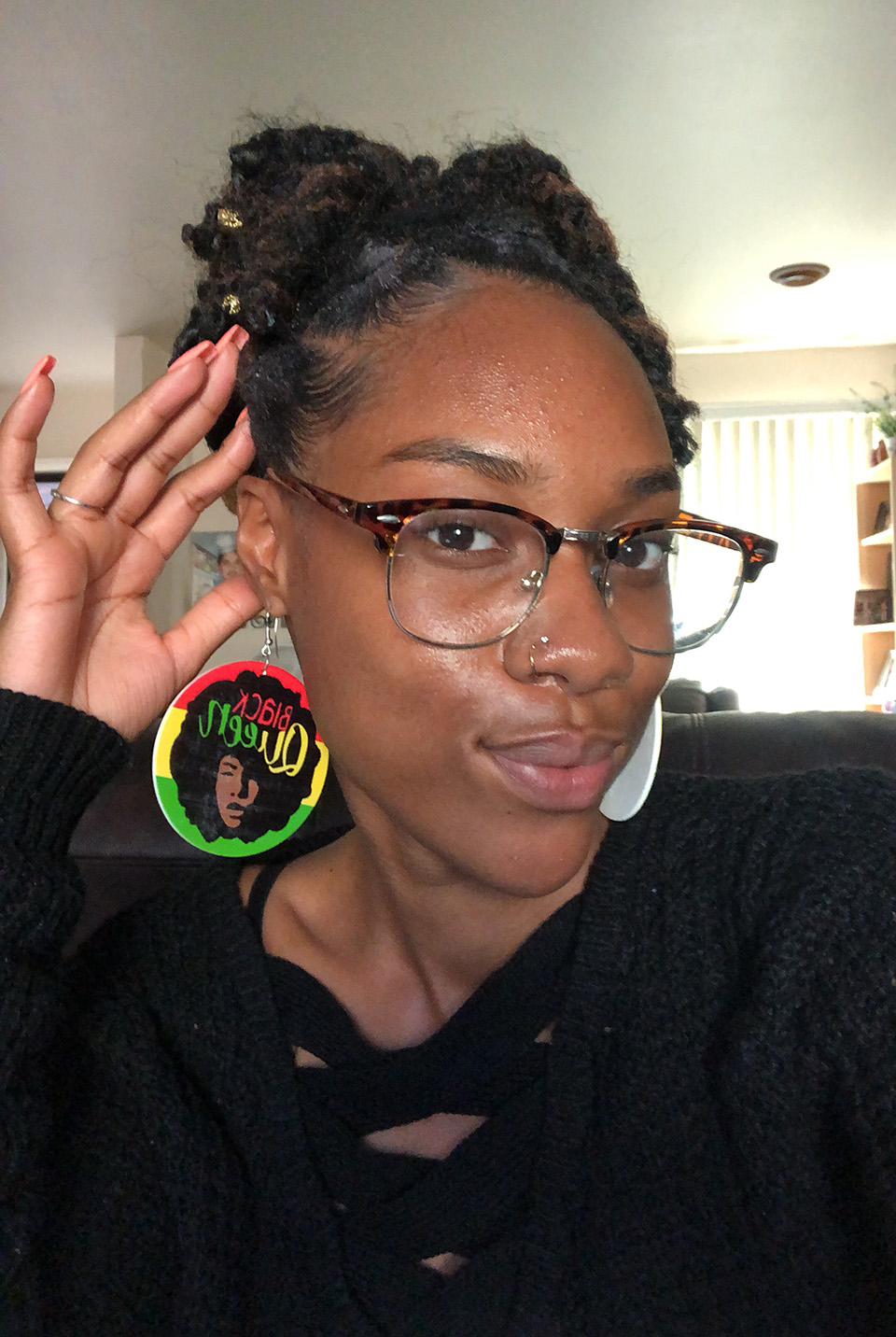 Heaven Barnett, 2020 Outstanding Graduating Senior. Photo courtesy of Heaven Barnett.
Heaven Barnett, Outstanding Graduating Senior
The greatest challenge that Deaf studies major Heaven Barnett faced during her college journey at CSUN, she said, was getting pregnant during her second year in school, 2017.
"I took the spring of 2017 off to have my baby and returned in fall 2017 with a newborn," Barnett wrote in her award application. "Navigating being a mom and full-time student has taught me great responsibility, sacrifice and time management. My life does not mirror the average 'college student' — my school schedule revolves around daycare hours. In order for me to participate in most [extracurricular] activities, I must take my son with me.
"I do not have family that live in the area, so I rely heavily on CSUN's [Associated Students] Children's Center," said Barnett, who also served as a parent volunteer in her son's classroom at the campus center.
During her final semester at CSUN, COVID-19 derailed that support system as well, as the Children's Center was forced to close as Californians sheltered in place.
This posed an even greater challenge to Barnett as she balanced six classes through virtual learning with a toddler at home.
"It [was] another obstacle in this race to the finish line," she said. "However, I adjusted to my current circumstances and [finished] stronger than ever."
Passionate about fighting social injustices and audism, Barnett said she dreams of becoming a social worker. As she took Deaf studies courses at CSUN and learned more, she saw a need and took action.
"The Black Deaf and signing community on campus is small in numbers, and there's a lack of representation in Deaf spaces," said Barnett, who describes herself as a hearing person in the field of Deaf studies. "Often, individuals who identify as black or POC (person of color) have difficulties navigating in a primarily white discipline. For that reason, in 2019 I created the club 'Black Signers' on campus, with the assistance of a colleague."
Another formative college experience, Barnett said, was the opportunity to study abroad for 15 days in Cape Town, South Africa, where she took South African Sign Language classes at the University of Cape Town and volunteered at local Deaf organizations.
"My experience at CSUN has been richer than a letter grade and grade point average," she said. "It has been self-discovery, research on oppressed communities, studying abroad and lifelong learning."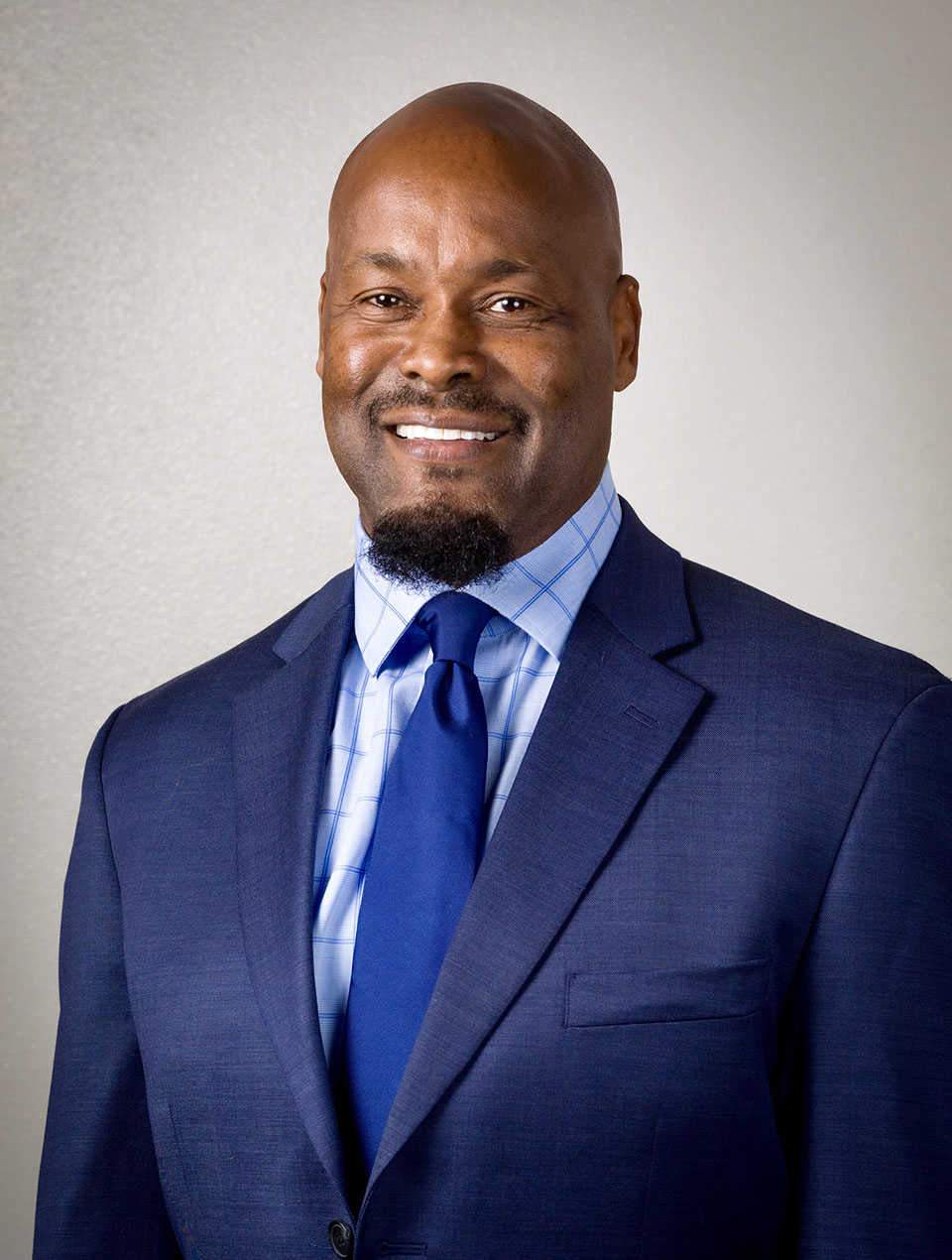 Tyrone Carter, 2020 Outstanding Graduating Senior. Photo courtesy of Tyrone Carter.
Tyrone Carter, Outstanding Graduating Senior
The story of Tyrone Carter defies stereotypes and, in the past, expectations. So many times in his young life, Carter was counted out — by the justice system, by systemic racism, homophobia and by the ravages of addiction. But Carter's innate strength and passion for service not only pushed him to get back in the game of life, but to win it. A campus leader, peer mentor and proud gay man, he graduated in May from CSUN with dual bachelor's degrees in Africana studies and psychology.
After serving eight years in prison on drug charges, Carter eventually committed to a 12-Step program and entered recovery. He found his path to higher education through Los Angeles Valley College and then CSUN's Equal Opportunity Program and Revolutionary Scholars, a CSUN program that empowers formerly incarcerated people of all ages to pursue their degree.
"While there isn't a single way that the dominant culture interacts with African Americans that does not need fixing, I would like to start with the unmet needs and barriers regarding mental health, bail reform, mass incarceration, the death penalty, and fairer sentencing/rehabilitation for prisoners and ultimately prison-abolition," Carter said this week. "Therefore, I look forward to continuing my graduate academic endeavors at UCLA Luskin School of Public Affairs MSW program."
Among several other campus leadership roles, Carter served as board chair of the University Student Union (USU).
"Mr. Carter impressed me greatly as a resilient, goal-oriented and gifted student leader of dynamic personality and tremendous initiative," Debra Hammond, USU executive director, wrote in a letter of recommendation. "[He] has immersed himself in extensive opportunities to advocate for social justice and impact societal change through community involvement and leadership."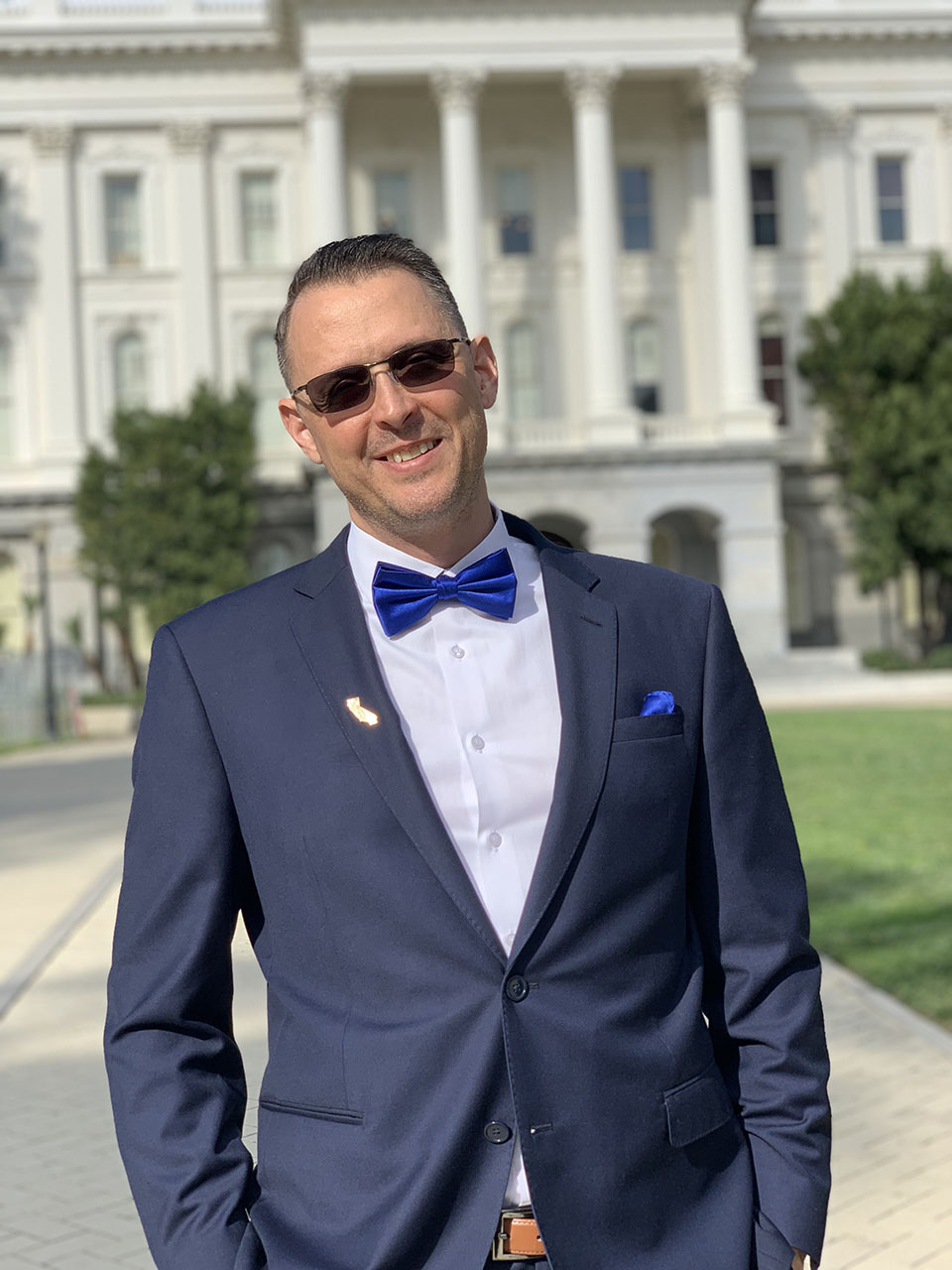 Tracy Johnson, 2020 Outstanding Graduating Senior, at the State Capitol in Sacramento. Photo courtesy of Tracy Johnson.
Tracy Johnson, Outstanding Graduating Senior
Tracy Johnson may be a political scientist and aspiring lawyer, but he knows all about invention — and reinvention. At 40 and newly sober thanks to a 12-Step program — after nearly losing his sight to degenerative eye disease and a surgery gone wrong — Johnson entered Pierce College in 2015. Just five years later, he graduated this May from CSUN with a 4.0 grade point average and dual bachelor's degrees in political science and philosophy. He is studying for the LSAT and plans to apply to law schools for fall 2021.
"My CSUN journey and degree mean hope and freedom to me," Johnson said. "Having come from a background of addiction, and the lifestyle associated with it, my world was always so small that I really had very few choices that were not already determined by that affliction.
"Now, with nine years sober, having recovered from that hopeless state of body and mind — and having accomplished something I had forgotten was one of my childhood dreams — I have the hope and freedom to go almost anywhere and do almost anything I want," he said. "The networks I have found and the degrees I have been awarded open up endless doors for me."
Johnson grew up in poverty, "fell into a bad crowd," and developed a drug and alcohol problem that haunted him from age 13 to 37, he said. He fought to get sober multiple times, but his drinking grew until he reached the end of his rope. He wanted to take his own life and had run-ins with the Los Angeles Police Department and a local judge, Johnson said. Many years later, as a student at CSUN, Johnson's path crossed with that same judge.
"I thanked him for saving my life," Johnson said. That judge had sentenced him to a 12-Step recovery and support program.
In recovery, Johnson found that there was a better way to live: altruism and service. With the support of his sponsor and friends, he hasn't wavered from that path since — committing himself wholeheartedly to helping other addicts and to public service. He pays it forward, sponsoring multiple people in recovery.
At CSUN, Johnson was extremely active in student government, serving as chief of staff for Associated Students, as well as on the university's storied Model United Nations team.
"He was an addict for over 20 years. He easily could be in prison. He easily could be dead," wrote political science professor Leigh Bradberry, in a letter of recommendation for Johnson. "But through the help of others and his own commitment to sobriety, he turned his life around.
"He transferred to [CSUN] and immediately got involved on campus. He eventually became a leader in every organization he joined. He made it his mission to serve others."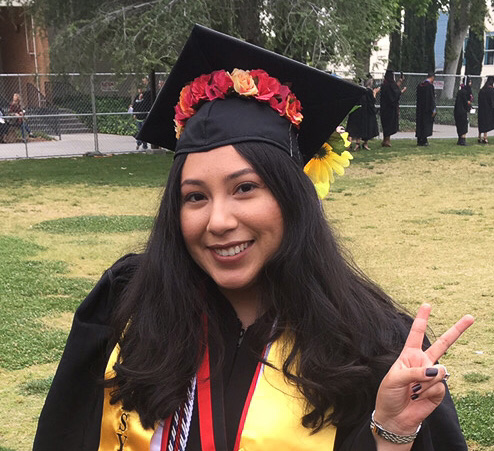 Crystal Venegas, 2020 Nathan O. Freedman Memorial Award winner. Photo courtesy of Crystal Venegas.
Crystal Venegas, 2020 Nathan O. Freedman Memorial Award for Outstanding Graduate Student
Crystal Venegas' parents didn't have an opportunity to go to college but were determined to make sure their children had a chance at a college education.
"It was seen as a ticket to freedom or a better life, and that motivated me," said Venegas, the eldest of three. "I had to get an education, not only for myself, but for my mom and dad, and my daughter and my brothers, who look up to me.
"Even though I was a teenage mom, I didn't let that deter me," she said. "I was doing this not only for my family, myself and my daughter, but also for other students who find themselves in similar situations — where they might have a child during their first semester of college and don't see themselves continuing. It was very important to be that person who is representative of the community of scholars who are also parents. When we think of diversity, we often think it's just racial or socioeconomic diversity, but there is also a diversity in the experiences that students bring to academia."
Venegas said her academic journey was never easy, but she never faltered. Pregnant at age 17, she enrolled at Los Angeles Valley College. She started out as a part-time student while she cared for her young daughter and worked a retail job.
When her daughter entered kindergarten, Venegas was ready to go to school full time, and transferred to CSUN in 2015. She tailored her academic schedule around her daughter's, and her family — including her daughter's father — stepped in whenever needed to ensure Venegas had time for her studies.
Venegas threw herself into her coursework. She gave up retail and got jobs on campus, as an undergraduate biomedical researcher in CSUN's BUILD PODER research training program. As a graduate student in CSUN's psychology department, she worked as a project coordinator and research assistant in the PUENTE (Promoting the Use of Evidence-based practices: Narrowing the Treatment Engagement gap ) Lab, and a lab coordinator and research assistant in the CARE (Contextual Aspects of Race and Ethnicity) Lab, as well as a teaching assistant and graduate mentor for BUILD PODER. She was also awarded a National Science Foundation Graduate Research Fellowship.
She graduated with honors from CSUN in 2018 with bachelor's degrees in psychology and child and adolescent development in applied developmental science. Now graduating with her master's degree, Venegas has been awarded the 2020 Nathan O. Freedman Memorial Award for Outstanding Graduate Student, one of the university's top academic honors.
When she starts a Ph.D. program in clinical psychology at UCLA this fall, Venegas will continue research she started at CSUN. She is examining the influence of socio-cultural factors—such as acculturative stress, discrimination and familismo, a strong sense of identification with, and loyalty to, nuclear and extended family—on mental health outcomes in Latinx populations.
She said her experiences as a researcher and clinical psychology student during the pandemic underscored her desire to understand mental health issues in Latinx populations.
"While we are all experiencing the pandemic, it impacts us differently depending on our socioeconomic class, our race, our ethnicity," she said. "And that has an impact on mental health."