Hi guys!
So many people warned me about this, but I had no idea what I was about to embark on. What am I talking about? The complex and never ending, always changing schedules of my child's extracurricular activities. Ha! That's a mouthful. But seriously. So many of my friends told me that once my daughter, Molly, started kindergarten that I would go from an "overtired, at-home with my kids during a pandemic mom" to a personal chauffeur to my kids for all the different activities. I knew I'd be driving to some things, but I never realized just how overwhelming all the schedules could be, and how much I needed to get organized.
Crazy Schedules & Time to Get Organized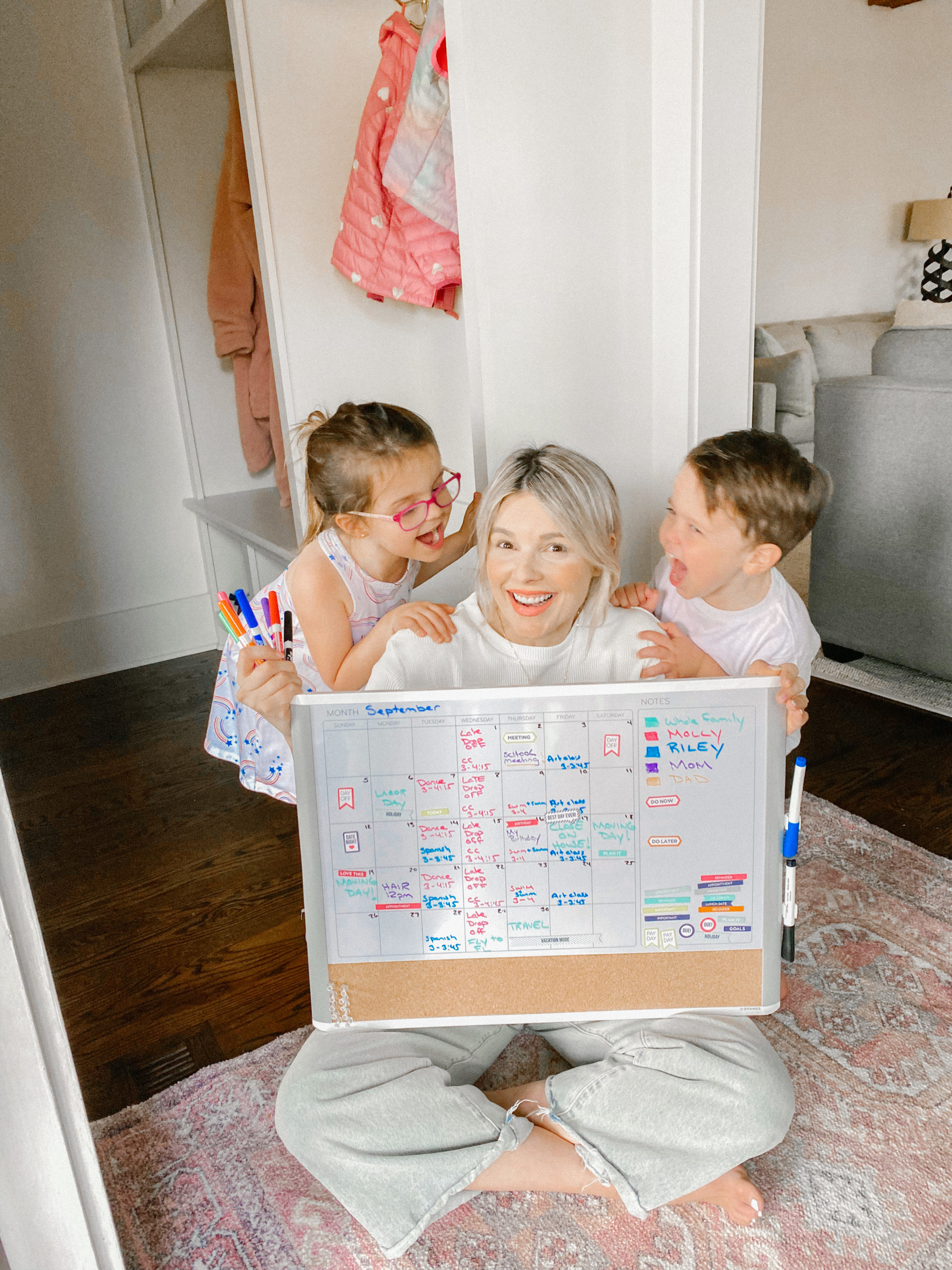 1. MAGNETIC DRY ERASE BOARD | 2. DRY ERASE MARKERS | 3. MY TOP
Honestly, even with Riley! We got him into a great preschool so they even have after school activities that you can sign up for on different days. It's so so so great. Riley's going to be taking Spanish and art at his preschool and Molly is going to start doing ballet and cross country running! Then there are late drop off on Mondays at Molly's school and early pickups on other days, and same with Riley's school. I just can't keep it all straight!
Last week I was late for picking up Molly from school and it was so awful! I completely forgot she had early pick up until the last minute, seriously to the point where I jumped out of the shower and basically threw on a robe to get in the car to make sure I wouldn't be late for getting her. I know being late is not the end of the world, but it upset her, so I'm trying not to be even one minute late.
Organization Was Needed!
Anyway, given all this, I needed something to help me organize all of these activities! I was at home feeling super overwhelmed and feeling like I was honestly failing a little bit as a parent because I was messing things up. So at that point I realized I needed a system going, and I needed it right then! Ha! I jumped on Walmart's website to order from my local store for same-day delivery. I ordered a dry erase board calendar, dry erase markers, socks for Riley because he had outgrown all of his (I've been putting size 24 months socks on him for the past few months), packing tape because I'm continuing to pack up boxes in our rental, glue sticks for Molly because crafts are never-ending over here and a few other things.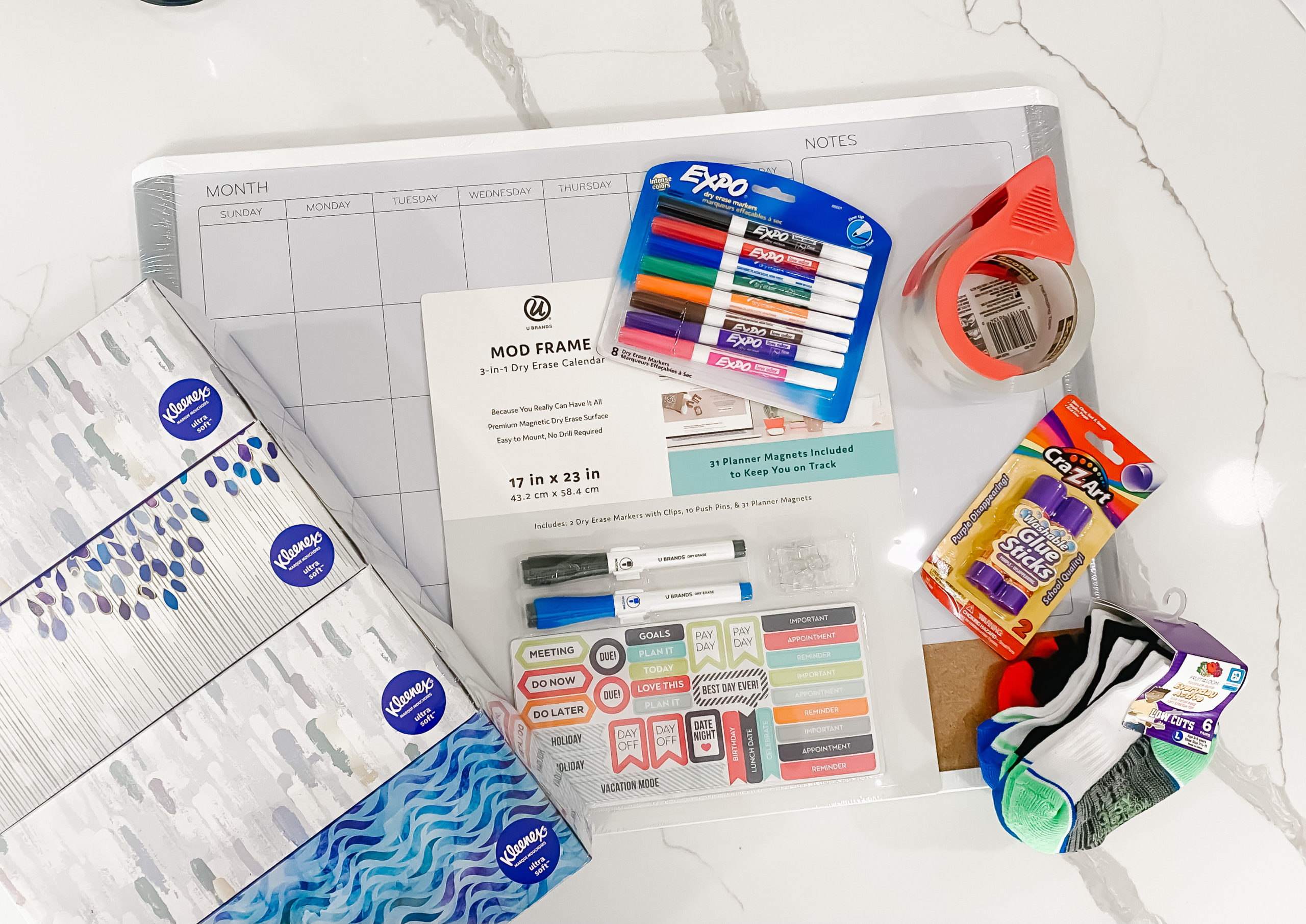 1. MAGNETIC DRY ERASE BOARD | 2. DRY ERASE MARKERS | 3. GLUE STICKS | 4. KLEENEX | 5. PACKING TAPE
Some of the other items could've waited, but I needed that dry erase board right away. I ordered it yesterday and it was delivered to my door just a few hours later! Honestly, I needed organization right then and there, and started immediately on getting everything in order so that there was no more confusion in my household!
And it was so helpful to get all this right away! In fact, this is one of my absolute favorite things about my Walmart+ membership. Free same-day delivery from your local store if you spend $35 or more (restrictions apply). I can't even count how many times this has come in handy, and not to mention they are the same prices as if you were shipping in-store.
Sure, there are places where you can get expedited shipping or some things arrive in a few days – and with my Walmart+ membership I have free shipping with no order minimum from Walmart.com (excludes Marketplace items, location & freight surcharges) RBut to be able to get something same-day from my local store, dropped right at my door just makes my Walmart+ membership above and beyond anything else out there!
Making Life Easier
I don't know what it is but life just seems to be getting busier and busier. Maybe I got too used to being home all the time during the pandemic, but I honestly find it a struggle to get out to the store sometime so having this benefit with my Walmart+ membership is amazing! Not only do you get free same-day delivery ($35 minimum, exclusions apply) with the membership but, with their member prices on fuel, you can save 5 cents per gallon on fuel at all Walmart and Murphy stations. There are over 1,500 locations throughout the country. Gas can get so expensive so I will take that 5 cent savings!!! Every little bit adds up, especially when you fill your tank!
Another really cool benefit about being a member is that you can use the mobile Scan & Go feature benefit on their app. You can scan an item while you're in the store and pay for it and walk out. So it's contact free check out and you get to check out quickly in the self-checkout area which is pretty awesome. I'm all for anything that helps save me time also keeps me and my family safer as we endure more of this pandemic.
I encourage you to use all those other incredible benefits, but the free same-day delivery from my local store is more than enough for me to absolutely love being a member and I will be for life! I'll put the link to sign up here but I linked it multiple times and this blog post.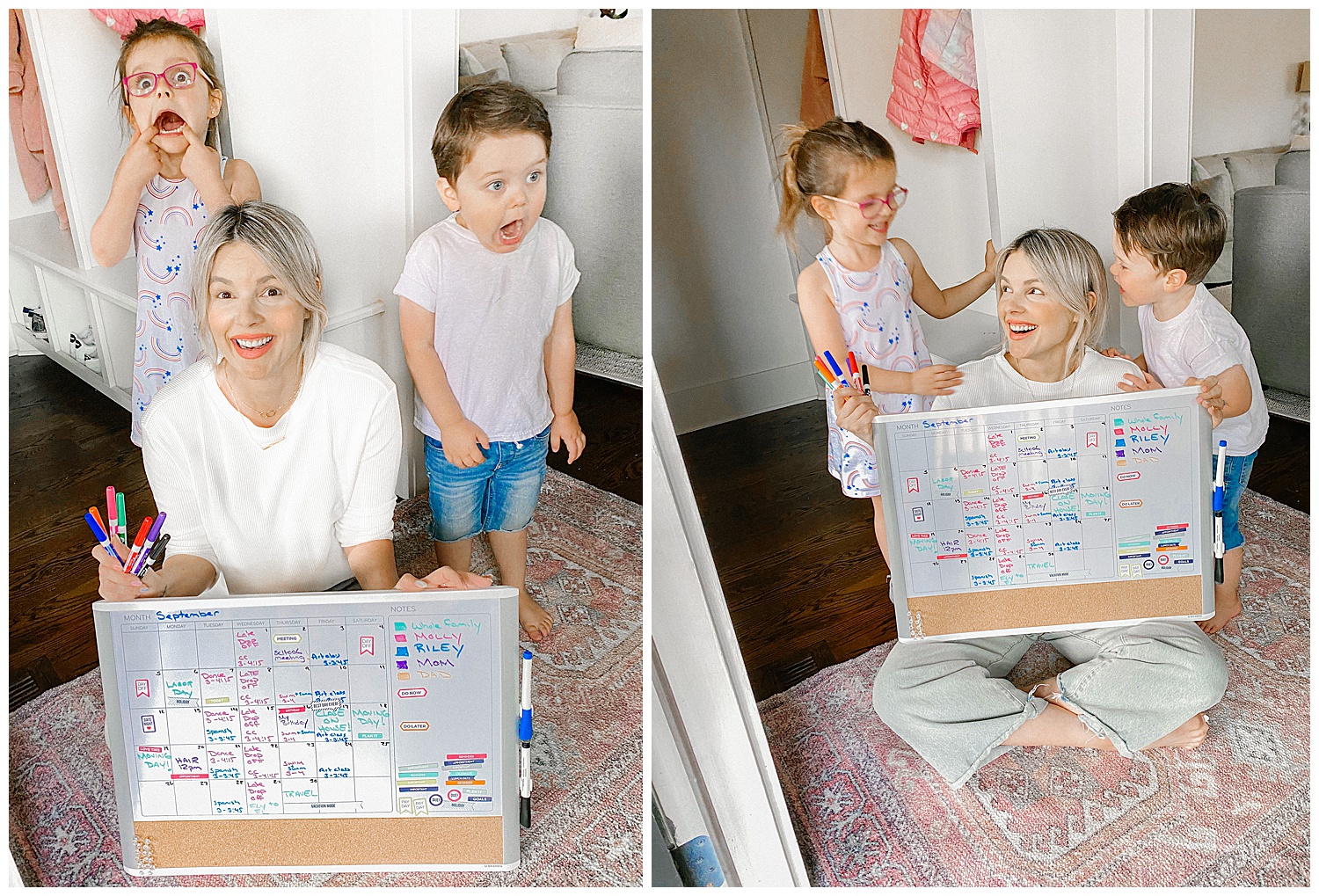 1. MAGNETIC DRY ERASE BOARD | 2. DRY ERASE MARKERS | 3. MY TOP
More Ways I Hope to Stay Organized
Here's how I am hoping to stay organized with my dry erase board. First, I color-coded it so that every person in the family had a different color for their schedule. This makes looking at it quickly even more efficient, because I know if I look and see purple then Molly has something going on, and if it is orange then Kevin does, etc! This keeps me on track with who in my family has what going on, and my own personal schedule too! I also LOVE the magnets this dry erase board comes with to mark birthdays, date night, vacations, appointments and more
I even ordered extra little magnets to add to the board on days where I know I'm going to need a sitter or help picking one of the kids up! Because we only have one car right now, sometimes they both need to be picked up at the same time in different locations and I needed a way to simplify that. Now, when I look at the board in the morning and there is a magnet, I know I need to check in with the sitter Kevin or whoever else is picking up the kids to make sure it's all set.  Do you have any other helpful organization tips for hectic schedules?
Do You Have Tips For Me?
Before I go, any other tips for me on how to keep all of the schedules organized? Obviously the calendar dedicated to the activities is going to help a lot. But if any of you have any other tips or tricks since I'm new at this, I would be so appreciative! Tell me the comments below!
And as always I want to thank Walmart for being such a great sponsor for my site.
The post I am my Child's Chauffer – Time to Get Organized! appeared first on Ali Manno (Fedotowsky).