This post contains affiliate links. When you purchase something at the 2020 Build Your Bundle Sale, I get a small commission at no cost to you!
Kerry Beck shares with other parents how and what to teach when in come to polite behavior in Teaching Good Manners: Teaching Tips for Busy Moms. In a world where common courtesy is largely missing, this is a breath of fresh air.
Kerry shares 6 practical ways to teach manners to children that work! The rest of the book is dedicated to what to teach your children. She is very specific in addressing introductions, interpersonal manners, conversation manners, cell phone manners, table manners, and thank you notes.
I remember showing my children some old TV shows and asked them what stood out to them in contrast to today's TV shows. Their answer surprised me! The noticed that people were kinder and more polite in the older TV shows. I see such a difference from how people interacted with one another when I was a little girl until today. From men opening doors to women to saying please and thank-you, the world has lost it's moorings. Manners play a big part in restoring our values. You see, at the root of manners, is placing high value on others who are made in the image of God.
I love the detail and simple explanations Kerry goes into in her book. She walks families through how to introduce one person to anther, how to set a table, how to write a thank you note, and how to start a conversation.
For parents that want to raise children who are kind and polite, this little book is a great resource!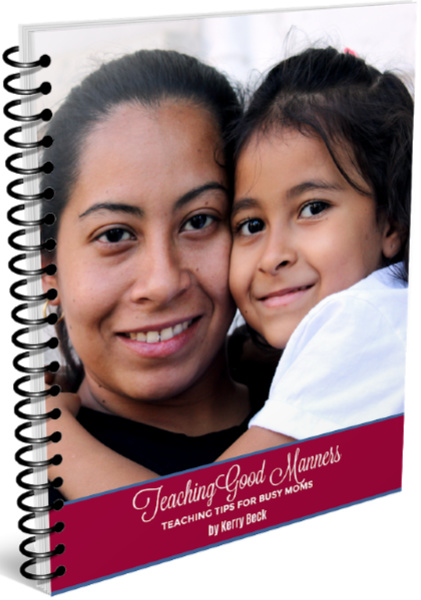 Right now, you can find Teaching Good Manners in the 2020 Build Your Bundle Sale!
Teaching Good Manners is part of the Preschool Bundle, but I would seriously consider including it in a Make-Your-Own Bundle. This resource is ageless. No matter how old your children are, it's never too late to teach good manners.
Kerry, thanks for creating Teaching Good Manners. I know it will be a blessing to many families!
Until next time, Happy Homeschooling!
Meredith Curtis