Check out my collection of Christmas slow cooker recipes to save you time!
Using your slow cooker or crockpot this Christmas is a great way to save time and gain on cooking space!Why would you not put your slow cooker into use this Christmas when you can use it:
to make fudge and sweet treats as gifts for your family and friends
for treats on cold winter days over the holidays
to save time on Christmas Day whether to prepare your Christmas breakfast or to help with your main Christmas dinner.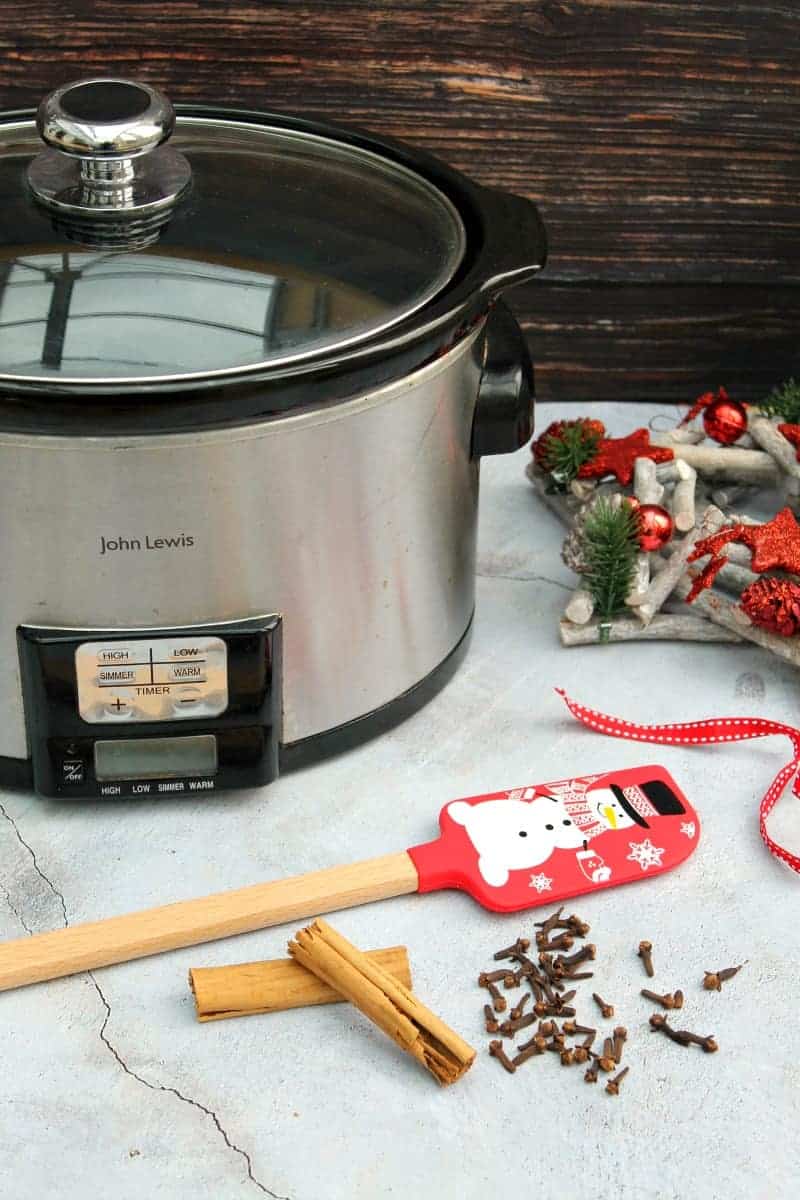 Edible Gifts
Slow cooker fudge is easy to make and safe for children to make with you if they want to lend a hand for a fun Christmas activity.
You can make a whole host of fudge flavours in your crockpot too, adding in whichever chocolate, candy or nuts you like!
Fudge makes a great edible gift for Christmas, and Amaretto fudge is a great gift for adults.
Boozy salted caramel fudge is another recipe which is great to give to adult family and friends.
White chocolate fudge with pistachio and raspberry is colourful and festive.
Candy cane fudge is an easy option that kids are sure to love!
Slow CookerChristmasBreakfasts
When there is Christmas wrapping to be done, Christmas cards to write, mince pies to bake and Christmas shopping to get done, it can feel overwhelming!But you can get ahead and save time by popping a breakfast recipe in your slow cooker while you decorate and wrap.
These recipes are great for the holiday period or for Christmas and Boxing Day themselves.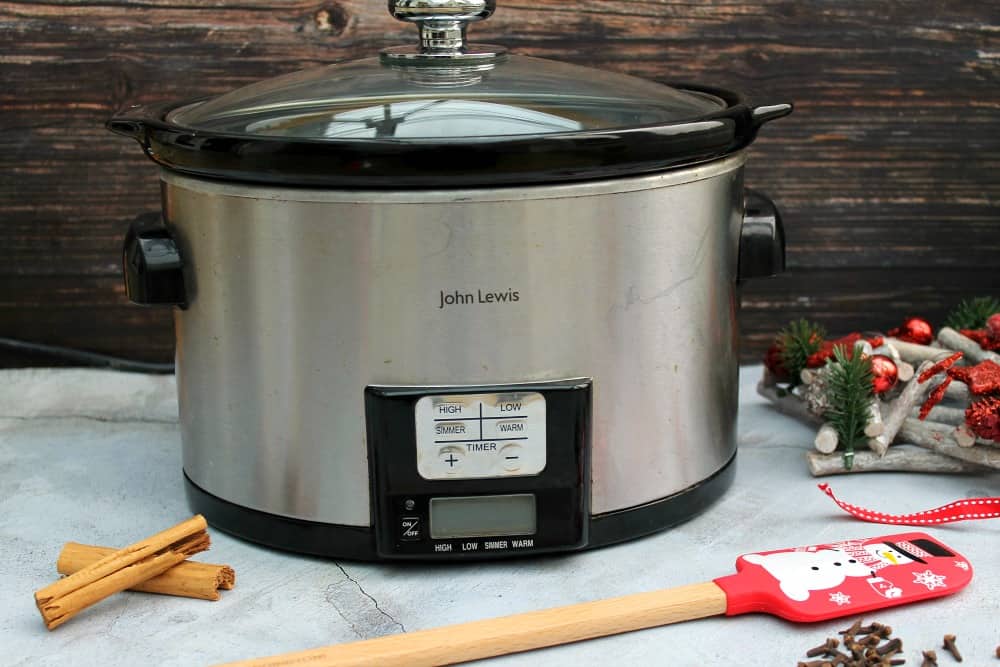 We love to get organised by preparing some chocolate chip scones, fruity mincemeat swirls or cranberry bread which is great toasted for breakfast.
A large chocolate chip scone is great as a tear and share option where everyone can help themselves.
Mincemeat swirls with brandy glaze are another good option for sharing with a crowd.
Cranberry bread is deliciously fruity with festive flavours.
Christmas Sweet Favourites
On a chilly evening over the run-up to Christmas and also on Christmas Eve I also love to prepare some sweet treats and hot drinks to keep me and my family fuelled for hitting the shops to find the perfect gift.
Extra thick and creamy Italian style hot chocolate really hits the spot, and I can make a batch for a hot chocolate station in the slow cooker for my family to help themselves.
Christmas cake is of course the British Christmas fruit cake which families have been enjoying for generations. My slow cooker Christmas cake recipe is a from scratch traditional style recipe.
Due to this it has loads more flavour and a better texture than three ingredient slow cooker Christmas cakes which are made using chocolate milk or Baileys. It will also keep for longer than them.
You can either make this cake in advance and feed with alcohol, then ice nearer to Christmas.
Or if you prefer you can just make it in the run-up to Christmas and eat right away!
Banana bread is a great snacking option for winter days. Spices make your kitchen smell delicious as it bakes!
Gingerbread is of course a favourite flavour for the winter. This gingerbread pudding is a steamed sponge pudding (cake) which makes a delicious wintry dessert!
Slow cooker mulled wine from Tinned Tomatoes is just perfect for the cold winter weather both before and after Christmas!
Slow cooker spiced pear juicefrom Recipes from a Pantry is a great family friendly warming drink.
Christmas Dinner Slow Cooker Recipes
Using your crockpot on Christmas Day for the main event will save you oven space, so you can cram more sides in the oven. By moving your preparation to earlier in the day youll also have time for more pressing jobs or to savour a moment of peace!
Turkey breast or turkey crown is of course the centre of your meal on Christmas Day. Cook it in 5 hours in your slow cooker, you could even start it off the night before!
A baked ham, or gammon, is a good option if you need to feed additional people, and for Boxing Day. This maple glazed ham is delicious hot or cold.
Mincemeat pudding made with sweet mincemeat (no meat here!) is a delicious alternative to Christmas pudding that the whole family will love.
Slow cooker mashed butternut squashfrom Recipes from a Pantry is a great option for a Christmas side dish.
Pin for Later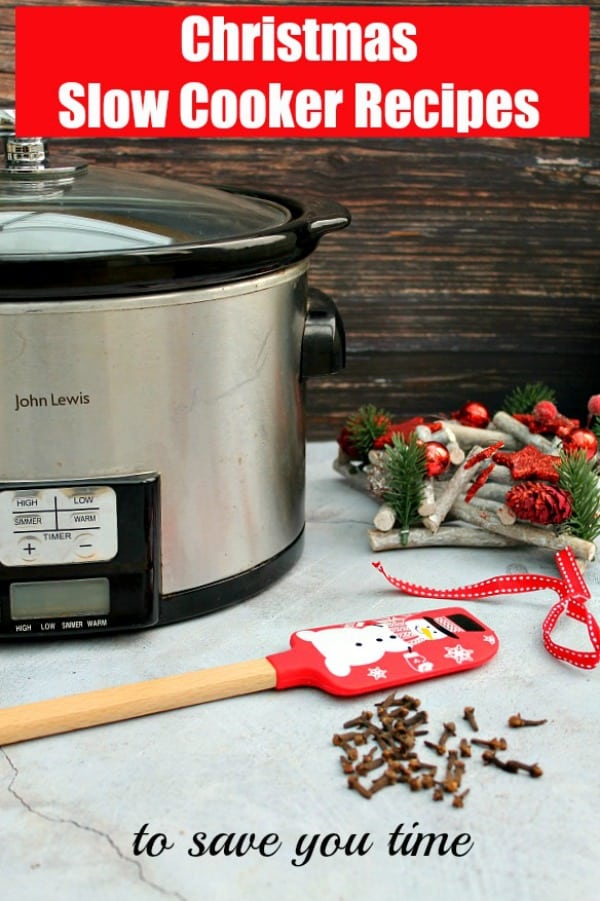 I hope my collection of Christmas slow cooker recipes has given you inspiration on ways to save time over Christmas and will help ease your burden a little. Whether you put your crockpot in use to make foodie gifts for work mates or so you can feed more people at Christmas dinner it is definitely a helping hand you should rely on!
If you make any of these recipes this Christmas tag me @bakingqueen74 in your creations or share them on my Facebook page. Id love to hear about it!
The post Christmas Slow Cooker Recipes To Save You Time appeared first on BakingQueen74.