Embark on a journey through the mesmerising island of Mykonos, home to mouth-watering local gastronomy, ancient temples, secluded and action-packed beaches, whitewashed villas, ultra-luxe boutique retreats and some of the best club nights on the globe. Here are our recommendations to ensure you make the most of your time as you eat, do, sleep, in this enchanting Greek island.
Eat
Rizes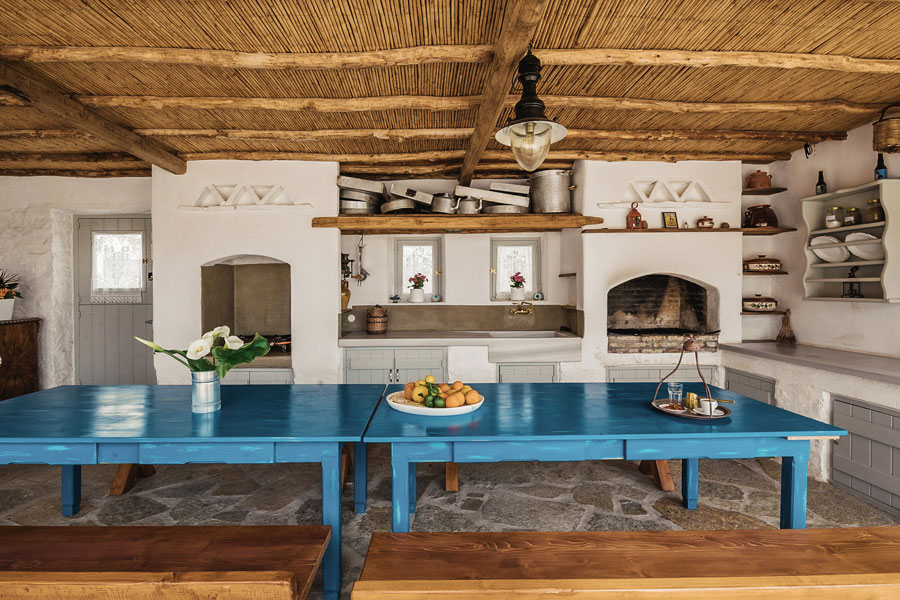 Blue and white checked tablecloths and wooden furniture in a simple outdoor farmstead setting, provide a setting for laid-back Greek island dining. Come to Rizes for a countryside breakfast, lunch or dinner. Meals are prepared with ingredients from the garden, with homespun recipes and bread baked in the stone oven, accompanied by ouzo, tsipouro and local wines. As well as booking to dine, visitors can take part in a cookery class, or a guided tour of the site, which includes a cheese workshop, a winery foot-pressing vat, a well, three folklore workshops and a chapel. 
Noa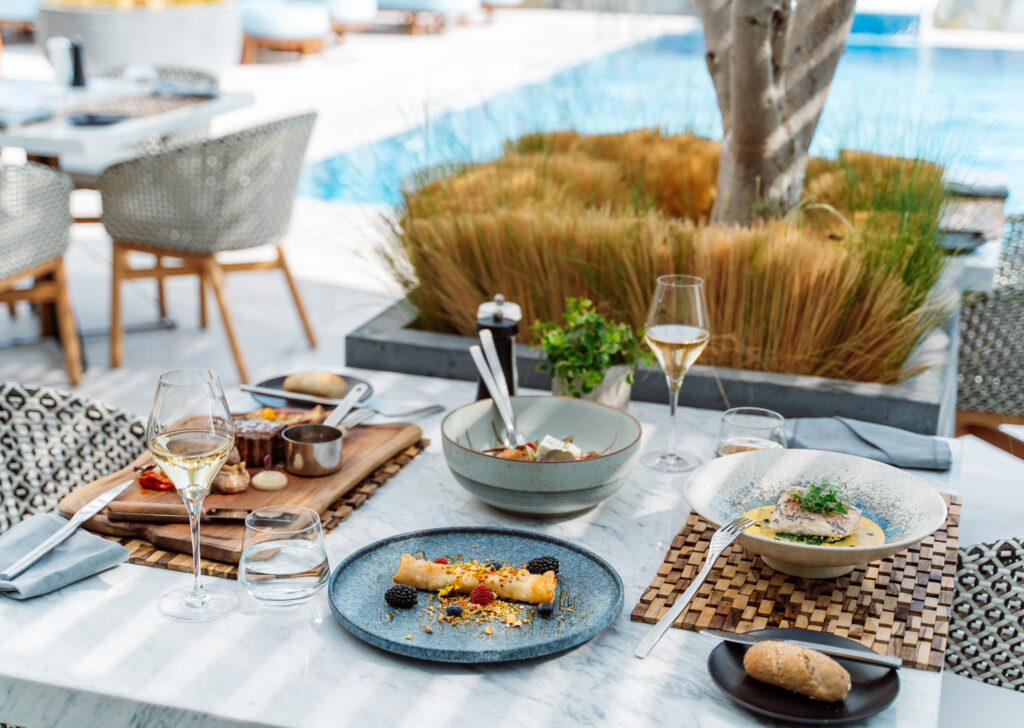 This is fine farm-to-table gastronomy in the heart of Mykonos town. Chef Panagiotis Tsoukatos presents a taverna-style a la carte menu that celebrates the ritual of eating together — a blend of authentic familial cooking and haute cuisine. Dine outside by the pool, or inside, with stunning views of the town and sea via large picture windows. Try an open pie to start, then rooster mezze, grilled sardines, pork souvlaki and ekmek (kataifi phyllo, vanilla cream, berries and ice cream) to finish. Noa is part of the exclusive Myconian Kyma Hotel and is its flagship restaurant. 
Vegera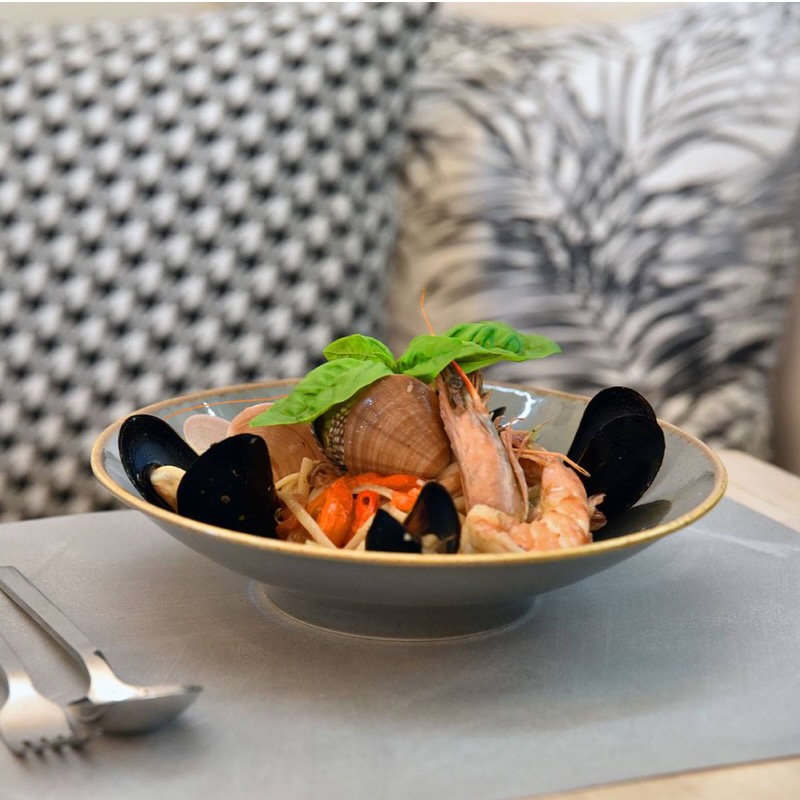 Close to the old port, Vegera is a trendy eatery, with an industrial meets boho-chic interior design. White tables and chairs outside provide a cafe culture feel and an opportunity to people-watch the bustling waterside area. Vegera provides super fresh and nutritious dishes, with ingredients like grilled tiger prawns, quinoa, organic chicken, charred veggies, fruit salad with local yoghurt and the catch of the day. It's a top choice for cocktails too, with tempting, imaginatively presented tipples like the Caribbean Tai and Mediterranean Note.
Do
Boat trip to Delos & Rhenia
Sail across the shimmering turquoise waters of the Aegean Sea and discover the secrets of Delos, the birthplace of Apollo and Artemis. Step foot on this archaeological gem, where sacred temples transport you back in time. Immerse in the mythology of Delos as you explore its well-preserved ruins, including the Terrace of the Lions and the House of Dionysus. Then, set sail to the eight-kilometre, uninhabited island of Rhenia, where unspoilt beaches and the 2000-year-old ruins of an ancient Greek temple and Christian church lie. Dive into the refreshing sea or bask in the sun's warm embrace on secluded shores. With its blend of history, natural beauty and a sense of serenity, a boat trip to Delos and Rhenia from Mykonos will leave you with lasting memories.
aegean-ventures.com/delos-rhenia-cruise/
Party – at – Cavo Paradiso and Super Paradise Beach Club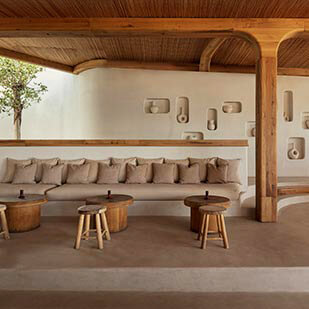 The two legendary hotspots, Cavo Paradiso and Super Paradise Beach Club allow holidaymakers to experience the best of Mykonos' renowned nightlife. Cavo Paradiso, perched atop a cliff with panoramic sea views, features world-class DJs and epic poolside open-air parties till sunrise. It regularly tops lists of best international club nights and has a stellar reputation in the music industry. Meanwhile, Super Paradise Beach Club beckons with its boho-chic vibe and beachside revelry. Dance barefoot in the sand, sip on refreshing cocktails, and soak up the infectious energy as international DJs set the stage on fire. Whether you're a seasoned party-goer or a first-timer, these iconic venues deliver the epitome of Mykonos nightlife. Get ready to dance, mingle, and create memories.
Watersports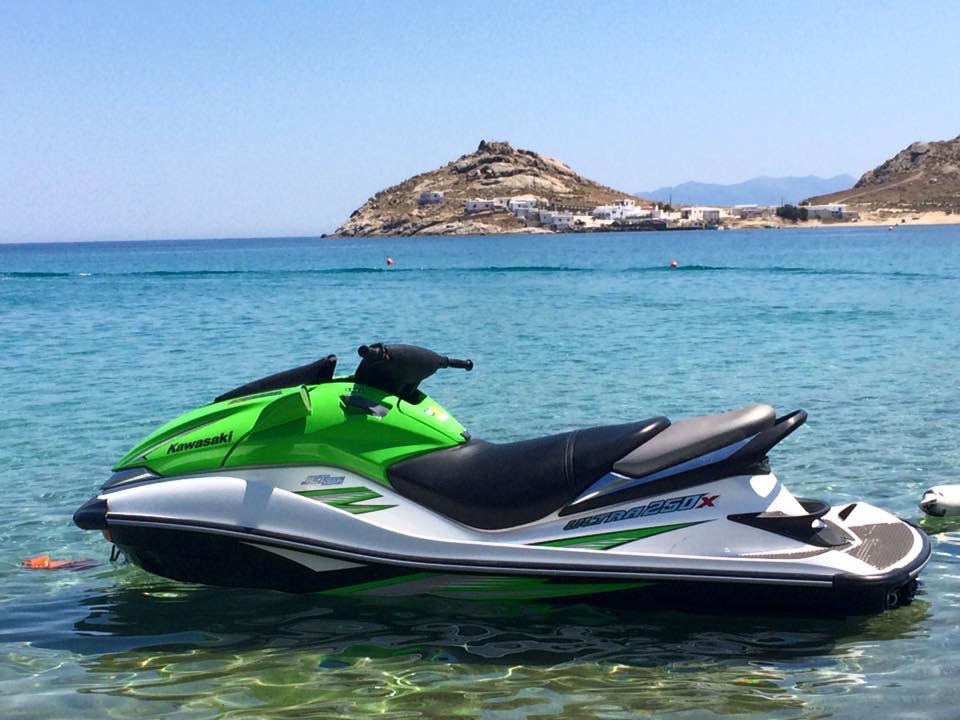 The warm azure waters of Mykonos call you to jump right in. Take a jet ski for a spin and feel the rush as you glide across the waves, or hop on a banana boat for a wild and bumpy ride with friends and family. If you prefer a bit of a challenge, try your hand at windsurfing, kiteboarding or the unique thrill of flyboarding as water propulsion thrusts you several feet into the air. With experienced instructors and well-maintained equipment, Platis Gialos Water Sports and Kalafatis Watersports (each found at the beaches by the same names) ensure a safe and exhilarating experience.
Visit Isolated Beaches (Agios Sostis, Fragia, Vatheia Lagada, Fokos Beach)
While famed for its party scene, the island also has a tranquil side with secluded and isolated beaches. If you're seeking a peaceful retreat away from the crowds, here are the places to go: Agios Sostis Beach, located on the northern coast of Mykonos, is reached by a winding road. Untouched by commercial development, it provides a connection with nature and shallow waters ideal for paddling – there are sometimes vendors selling snacks and drinks here. Fragia Beach, on the southeastern shores, is a rugged spot, surrounded by dramatic cliffs and accessible only by a 15 to 20-minute hike. Those wishing to frequent one of the remotest beaches on Mykonos can take the dirt road and long path to Vatheia Lagada in the south; perched on the edge of Profitis Ilias Church, this beach offers wild beauty and crystal-clear waters. Or visit Fokos Beach, a scenic cove on the northern tip of Mykonos 12 km from the town, with a single beachside tavern.  
Sleep
Luxury Villas  
If you're travelling as part of a large group and want your own private entertaining spaces, or prefer to self-cater most of the time and enjoy having your own home-from-home, a luxury villa is the best way to experience Mykonos. Choose from remote and central properties catering for up to 68 guests, under one whitewashed roof, and from those with a more rustic local feel, or villas decked out in minimal modern design codes. Floating day beds, jacuzzis, multiple pools, four-poster cabanas, direct beach access and views across the twinkling town lights are just some of the features you can enjoy. Breeze from inside to out entirely on your own terms, with abundant living spaces and alfresco dining for idyllic family meals at sunset. 
Luxury Hotels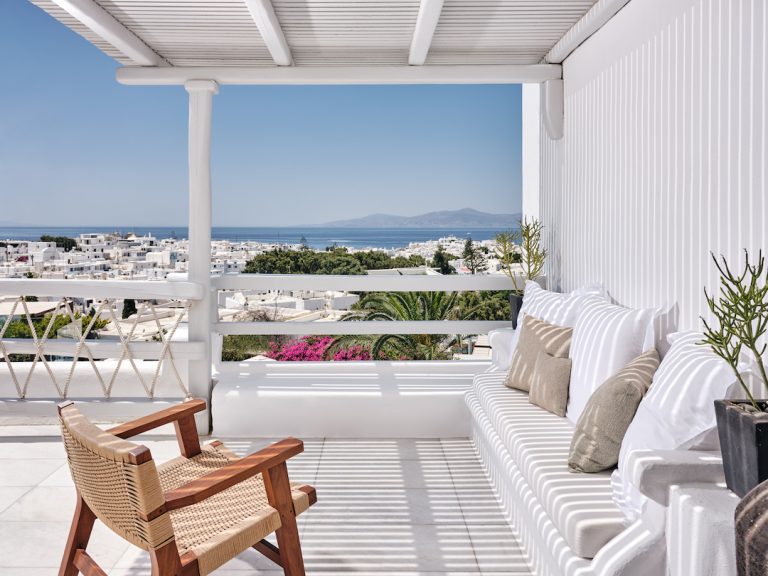 Stay in one of Mykonos' five-star, boutique hotels and you won't have to lift a finger. Mingle with other singles, couples and smaller family groups, as you take advantage of the onsite facilities. Practice yoga in a sea view amphitheatre, play tennis, order on-demand from a sushi bar, book spa treatments and dine in award-winning restaurants without having to stray far from your room. Many of Mykonos' best hotels lie right on the Aegean Sea, with stretches of beach reserved exclusively for the properties. Those wanting a halfway house between self-catering and hotel accommodation can opt for a villa within a resort, or a secluded pool suite, allowing you to see others as little or as much as you desire. 
The post Eat Do Sleep Mykonos appeared first on .