Thanksgiving is one of the best foodie holidays of the year, and what you eat for Thanksgiving is just as important as who you eat it with. Check out our list of best Thanksgiving meals in South Florida:
Red, The Steakhouse (119 Washington Ave, Miami Beach, FL 33139)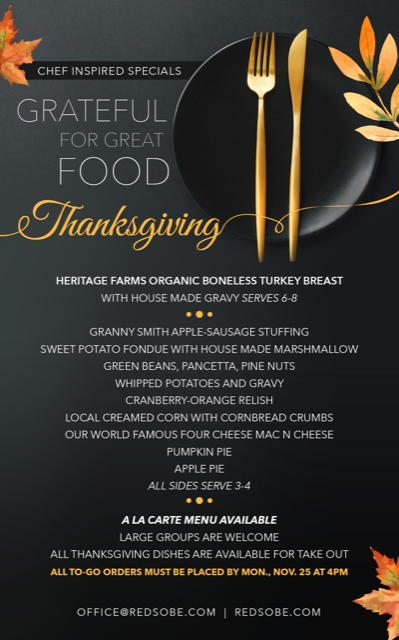 Chef Peter and his Culinary Team have whipped up a Thanksgiving menu you will be sure to be grateful for. Guests will enjoy a traditional feast with a RED twist including Organic Heritage Farms Turkey Breast, Sweet Potato Fondue, Creamed Corn, Cranberry Relish, Sausage Cranberry Stuffing, Pecan Pie and Apple Pie. The price is $69 per person plus tax and gratuity. Their full a la carte menu will be also be available. In addition, Red is offering Thanksgiving To-Go dinner for just $59 per person.For the full Thanksgiving Menu please visit www.Redsobe.com and click on menus.
Villa Azur- Thursday Thanksgiving Dinner Party (309 23rd St, Miami Beach, FL 33139)
This Thanksgiving, Villa Azur is hosting a special edition of their Thursday Night Dinner Party. In addition to the regular a la carte menu, chef specials will include their crispy turkey breast with warm gravy served with cornbread and chorizo stuffing, creamy spinach and sweet potato, as well as a delicately sweet Crme Brule Cheesecake to top it all off. The Thanksgiving extravaganza welcomes you at the door with costume greeters and continues all day long with live entertainment featuring a saxophonist and DJ.
Malibu Farm ( 4525 Collins Ave, Miami Beach, FL 33140)
Treat yourself and the rest of the family this Thanksgiving at Malibu Farm For $60 per person and $25 for children under the age of 12, enjoy a buffet highlighting some of Chef Helene Hendersons signature dishes and your favorite Thanksgiving favorites. Guests will be welcomed with a complimentary Cranberry Mimosa before indulging in a Thanksgiving Day buffet featuring: BLT Salad, Herb Roasted Turkey served in a Rocotto Garlic Sauce, Broccoli Mashed Potatoes, Whole Snapper with a Hazelnut Crust, Vegetarian Paella Salad. For dessert guests can choose from Vegan Apple pie, Pumpkin and Pecan Pie. Guests can also take advantage of Malibu Farms all day rose, which is bottomless for the duration of the meal and priced at $30.Reservations are required and can be made at 305-674-5579 or reservationmfmiami@nobuedenroc.com
AQ Chop House by Il Mulino (17875 Collins Ave, Sunny Isles Beach, FL 33160)
AQ Chop House by Il Mulino will host a Thanksgiving brunch from noon until 4 pm followed by a Thanksgiving dinner offered from 4 pm to 11 pm. AQ Chophouses brunch is $95 per person and includes a lavish buffet with Thanksgiving favorites, breakfast classics, rich desserts, and unlimited cocktails. Guests will enjoy live entertainment as well as a cartoonist for the children. AQ Chophouses traditional Thanksgiving dinner menu is set at $60 per person and features organic roasted turkey with walnut and sausage stuffing, accompanied by buttery mashed potatoes, sauted green beans with roasted almonds, and pumpkin cheesecake. Guests can dine in the elegant dining room or indulge on the breathtaking terrace. To make a reservation, please contact Il Mulino at (305) 466-9191.
Toro Toro (100 Chopin Plaza inside the InterContinental in Downtown Miami)
Enjoy this Thanksgiving at the InterContinental Miami with Celebrity Chef Richard Sandoval. Toro Toro, will offer a specialty Friendsgiving/Thanksgiving menu for the entire month of November. Priced at $75 per person and available for parties of 14 or more, this is a great alternative for groups who prefer to sit back, socialize and spend quality time with friends and family over an exquisite meal, without the time and effort of preparation, cooking and cleaning. For this experience, room rental fees are waived and groups have the options of hosting the dinner in Table 40, Toro Toros unique in-kitchen dining room; Matador Room, the restaurants large private dining room; or in any section of the restaurant desired. Guests may make private dining reservations by emailing ToroToro.Miami@IHG.com. For reservations, please call (305) 372-4710. www.torotoromiami.com.
Ariete (3540 Main Highway Coconut Grove, FL)
For those in search of a family-friendly dining experience, Ariete will be serving an authentic New American feast on Thanksgiving Day. From 3 PM to 10 PM, diners can indulge in an all-you-can-eat buffet priced at $75 per adult and $35 per child under 10 years old, excluding tax and gratuity. Menu offerings include an assortment of Thanksgiving favorites and Chef Michael Beltrans beloved family recipes with a contemporary twist. Think smoked turkey legs, fried turkey breast, green bean casserole, cheddar and fresno cornbread, candidate yams, pecan pie, goat cheese flan, apple streusel pie and more! For those looking to host, the cave is available for private parties of up to 50 guests with the option of a customized menu. https://arietemiami.com/.
Rusty Pelican (3201 Rickenbacker Causeway Key Biscayne, FL)
Rusty Pelican, known for its dazzling waterfront views, is inviting families to a fabulous Thanksgiving Day feast. For $89 per adult and $35 per child (excluding tax and gratuity) the Brunch Buffet served from 10AM to 3PM is a cornucopia of choices including breakfast plates like Banana French Toast, Baby Kale and Goat Cheese Scrambled Eggs, and Applewood Smoked Bacon and Pork Sausage. Plentiful offerings feature Sushi, Raw Bar, Ceviche and Tartare, and American Caviar; plus, carving stations with Rosemary Crusted Leg of Lamb, Garlic Crusted Tomahawk Prime Rib, Miso Glazed Mahi-Mahi and of course, a Hickory Smoked Whole Turkey. End the meal on a sweet note with an assortment of Mini Desserts and Pastries like Pumpkin Pie, Carrot Cake, Pecan Cheese Cake, Apple Tarts and Chocolate Mousse Cake. For Dinner, beginning at 6PM, diners can choose from a la carte options for both children and adults or a special pre-set menu for $75 per person (excluding tax and gratuity). To start, guests can choose from a hearty soup or seasonal salad Creamy Squash and Chestnut soup with toasted pumpkin seeds or mixed greens with toasted pistachios, goat cheese, and honey balsamic vinaigrette. Entree choices include maple roast turkey with cornbread and apple sausage stuffing, cranberry sauce, grilled baby carrots and chipotle sweet potatoes and toasted pistachios; or Branzino en Papillote with baby heirloom tomatoes, fregola pasta and tarragon; or honey glazed pork tenderloin with manchego cheese and rosemary polenta and a cilantro corn relish. Dessert will feature a pecan cheesecake topped with warm, salted caramel. For reservations, please call (305) 361-3818; www.therustypelican.com.
StripSteak by Michael Mina at Fontainebleau Miami Beach( 4441 Collins Ave. Miami Beach, FL)
A delectable Thanksgiving menu to be thankful for. The acclaimed American steakhouse, is serving up a Thanksgiving feast for $75++ per person, excluding tax and gratuity, from 5PM 11PM. Menu follows:
APPETIZERS
Gulf Shrimp and Corn Pudding Grits
Brown Butter Gastrique, Sage
or
Delicata Squash Salad
Gooseberry, Cured Iberico Loin, Spiced Pepitas
TRADITIONAL TURKEY DINNER
(Served Family Style)
Lemon-roasted Turkey Breast
Beer-braised Turkey Legs
Homestyle Gravy
Thyme-scented, Roasted Garlic
Butter Whipped Golden Potato
Crispy Brussels Sprouts with Toasted Almonds
Foie Gras and Apricot Brioche Stuffing
Spiced Cranberry with Pearl Onions and Orange Zest
DESSERTS
Spiced Pumpkin Tart
Candied Pumpkin Seeds, Brown Sugar Vanilla Ice Cream, Cranberry Gel
BOURBON STEAK (19999 West Country Club Drive inside of JW Marriott Miami Turnberry Resort & Spa)
BOURBON STEAK, the stylish award-winning steakhouse from Michael Mina, dazzles diners this Thanksgiving with a three-course prix fixe menu priced at $105 per person; $49 for children ages 5-12. Start off with sophisticated fare like Michaels Tuna Tartare; Hand-cut Prime steak tartare or chilled lobster tacos, before moving onto the main course. Enjoy Prime cuts such as New York strip, Delmonico ribeye or filet mignon among others, or one of the many seafood selections like Ahi Tuna, pan-seared local snapper or Miso-Glazed Sea Bass or opt for a more traditional wood-grilled free-range turkey with cornbread foie gras stuffing. All entrees are accompanied by a trio of farm-fresh sides: truffle mac & cheese, garlic mashed potatoes, and classic creamed spinach; while dessert brings a choice of pumpkin pie, German chocolate cake or cranberry cheesecake. The hours for dinner are 4PM 11PM. For reservations, visit OpenTable.com or call (786) 279-6600. For parties 12 or more contact Justin Cook jcook@jwturnberry.com
Lightkeepers in Ritz-Carlton Key Biscayne (455 Grand Bay Drive Key Biscayne, FL)
Lightkeepers at The Ritz-Carlton Key Biscayne, Miami, is offering a lavish Thanksgiving Day Feast from brunch to dinner, guests can indulge in holiday-themed favorites and enjoy interactive culinary stations, sweet treats, bottomless beverages and oceanfront beach views. Brunch will be served from 12:30PM to 4PM; dinner items will be served buffet style from 5PM 8PM. For $145 per adult and $49 per child (ages 5 through 12) excluding tax and gratuity, indulge in a variety of delicious food stations including Breakfast Specialties like omelets and eggs cooked to order, sweet corn chorizo arepa benedict or cranberry walnut sweet potato hash; pancakes, waffles or cinnamon French toast From the Griddle; imported and local artisanal cheeses and cured meats from The Lightkeepers Market; fresh bread and artisan loafs from The Bakers Basket; Small Bites; Composed Salads; Chilled Seafood & Raw Bar and Ceviche; Soup; Entrees like Braised Short Rib or Smoked Squab; Roasted Turkey and Lamb Leg from The Feast; and a Handmade Pasta Station. For those untraditional Thanksgiving diners, feast upon Chinese cuisine from Oops! We Burnt the Turkey station. Little ones can also partake in the feast with favorites at the Kids Corner. If theres still room left for dessert guests can select from a bevy of sweet treats. Complimentary valet parking is included. Reservations required by calling (305) 365-4156 or via email at LKDiningReservations@ritzcarlton.com. www.lightkeepersmiami.com.
Fort Lauderdale
Burlock Coast (1 North Fort Lauderdale Beach Boulevard at The Ritz-Carlton, Fort Lauderdale)
For those who want to celebrate Turkey Day in the comfort of their own home, pre-order Thanksgiving dinner to-go from Burlock Coast. For just $369 plus tax, the family dinner package will serve 6-8 people. Menu includes whole roasted turkey with gravy and cranberry sauce; traditional bread stuffing; creamy potato puree; green bean casserole; roasted sweet potatoes; buttermilk biscuits; and pecan pie. No substitutions. Orders must be place by Wednesday, November 27th at 1PM. Pick up will be on Thanksgiving Day. Call (954) 302-6430 to order. www.burlockcoast.com.
3030 Ocean (3030 Holiday Drive Fort Lauderdale at the Marriott Harbor Beach Resort & Spa)
3030 Ocean is offering diners a delectable three-course prix fixed Thanksgiving menu for $69 per person (excluding tax and gratuity). The first course includes your choice of roasted butternut squash soup with pumpkin seed pistou or a baby green salad with shaved pear, spiced pecans, blue cheese and poppy seed vinaigrette. The second course is served family-style and includes delicious roasted Joyce Farms turkey breast and crispy leg with black truffle, mushroom dressing, green beans with onions, garlic mashed potatoes, cranberry-orange sauce and turkey gravy. Enjoy a delicious pumpkin-gingersnap blondie with candied cranberries and maple ice cream. Reservations are suggested. Telephone: (954) 765-3030; http://www.3030ocean.com.
DUNE Fort Lauderdale (2200 N. Ocean Boulevard, Fort Lauderdale)
DUNE, the popular oceanfront restaurant at Auberge Beach Residences in Fort Lauderdale, is celebrating Thanksgiving with a specialty three-course menu priced at $75 per person (exclusive of tax and gratuity). The first course includes a choice between Winter Squash Salad with chicory, persimmon, ricotta, and pumpkin seed vinaigrette; Chestnut Spaetzle with duck ragout, currants, sage, and brown butter; or Day Boat Scallops with braised bacon and rutabaga. Holiday entrees include a selection between Organic Free-Range Turkey with sausage stuffing, kale, cranberry sauce, and jus; Filet of Beef with parsnip, black trumpet mushroom, brussels sprout, bordelaise; or Branzino Grenobloise with chanterelle, caper, preserved Meyer lemon with parsley. A choice between pumpkin pie or pecan tart rounds out the lavish Thanksgiving experience. The first seating is available at 1PM and the second seating at 4PM. For more information and reservations, contact abf.dunehostteam@aubergeresorts.com or call (754) 900-4059.
For those looking for less Turkey and more of a Plant-Based Thanksgiving:
Planta- 850 Commerce St. Miami Beach, FL 33139
Order for take out a delicious plant-based Thanksgiving for only $35 pp. Includes Vegan Meatloaf, Mac & Cheese, Sourdough Stuffing, Candied Sweet potatoes, Mixed Greens, Butternut Squash Soup and Peach Cobbler Streusel. Order for pick up 11/27 noon to 9 pm, or 11/28 from 9 am to noon. Orders must be placed by 11/25 through this link. https://www.sevenrooms.com/experiences/plantamiami/thanksgiving-at-planta-south-beach-4925338322?_ga=2.244852805.172471829.1573997143-1608467493.1573997143
Plant Miami in the Sacred Space (105 NE 24th St. Miami, Florida 33137)
Specially prepared plant-based menu to take out is in the works from the chefs at Plant Miami. Check back for updated menu and details on how to order.
What to take to Thanksgiving Dinner: be the BEST guest
Fireman Dereks (various locations)
The Magic Citys favorite pie emporium, Fireman Dereks, is officially your one-stop shop for all the Thanksgiving treats! Sweet seekers can choose from seasonal favorites such as Pumpkin Pie, Pumpkin Cheesecake, Apple Pie, Salted Caramel Pie, Pecan Pie, Carrot Cake, Chocolate Pecan Pie and more! Preordering began online and will close Sunday, November 24 on the bakerys website; pie purchasers can specify the preferred day/time for pick-up at either the Wynwood or Coconut Grove storefronts. Both shops will also have a limited number of pies available for last-minute purchase through Wednesday, November 27; all Fireman Dereks outposts will close at 8PM on Wednesday, November 27 and remain closed through Thanksgiving Day. To order online, click HERE; https://firemandereks.com/.
Chez Bon Bon (4441 Collins Avenue at the Fontainebleau Miami Beach)
Those looking to take their Thanksgiving pie to the next level, can now pre-order pies from Chez Bon Bon at Fontainebleau Miami Beach. Each pie is priced at $25 (plus tax and gratuity) and pre-orders begin on Saturday, November 23 and end on Thanksgiving Day. Options include Pumpkin Pie with Cinnamon Chantilly and Pecan Pie with Chocolate Ganache. Call 305-674-4727 to order.
Regardless of where you celebrate, MIA Bites wishes everyone a happy (and delicious) Thanksgiving.