These Healthy Meal Prep Yogurt Parfaits are a great breakfast idea made using yogurt, granola & fruit they're grab and go & easy to assemble in advance. Jump to Recipe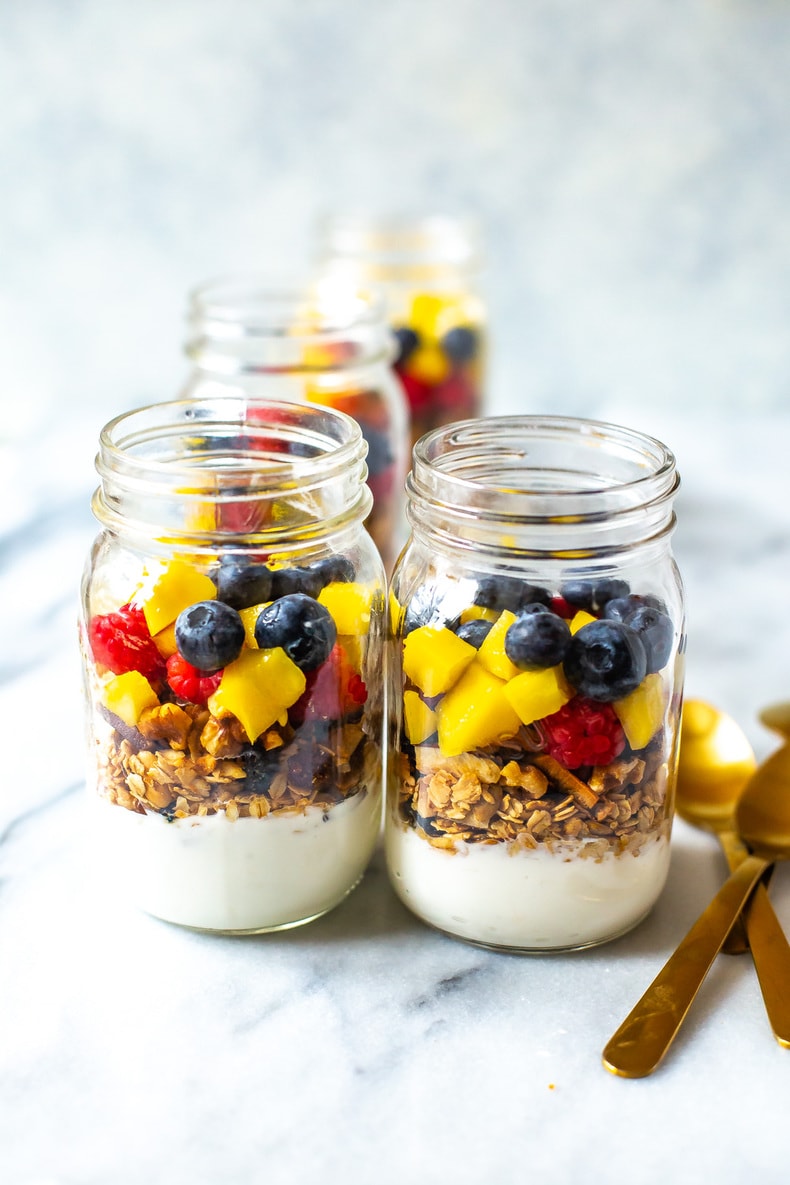 Ingredients in yogurt parfaits
This yogurt parfait recipe will make four servings. Since it will last in the fridge for five days, you can prepare in advance a whole week of healthy breakfasts.
There is a lot of freedom in this recipe. These are the basic ingredients in the yogurt parfait, but you can get creative and add other items that you like.
Greek yogurt
Granola
Mango
Raspberries
Blueberries
The word parfait is French for perfect, so you cant go wrong no matter what ingredients you choose!
How to make yogurt parfaits
These parfaits are easy to make. Plus, you can batch prepare them. By making at least four at a time, your meal prep work will ensure you have healthy breakfasts or snacks for the whole week!
I like to use mason jars to store these parfaits. They are the perfect size, transportable and easy to clean and reuse.
To assemble the parfait, you just layer the ingredients in this order:
Greek yogurt
Granola
Fruit
These are great for breakfast, but also make a sweet healthy snack. Its a great solution for the mid-afternoon slump when you need some protein to make it through the rest of the day.
For a real treat, you could use this layering technique with frozen yogurt.
Ingredient substitutions and notes
This recipe is the basic formula for making a healthy and delicious fruit and yogurt parfait. There are a million variations on this however. Experiment until you find what you like best!
If you want a blank slate where the taste of the fresh fruit is most noticeable, use plain Greek yogurt. Plain yogurt is usually lower in sugar as well. But you could use any flavor you like. Greek yogurt is thicker and has more protein than regular yogurt. If you prefer regular yogurt, it will work just fine in this.
You can also make this dairy free by using a non-dairy yogurt. There are lots of options in the grocery store!
Switch up the fruit that you use depending on what is in season. I love the combination of blueberries, mango and raspberries. But use what you have on hand or what you scored fresh from the farmers market. Its also fine to use a frozen blend of fruit. Some fruits to try are:
Strawberries
Blackberries
Kiwi
Banana
Apple (add a squirt of lemon to keep them from turning brown if you arent eating it right away)
Tangerines
Plumbs
Cherries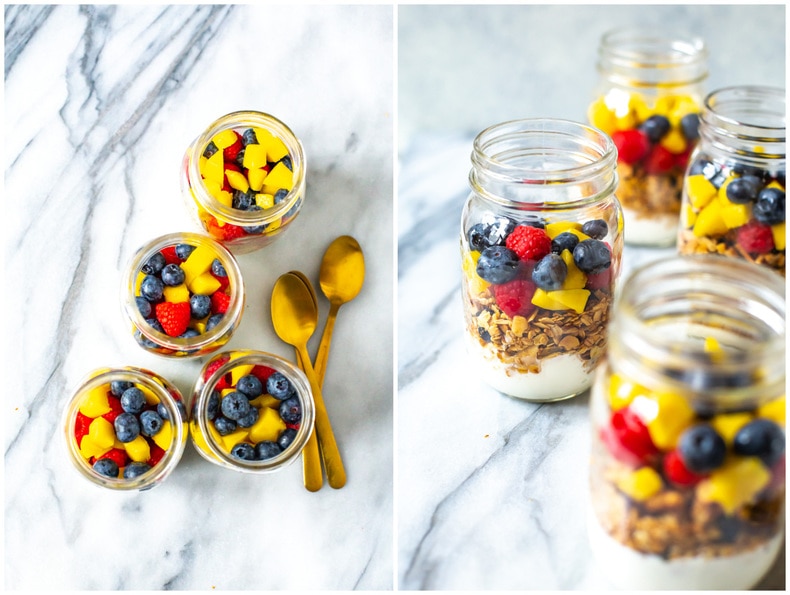 How to make homemade granola
Its easy to make your own homemade granola. You can customize it to suit your tastes, plus it will store in the pantry for two months.
Homemade granola is mostly oats. You then add in nuts, seeds, vanilla extract, coconut flakes and oil.
Bake at 300F for 50 minutes, stirring once or twice during that time.
Let it cool for at least ten minutes then add dried berries.
For more detailed instructions and ideas for granola, check out this post.
How to avoid soggy granola
If your granola sits in the yogurt and fruit, it will get soggy. Some people dont mind this at all!
However, if you like your granola to be crunchy, you will have to wait to add it to the fruit and yogurt parfait. You can keep it seperate and pour the granola on top right before you eat it. Or if you are eating this on the go, put a piece of plastic on top of the yogurt and fruit. Then put the granola on top of that. Just pull the plastic wrap out and mix everything together.
Putting the granola on top will also help because nothing will leak down through it.
More topping ideas
This yogurt parfait recipe is just a starting point. This gives you the basic method of making the parfait. Once you are addicted to this easy and healthy breakfast food, get creative with your toppings.
Try any of these:
Honey
Fruit jam
Nuts
Raisins or other dried fruit
Mini chocolate chips
Coconut flakes
Chia or flax seeds
How to add more protein
You can increase the protein in this yogurt parfait to keep you full even longer with a few easy swaps.
Use Greek yogurt instead of plain yogurt. It contains way more protein.
Use nut butter as one of your toppings or include nuts in your granola.
Chia and flax seeds are great toppings that increase the protein
Storing yogurt parfaits
You can store these yogurt parfaits in the refrigerator for up to five days. This means that you have a whole week of healthy ready-made breakfasts with just a little work on the weekends!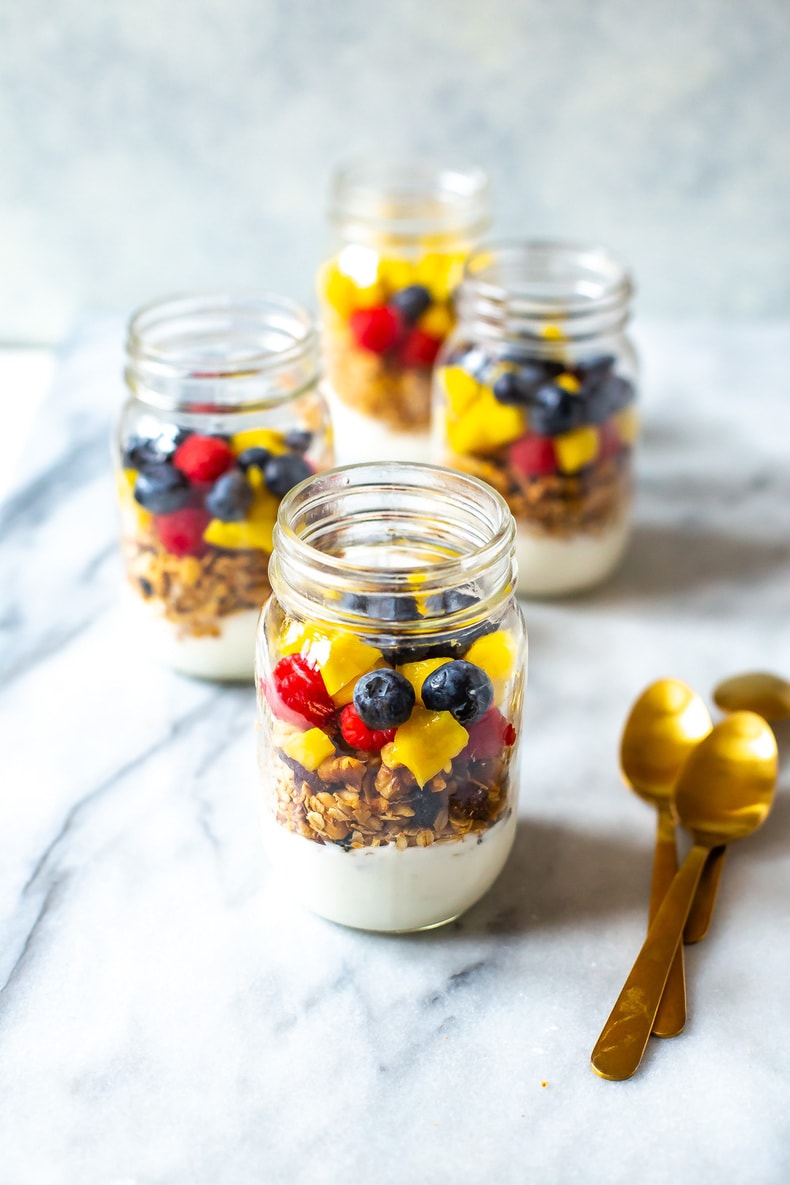 More make ahead breakfast recipes
Meal prep tools for this recipe
Meal prep challenge
If you'd like some more help with meal planning, then you'll love my free 5-day meal prep challenge! It's basically a free course that will teach you how to meal prep and cook healthy meals at home with some PDF bonus materials. Sign up for free below:
FREE MEAL PREP CHALLENGE!
Subscribe for my free 5-day meal prep challenge complete with printable PDF resources!
Your name:
Your email:
Healthy Meal Prep Yogurt Parfaits
These Healthy Meal Prep Yogurt Parfaits are a great breakfast idea made using yogurt, granola & fruit they're grab and go & easy to assemble in advance.
1 cup Greek yogurt (any flavour)
1 cup granola (homemade or store bought)
1 mango, diced
1/2 cup raspberries
1/2 cup blueberries
Layer 1/4 cup Greek yogurt to the bottom of each mason jar, then layer with 1/4 cup granola, followed by fruit.

Store in fridge up to 5 days.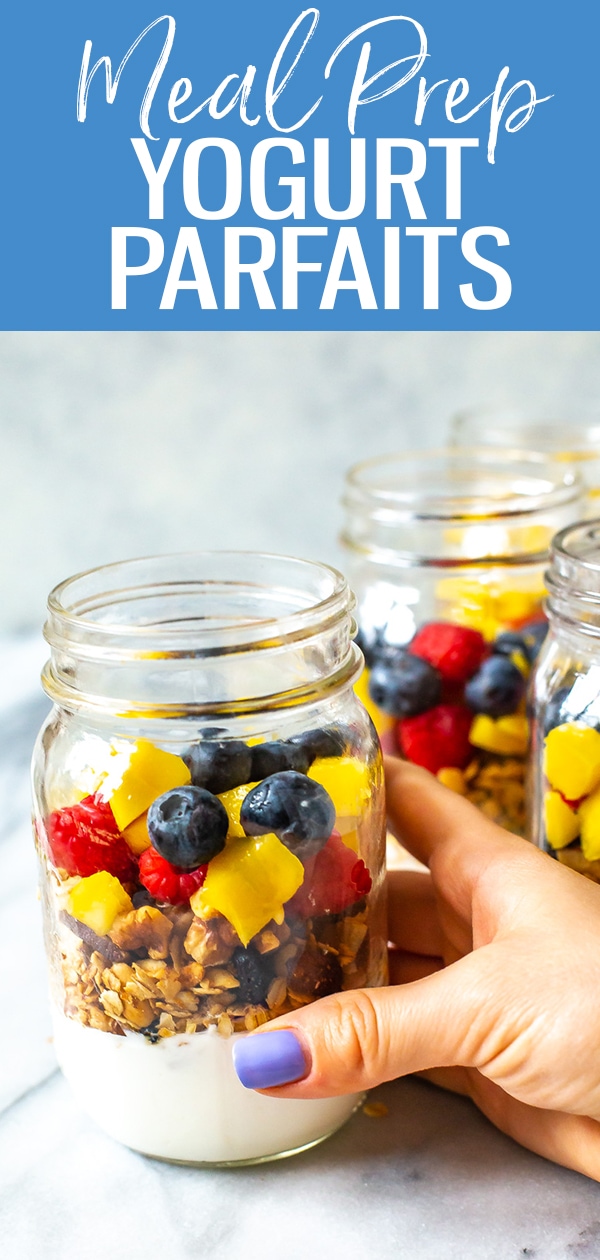 The post Healthy Meal Prep Yogurt Parfaits appeared first on The Girl on Bloor.