Its cold outside! Its so cold and frosty that school was delayed, and while its cold and not much else to do, my creative juices always kick into high gear. Today I decided to make some cute Taco Salad Splits with the bonus time that I had gifted to me by the weather.
So whats a Taco Salad Split? Well, its a taco take on a banana split. Dont worry, Im not making tacos with bananas. But I am making these taco salads LOOK like banana splits.
This is probably the cutest way possible to make and eat your taco salad by the way.
I saw the idea for these splits many many years ago and have had them on the back burner ever since. In finally decided to break down and make them, giving them my own healthified twist! To lighten these salads up, I started up by using a lean ground turkey and my own homemade taco seasoning.
Really any taco seasoning will work, but I prefer to be completely in control of ingredients and more particularly of the salt content. Plus, making your own taco seasoning is one of the easiest things that you can do.
One of my favorite parts of these Taco Salad Splits though is that they are pretty easy to make ahead as a meal prep style lunch. The only thing youll want to hold off on is the scoop of guacamole. The rest of it can be there and ready to go when you are.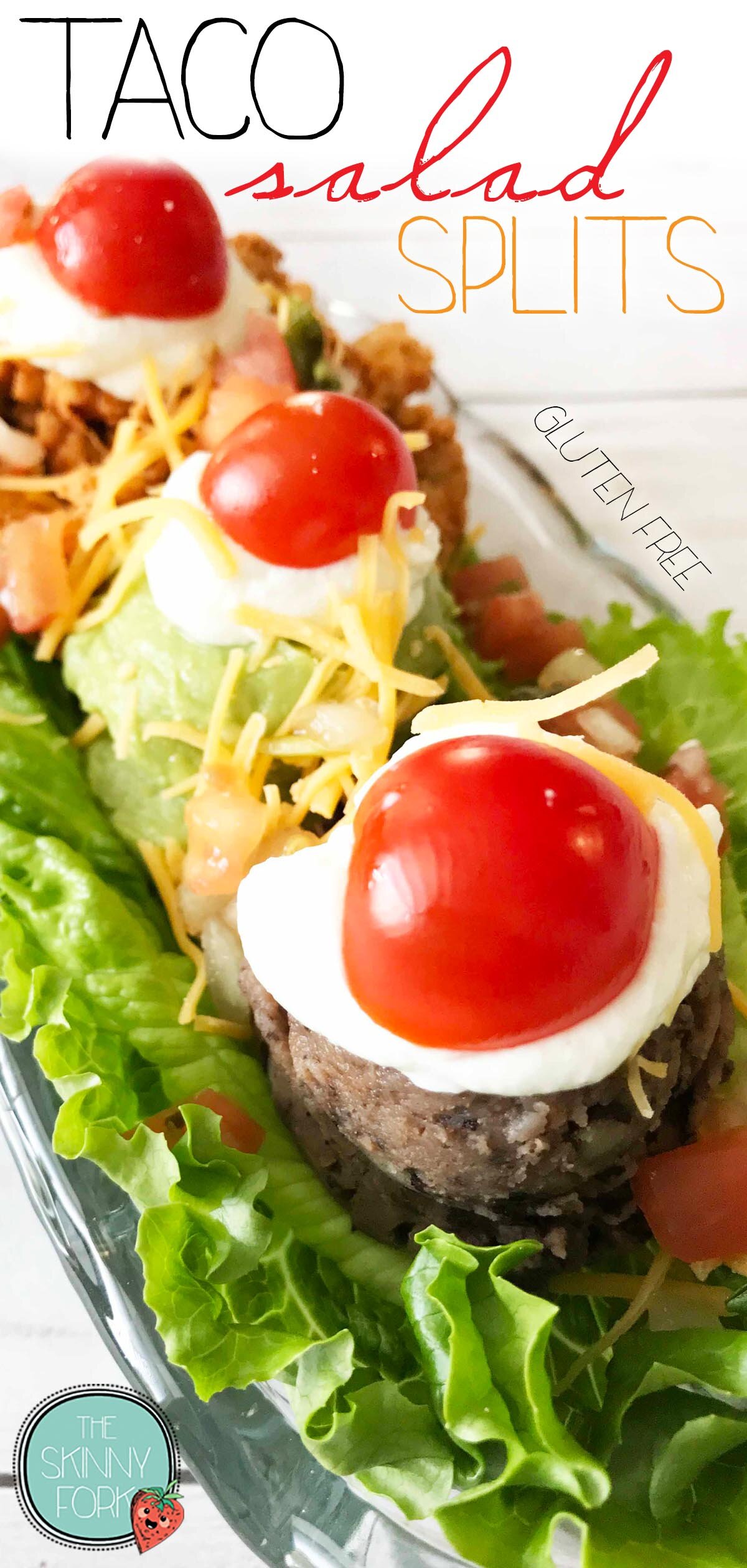 Taco Salad Splits
TheSkinnyFork.com
Quite possibly the cutest way to eat a taco salad is in the form of a taco salad split! These tasty and adorable salads are healthified and perfect for meal prepping.
Prep Time:
10 Minutes
Cook Time:
10 Minutes
The Skinny:
Servings: 6
Serving Size: 1 Split
Calories: 343
Fat: 10 g
Saturated Fat: 2 g
Carb: 36 g
Fiber: 10 g
Protein: 28 g
Sugar: 3 g
Sodium: 286 mg
Ingredients:
1 Lb. Extra Lean Ground Turkey
1 Tbsp. Taco Seasoning (I used homemade.)
6 Green Leaf Lettuce Leaves
1 1/2 C. Refried Black Beans
1 1/2 C. Guacamole (I used 100 Cal. Packs.)
6 Tbsp. Plain Fat-Free Greek Yogurt
9 Cherry Tomatoes
6 Tbsp. Fresh Pico
Salt & Pepper to Taste
Directions:
Heat a large skillet over medium-high heat and add in the 1 Lb. ground turkey. Cook to brown the turkey meat.

Once the meat is cooked through, add in the 1 Tbsp. taco seasoning and salt & pepper to taste. Cook for a few more minutes before removing from heat to set aside.

Line the bottom of some sundae boats with the # green leaf lettuce.

Using an ice cream scoop, scoop 1/4 C. of the beans, 1/4 C. of the guacamole, and 1/4 C. of the meat onto your taco sundae.

Drizzle the scoops with greek yogurt divided evenly and top each scoop with a half of a cherry tomato.

Sprinkle on the fresh pico divided evenly among the boats.
Step-by-Step Photos:
Nutritional Claims:High Fiber Sugar Conscious Gluten Free Wheat Free Egg Free Peanut Free Tree Nut Free Soy Free Fish Free Shellfish Free Pork Free Red Meat Free Crustacean Free Celery Free Mustard Free Sesame Free Lupine Free Mollusk Free Alcohol Free No Oil Added No Sugar Added Sulphite Free