This Pumpkin Spinach Smoothie is a healthy green smoothie that tastes like pumpkin pie! With spinach, avocado, banana, and pumpkin it's nutritious and tasty!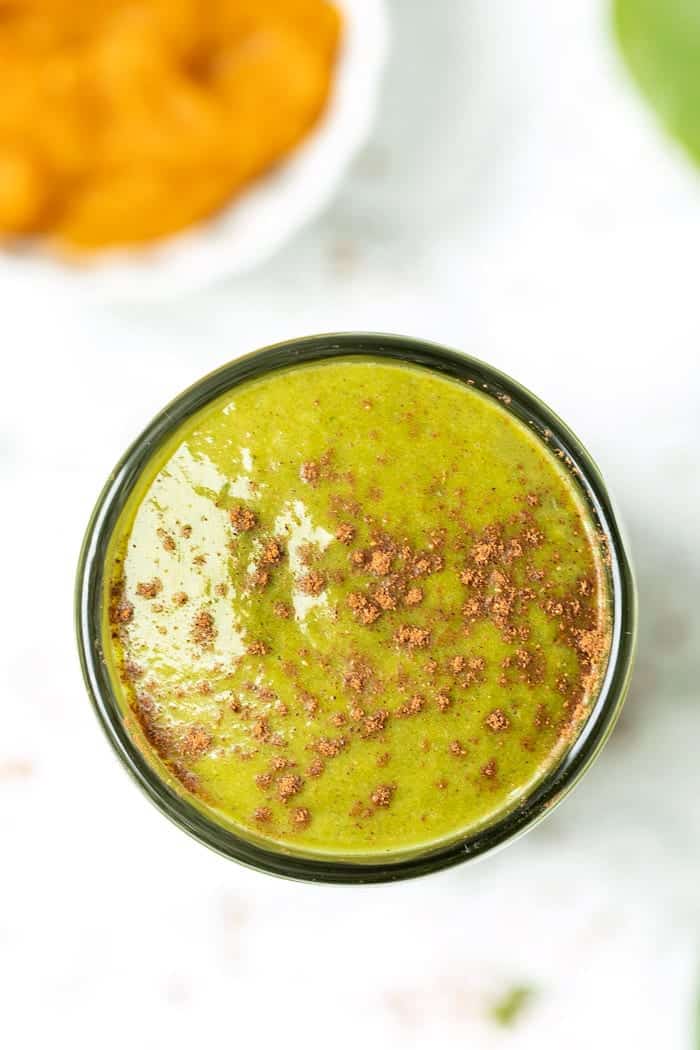 I'm feeling myself this pumpkin season. Not only are we creating some pretty epic desserts, but we're making some scrumptious pumpkin breakfast recipes. We've had our pumpkin pie overnight oats, pumpkin coffee cake and now we've got this epic pumpkin spinach smoothie.
Is it too much pumpkin? I think not!
Luckily for all my fellow pumpkin lovers, there's really no end to the possibilities of this squash. It can be used in sweet or savory, breakfast or dessert, lunch or dinner. Basically, you can use it all the time!
Today we're combining two of my favorite things: pumpkin pie and green smoothies. We're using the classics you'll find in a pumpkin pie (i.e. pumpkin puree + pumpkin spice), and adding all sorts of other goodies to make this a totally nutritious breakfast. We've got healthy fats, we've got fiber, we've got greens and we've even got an option for extra protein!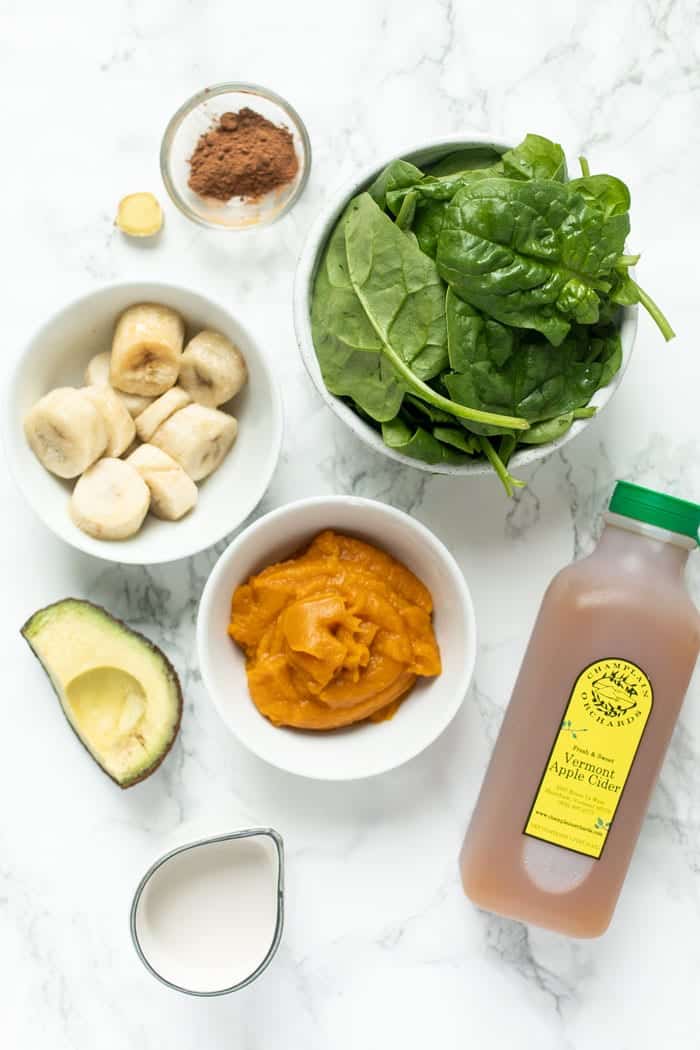 Ingredients for Pumpkin Spinach Smoothie
Are all green smoothies healthy? Not necessarily! Just because something looks green doesn't mean it's good for you.
For our pumpkin spinach smoothie, I wanted to make sure that it tasted good but also wasn't loaded with sugar. You'll see some of the obvious players, but I have added a few extras to boost the nutrition a bit.
Here's what you'll need to make our Pumpkin Spinach Smoothie:
Pumpkin Puree: pumpkin is high in fiber, as well as vitamin A and K. You can either use canned pumpkin or you could roast your own (with a little coconut oil and cinnamon) and add that in instead.
Frozen Banana: banana is high in potassium, fiber and it adds the sweetness that this smoothie needs. Using frozen banana helps us get a silky smooth texture!
Spinach: my favorite green to add to smoothies, spinach is full of protein, vitamins, fiber, and so many other goodies. Spinach also doesn't really have a taste, so you'll never know it's in there!
Avocado: high in fiber and full of healthy fats, avocado is a great addition to any smoothie!
Apple Cider: I wanted to make sure this tasted like fall, so instead of just almond milk, I did half apple cider. It also adds a little extra sweetness!
Almond Milk:the other liquid of choice when I make smoothies! You can use any other type of alternative milk you'd like. Or if you're not feeling the milk, you can totally do water.
Spices: we're doing a mix of pumpkin pie spice and fresh ginger. The pumpkin pie spice has the warmth from the cinnamon, nutmeg, and cloves, and the ginger adds that nice zing at the end!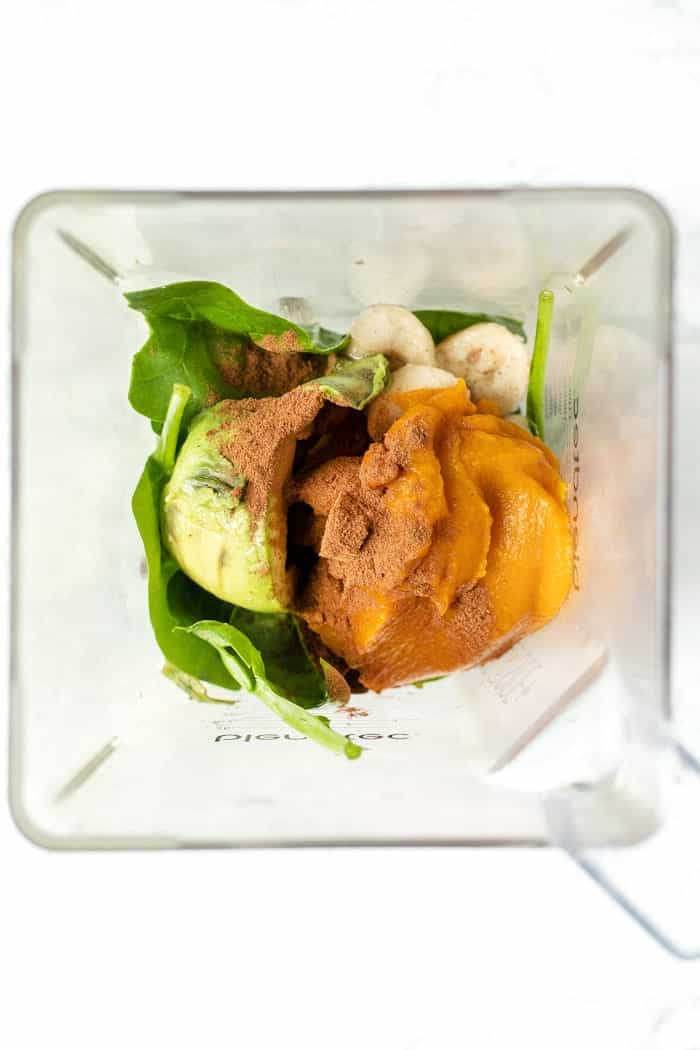 How to make Green Smoothies Taste Good
For a lot of people new to the smoothie game, green can seem very off-putting. It almost looks too healthy! I remember making a green smoothie in front of my grandmother one time and as I was pouring the smoothie into my glass I looked over at her and she looked horrified Then I made her taste it While it might not have been her *favorite* thing, she didn't mind it and ended up having her own little glass.
That being said, you can totally make green smoothies taste good!
Here's how to make a green smoothie taste good:
Use sweet fruit: to counteract the bitterness or earthiness that some greens have, make sure to add in some sweet fruit. Something like banana, pineapple or mango will help to balance things out.
Start small: there's no need to throw in 3 handfuls of greens if you're not used to it. Add just a cup at first and increase from there!
Use spinach: spinach is the mildest green that you can add to smoothies and 99% of the time you can't even taste it in your smoothie!
Go for color: if someone is put off by the green color (or the brown color you might get), go for lots of berries. If you have a smoothie filled with blueberries, raspberries and/or strawberries and you just throw in a little spinach, the color will still be gorgeous! Plus berries are sweet and the smoothie will taste awesome.
Add some spice: spices are a great way to add some flavor! I love adding cinnamon, vanilla, chocolate and pumpkin pie spices to my smoothies!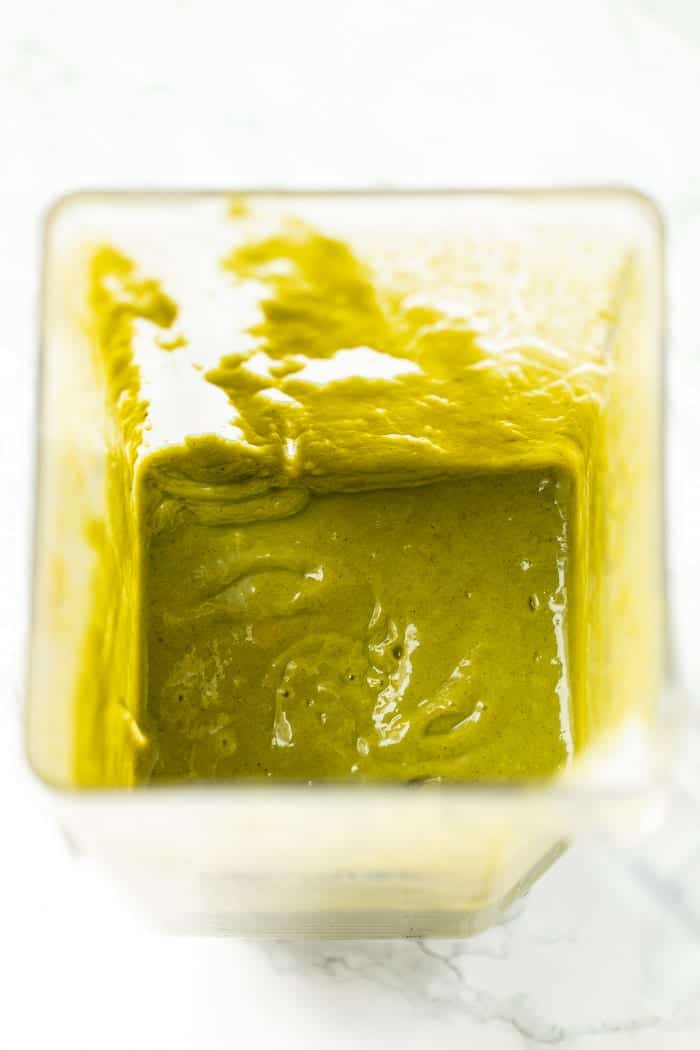 Can You Make Smoothies Ahead?
The short answer is, yes! You can totally make smoothies ahead of time. I recommend two ways: the night before or freezing. You can simply freeze your smoothies in a mason jar (make sure to leave extra room in the top so the jar doesn't break), or you can leave it in a sealed container in your fridge overnight.
To thaw a frozen smoothie, simply leave it on the counter overnight or pop it in your fridge the day before you want to drink it!
Pumpkin Spinach Smoothie Variations
Want to try something a little different? Awesome, here are some ways you can change up this pumpkin pie green smoothie to make it your own:
Pumpkin Kale Smoothie:greens are always interchangeable in your smoothies. Simply swap the spinach with kale (or another green of choice) to have a delicious variation on your pumpkin pie smoothie!
Low(er) Sugar Pumpkin Spinach Smoothie:bananas are fairly high in sugar, so if you want to make this low(er) sugar, swap the banana for apples! Apples are perfect for fall, they taste great with pumpkin pie spice. The smoothie might not be *quite* as creamy, but it will still taste delicious!
Creamy Pumpkin Pie Smoothie: looking for that extra creamy, luxurious texture? Throw in some raw cashews! Raw cashews are the secret in our vegan pumpkin pie smoothie, and they not only add healthy fat, but also an amazing, silky smooth texture!

More Healthy Green Smoothie Recipes
Pumpkin Spinach Smoothie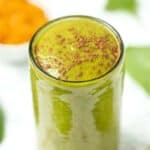 This Pumpkin Spinach Smoothie is a healthy green smoothie that tastes like pumpkin pie! With spinach, avocado, banana, and pumpkin it's nutritious and tasty!
1/2 cup pumpkin puree
1 frozen banana
1/2 an avocado
1 2 cups spinach
1 2 teaspoons pumpkin pie spice
1/4 " piece of fresh ginger
1/2 cup apple cider
1/2 cup almond milk
Ice if needed
Add all the ingredients into a blender in the order listed. Place the top of the blender and blend on high until smooth and creamy. If you want it a little thicker add some ice and reblend.
Pour into a glass and enjoy!
High Protein Option: want to get in a little extra protein? Add a scoop of your favorite vegan vanilla protein powder or 2 3 tablespoons of hemp seeds!
The post The Best Pumpkin Spinach Smoothie appeared first on Simply Quinoa.