This amazing vegan chocolate tart recipe is no bake, super simple to make and tastes incredible! Best of all it's gluten-free, grain-free and uses just 10 simple ingredients!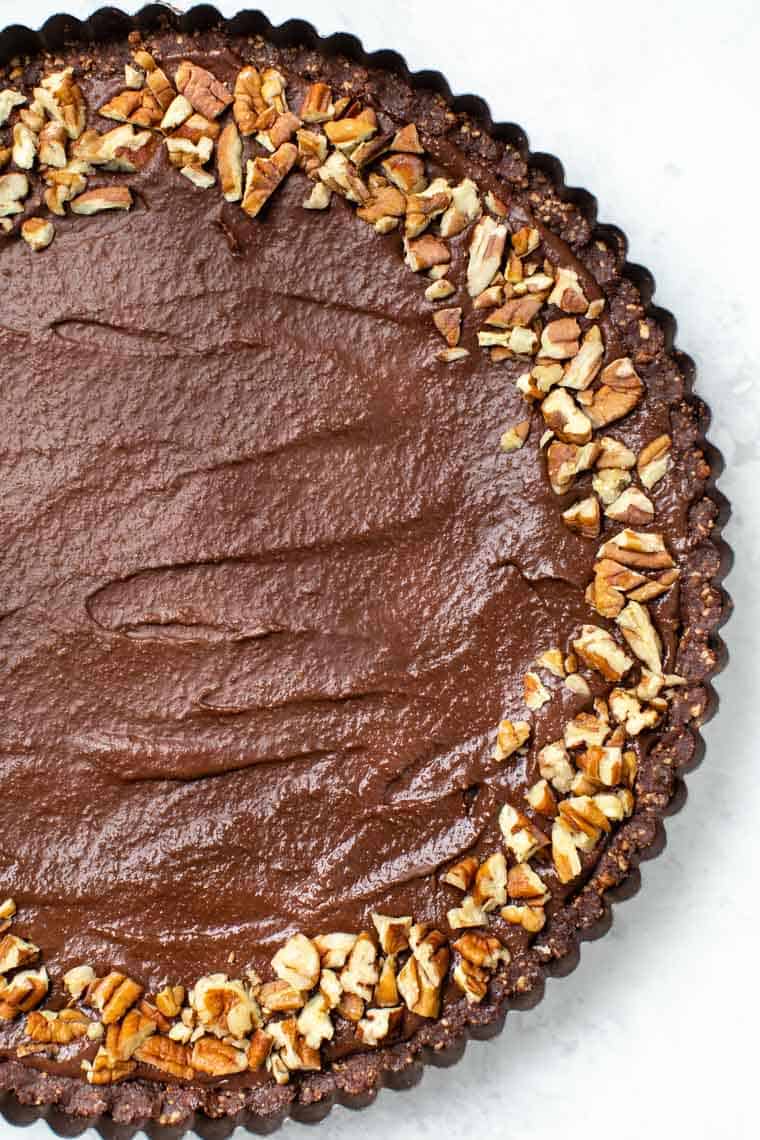 When it comes to pies and tarts, I usually opt for fruit based things. You know like apple pie, pumpkin pie, blueberry pie, etc. And on the tart side, I'm all about a custard filling and fruit on top.
But sometimes you gotta shake things up. You gotta push your boundaries. You gotta try something new.
And that's exactly what we're doing today! We're making an insanely delicious vegan chocolate tart that has a luxurious chocolate filling and a dark chocolate pecan crust. But here's the kicker: this recipe is no bake, vegan, gluten-free, grain-free and only 10 ingredients!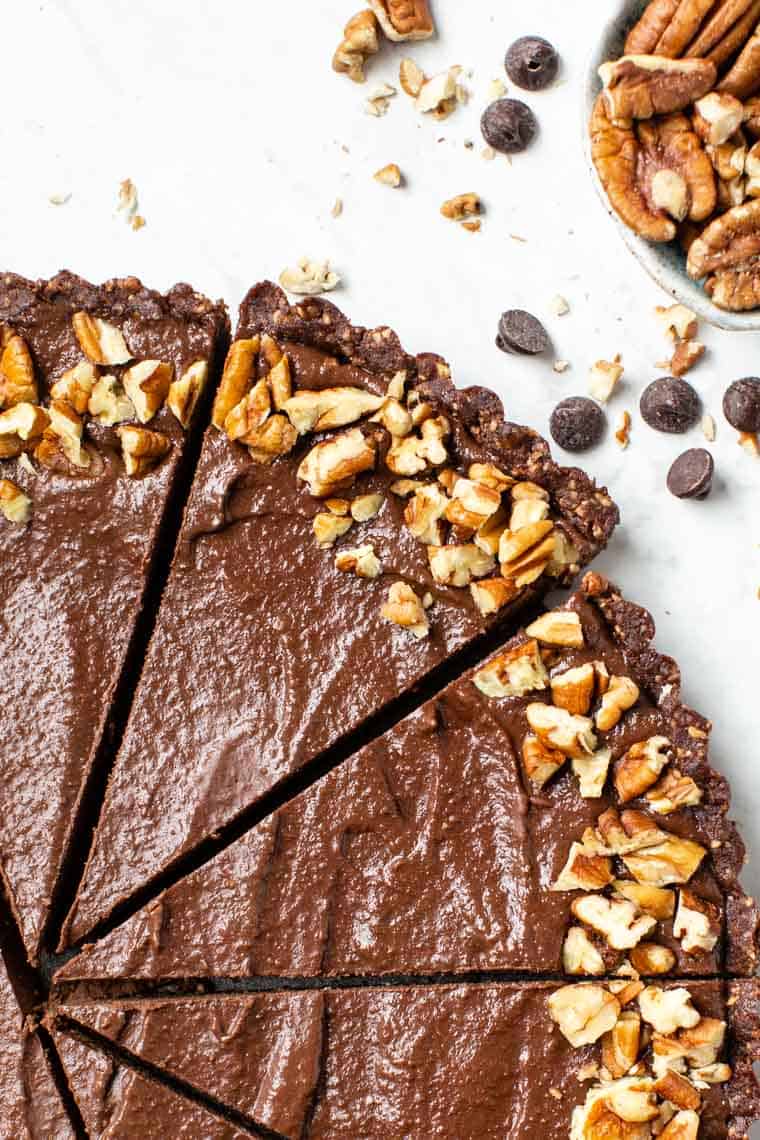 How to Make a Pecan Crust
The first order of business with this vegan chocolate tart is soaking out cashews. Cashews are going to the main component of the filling, but more on that in a second.
While the cashews are soaking, we're going to prep the crust. What's great about this crust is that it's only 4 ingredients and is so simple to make. You just need your food processor (I love my 11-cup one from Cuisinart) and a tart pan.
Here are the ingredients for our pecan crust:
Pecan halves
Raw cacao powder
Medjool dates (pitted)
Coconut oil
And you just dump everything into the bowl of your food processor and whizz it up until a thick dough forms. From there you can press it into your tart pan. And that's it! See how easy?!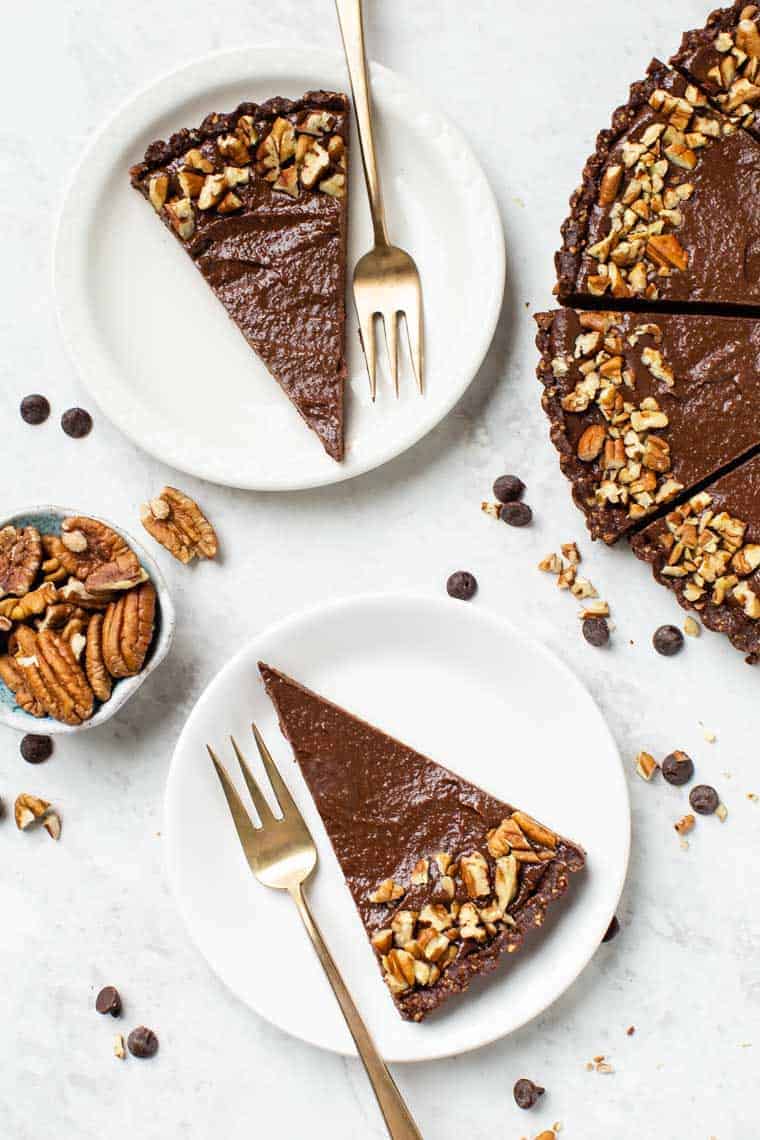 Why We Use Raw Cashews in Vegan Desserts
Okay so now that we've got the chocolate pecan crust done, let's talk about this beautiful chocolate filling!
First up is cashews. As I said, we're using soaked raw cashews as the main component of this filling. You've actually seen me use soaked raw cashews in tons of other recipes on the site, including creamy dressing like our Creamy Kale Caesar, creamy sauces like in my Vegan Pumpkin Alfredo and tons of no-bake desserts (those are linked below).
Once soaked, raw cashews can be blended up with a little liquid and turned into the most amazing creamy texture. You can use them to replace heavy creamy, but you can also use them to make no bake cheesecake or mousse-like desserts.
Which of course is what we're doing today! The filling of this vegan chocolate tart is a blend between cheesecake and mousse. It's light, it's rich, it's creamy and it's all thanks to those cashews!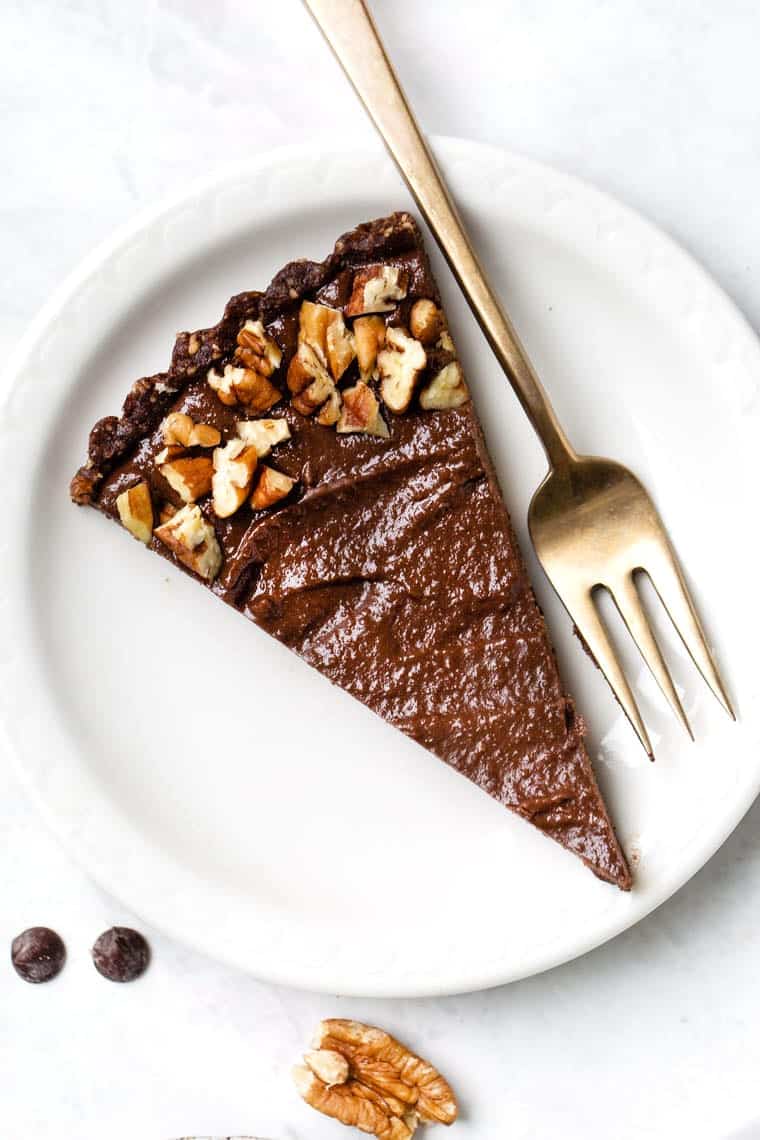 Ingredients for Vegan Chocolate Tart Filling
The best thing about this vegan chocolate filling is it's made in the blender and uses just 7 ingredients. Including the raw cashews, here's what you're going to use:
raw cacao: I love using raw cacao because it's unprocessed. You get more antioxidants and less bitterness, but still that rich, dark chocolate flavor.
chocolate chips: we're melting these with some coconut oil for a little extra decadence. These chips have sweetness, but also add even more chocolate!
coconut oil: we not only use the coconut oil to help melt the chocolate chips, but as the tart freezes, the coconut oil will help everything stay nice and firm.
maple syrup: it is dessert after all, so we definitely want to get a touch more sweetness in there. Maple syrup is the best because it's liquid and will help everything blend as well as make sure it's not gritty.
vanilla: just for a little extra sweetness! Make sure you try to get one without alcohol since this isn't going to be cooked!
sea salt: salt and chocolate are a match made in heaven and really helps bring out the flavor in the filling!
And then we'll just mix in a little bit of water to thin it out, blend it up and you've got the ultimate vegan chocolate tart filling! So good that it might be hard to not eat it all straight from the jar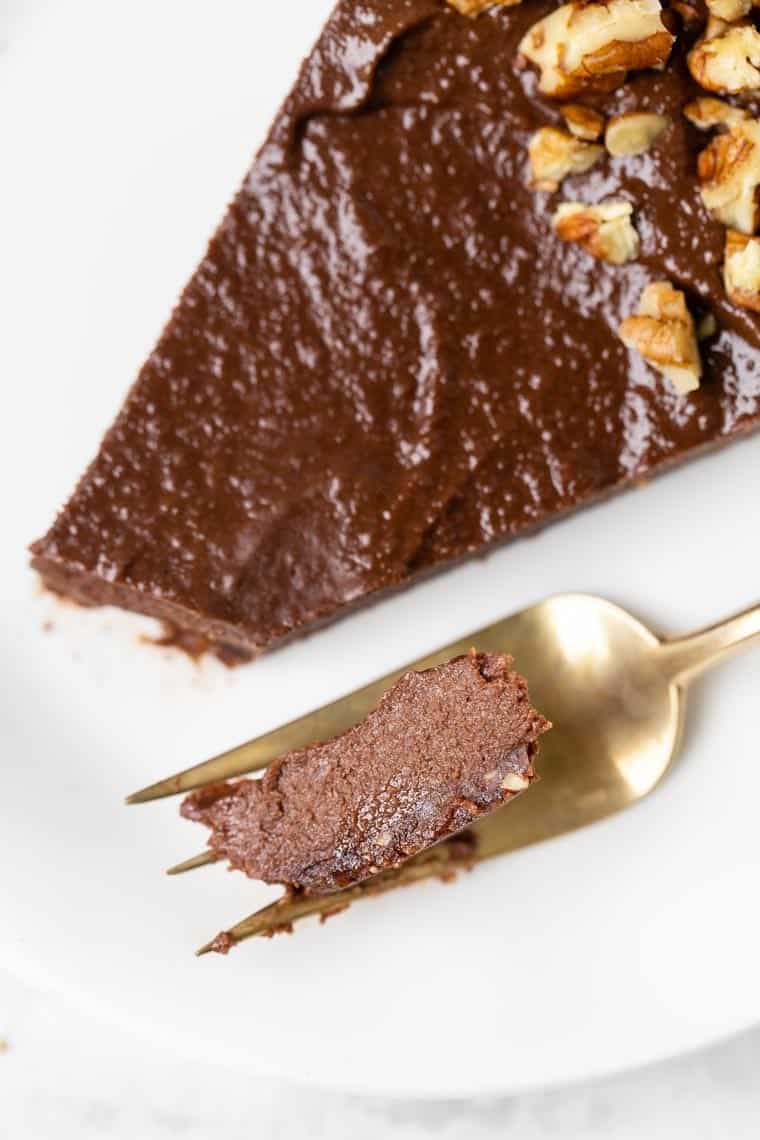 How to Make our Vegan Chocolate Tart
Ready to make this thing? I think you are! Really this recipe comes down to just the two components we've already talked about: the crust and the filling.
Once you've got your crust pressed out and your filling blended up, you can just scoop the filling into the crust and spread it out. I like to give my tarts a something a little special at the end by decorating them with chopped nuts. I did chopped pecans this time around, but you could also use chopped hazelnuts, toasted coconut, or even fresh berries!
The final step is to pop it in the freezer! You're going to want to let this sit for at least 4 hours, but preferably overnight. Then for serving, just be sure that you let the tart come to room temp for about 10 minutes before slicing it up!

More No Bake Desserts to try:
Vegan Chocolate Tart with Pecan Crust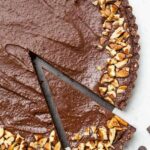 This amazing vegan chocolate tart recipe is no bake, super simple to make and tastes incredible! Best of all it's gluten-free, grain-free and uses just 10 simple ingredients!
1 cups raw cashews
1 cup pecans
cup raw cacao powder
1 cup dates ((about 10))
1 tablespoon coconut oil
cup chocolate chips (, melted)
cup cacao powder
2 tbsps coconut oil
1 tsp vanilla
Pinch of salt
2 3 tablespoons water as needed
Additional pecans to garnish
Place the cashews in a bowl. Top with hot water so the cashews are covered by at least 1 of water and let soak for at least 60 minutes.
While the cashews are soaking, make the crust. Add the pecans, cacao powder, dates and coconut oil into the food processor. Process on high until a thick dough comes together. Transfer the dough into a tart pan and press it into a crust.
Drain and rinse the cashews then transfer them to a blender. Add the melted chocolate chips, cacao powder, coconut oil, vanilla, salt and 2 tablespoons of water. Blend on high until smooth and creamy (you want it to be thick, but still somewhat pourable (kind of like the consistency of a thick pancake batter). If it's too thick, add another tablespoon of water.
Pour the filling into the crust and, if using, arrange extra pecans on the top. Freeze for at least 2 hours, preferably overnight.
When ready to serve, allow the tart to come to room temperature for about 10 minutes. The cut it into slices and enjoy!
The post Vegan Chocolate Tart with Pecan Crust appeared first on Simply Quinoa.