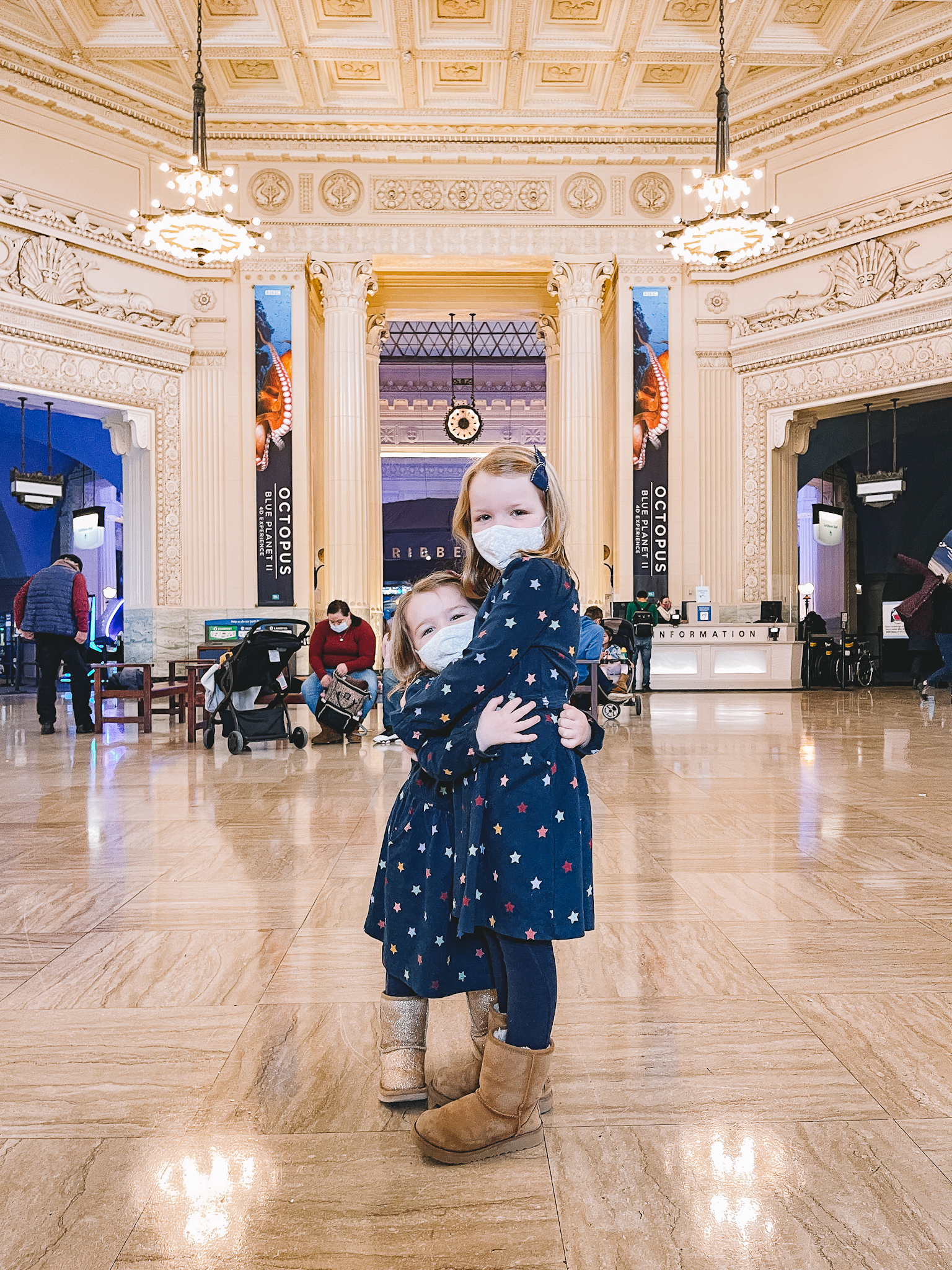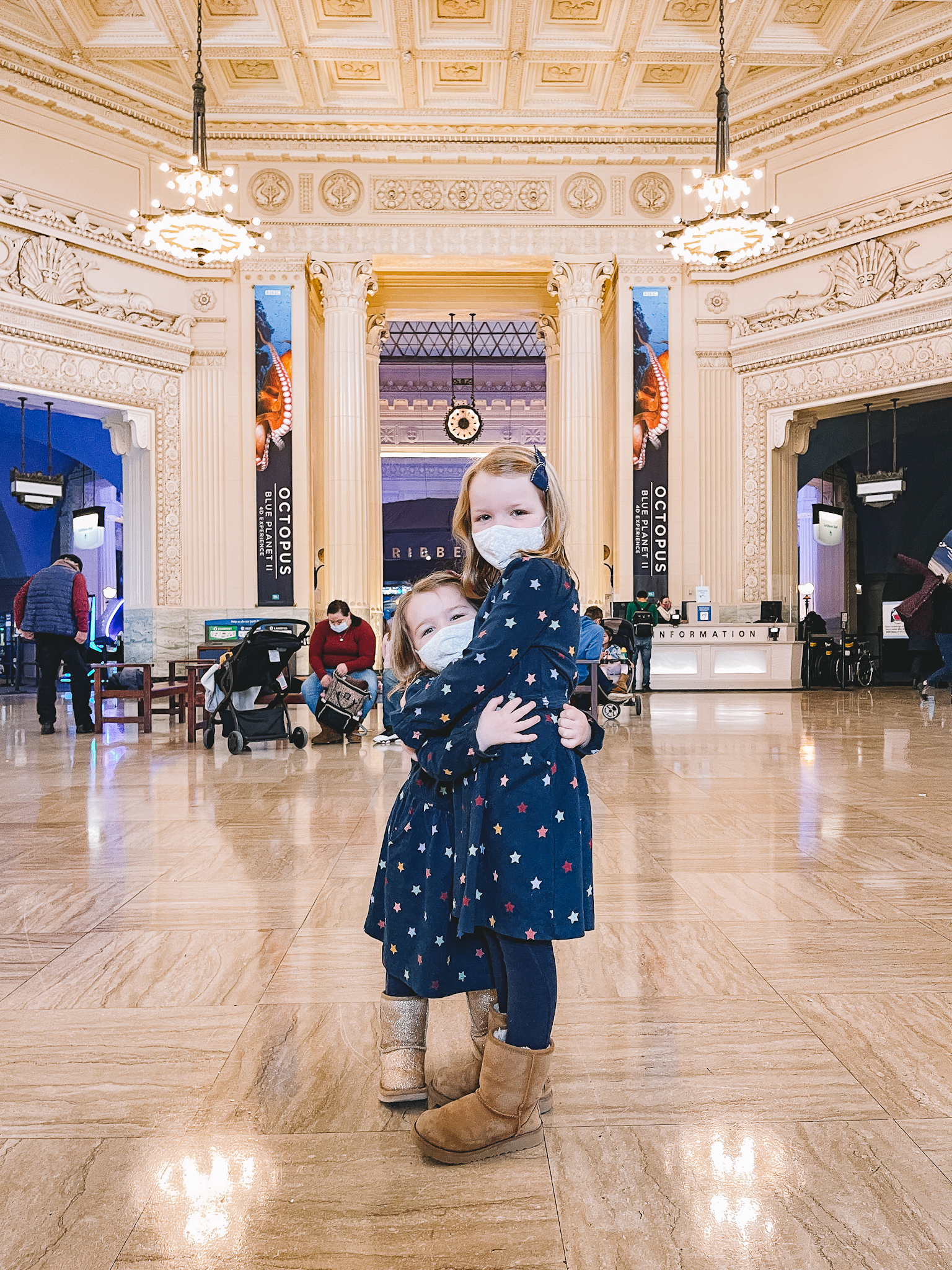 A recent trip to the aquarium! The girls are wearing Fatface dresses and Uggs. 
A new week.

Here are the first 10+ things that come to mind:
Have you seen the Hulu miniseries Dopesick? Wow. It's about the opioid addiction crisis—OxyContin, in particular. It's definitely the best show Mitch and I have watched in the last six months; each character's storyline is honestly enthralling. Highly recommend.
Have you seen my friend Danielle's new rainbow blanket collaboration with ChappyWrap? Thirty percent of all sales goes to childhood cancer research. I can't wait to give Emma and Lucy their blankets; they're going to be so happy!
I found this amazingly affordable and adorable rainbow sweater for Lucy for Valentine's Day. Speaking of rainbows. ;) Isn't it so cute?! Not sure I'll be able to hold out until Valentine's Day since I know she's going to be so excited.
How often do you wash your hair? I've finally gotten to a point where I don't feel gross skipping a day, and it's been freeing! Of course, I wouldn't say that my hair looks very good on skip days, haha, but my mornings are a lot easier and I'm less rushed when trying to get the girls out the door.
I found an amazing holiday card company that literally stamps and SENDS the cards for you. My dad and I were recently talking about how time-consuming sending cards is, during the busiest time of the year. I told him that I honestly needed a service who sealed, stamped and mailed them, and he was like, "One HAS to exist!" And lo. He was right. I collected and loaded all our addresses into *awesome* Postable address book, and I'll never be in panic-mode again! Might even send Valentine's Day cards since I never sent Christmas cards.
Both Emma and Lucy were back in kindergarten/pre-k this last week! It was CRAZY. A full winter month of breaks and shutdowns and quarantines, and we were ready. And while it was a bit of an adjustment for the girls—they were tired!—everyone was so happy to be back.
Emma started jazz at her dance school. And she's so into it! She's with her best friend, Walker, again, which makes it extra special. Of course, she lost her jazz shoes almost immediately, haha. Ugh. We had a long talk about responsibility, though, and here's hoping this is the last piece of sporting equipment we lose for a while. (Don't even get me started on all the shin guards that went missing last year.)
I'm working on a kids' play kitchen refresh. My parents' gave Emma a beautiful Pottery Barn Kids play kitchen when she was a toddler, and to this day, it's our most-loved and most-played-with toy. The kitchen itself has held up exceptionally well, but the food and accessories have seen better days! So I've started looking around for some replacement items. Anything your kids love?! This cash register is adorable, as are these sturdy menus.
These are super flattering and wonderfully warm leggings! Going on year 2 with mine and still favorites. They feel very similar to the famous Lululemon Align leggings, but actually keep me warm during 10-degree walks. Even warmer is Athleta's version—they're what I go for on SUPER cold mornings in Chicago. (Not as flattering, though, since they're so much thicker.)
"One Home Project Every Day" update:

I finally put photos in our empty frames around the house. We actually probably have under 10 photo frames in our home, but what a difference. They make me smile when I walk into a room. (I've been using mpix for prints, in case you're looking for a good photo-printing service!)
I returned the trundles that did not fit under the girls' beds. This was quite the bummer. I ordered trundles ages ago hoping to simply sleeping situations when we have family/guests, and was told twice by the company that they would fit! Turns out that the trundles do not fit under ALL sizes of the bed. A huge hassle but we finally got them out of the house! Back to air mattresses.
I steamed more curtains. This is taking so long. But little by little, we're becoming less of a wrinkled mess over here. Btw, we have the Emery Curtains and love them, but have you seen the pinch pleat version?!
I donated more blankets. When Danielle's blankets arrived, I set aside a couple of donate. Really trying to stay on top of the blanket situation this year!
After 2.5 years of looking, I finally found a living room side table. It's the smaller size of this Pine Bowfront Chest, and I'm in love. (Less expensive version here. Larger version here.)

Do you still have your favorite childhood stuffed animal? The girls have mine, a bunny named "Hop," and Mitch's, a nameless teddy bear. (He can't remember what he called it. "Maybe 'Brown Bear'?" Dying.)
I love this gauze top from J.Crew. It comes in a ton of colors, and when you take it out of the wash, you don't have to do anything to it. Just hang it up! A really easy top that looks beautiful just with jeans. Perfect for travel.
I ordered beautiful stationery. I ran out of stationery for the first time in my life, right before the holidays. In love with my new stuff, though!
Lucy is super into these dolls. One of her little buddies has them, and she's now obsessed, too. They're from Japan, and they represent respect and friendship. (Which makes them very sweet gifts.) They're great to throw in the baby bag, too, or bring along on trips since they're so small!
Emma and I have been scooting to school in the cold, and it's such a great way to wake up in the morning! Yes, it's sometimes a little rough. But exercise, fresh air, and sometimes sun keep me going during the winter. (If you're looking for a great scooter for little kids, we love this one because it's ages 5-12, though Emma started using hers around age 3 or 4. It also FOLDS, meaning it's easy for me to carry to and from school during pickups.)
The post 10+ Things, 1/24 appeared first on Kelly in the City.