This printable chore chart for kids will help keep your family on track with their weekly responsibilities. As a mom of three, it's the only way to make sure that all of my children know what needs to be done on a daily basis.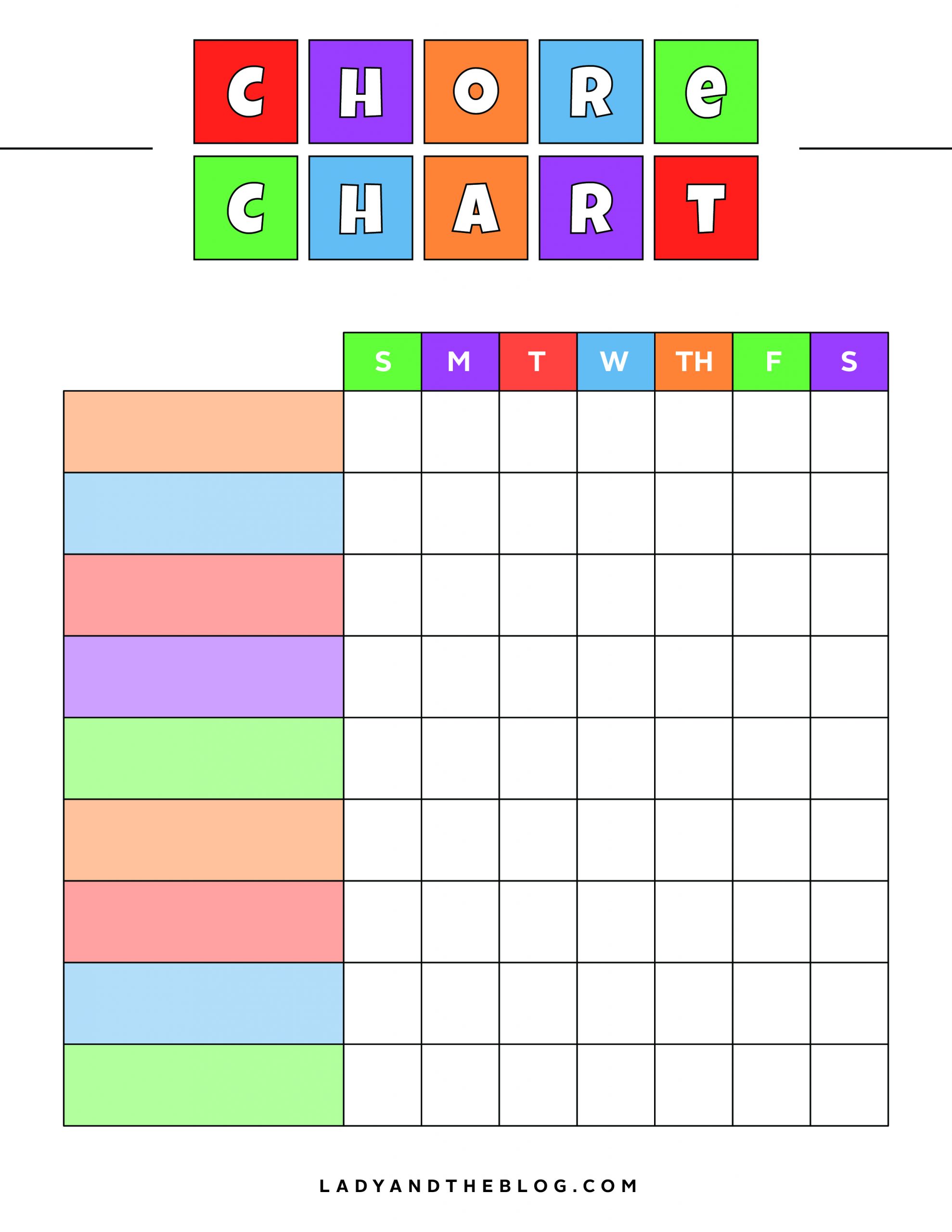 This free weekly chore chart template is something that I've continuously used over the last decade! As my children age, their chores change with time. So, I just adjust their tasks accordingly. I love that I can swap out assignments as I see fit.
Printable Chore Chart For Kids – Weekly Chore Chart Template
That's why I decided to share a blank chore chart template with you instead of one that is already filled out because I know that each family chore chart will require different things.
For example. in a few days, we plan on putting together a backyard garden. This will require lots of watering and tending. I know that I have to add a line item to my children's' lists. But if you don't have a garden, then you won't need this on your chore chart for kids! So, blank is the way to go.
What chores should be done weekly?
For children, there are a number of chores that can be done weekly. Let's start with their rooms and break down some simple tasks.
Your son/daughter can be responsible for making their own bed, picking up their toys, managing their laundry (putting clothes in the laundry basket), dusting, and sweeping the floor.
Once you move onto the rest of the house, depending on their age, you can add on additional tasks like taking out the garbage, being responsible for recycling, handling the dishwasher, folding all the laundry – etc.
But here is the trick – push them a little bit out of their comfort zone, but just a tad. Challenge them in the beginning, but watch if they struggle.
If they continue to struggle, then the chore is too hard for their age and you must adjust down. However, please remember – kids are resilient. You will be surprised at what they can handle.
Add some easy and hard options to your chore chart for kids and see what happens!
My littles were putting away their own laundry in Kindergarten and mopping the floors before they even knew how to write. AND THEY SURVIVED. PS – here are some family laundry tips if you don't know where to start.
Now, I have three big helpers who are all hands on deck – not always thrilled about it – but who know exactly what needs to get done and how.
Give them things to do and they will do them.
Download Your Free Family Chore Chart
Ready to download your family chore chart? Click here and here for your free printables. There are two different versions for you to choose from – enjoy them both!
What Are Some Chore Chart Ideas?
If you wanted to have an idea of what I've written on my personal chore charts in the past, here are some options to consider:
Brush your teeth
Make your bed
Bring out your laundry (here are some laundry safety tips for kids)
Walk the dog
Put your shoes away
Do your homework
Put your lunch box away
Tidy up the living room
Clear the dining room table
Set the table
Wipe down the kitchen – speed cleaner
These tasks work for almost EVERY school-aged child and are also a great way to teach kids independence. If I'm being honest with you, my 7-year-old AND my 12-year-old STILL need reminders of these tasks. LOL!
Chore lists are a great way to get ideas to kick off your own print outs. I hope this one helped you in some way.
Ready to print out this chore chart for kids? Would love to hear how your kids do after the first week! Once you have a few helping hands lighten your load, you will feel so GOOD. I promise!
Allowing your children to take control of their daily responsibilities will teach them critical life skills and prepare them for their own future. Choose age-appropriate chores and household tasks, encourage them along the way, and watch your littles soar!
The post Printable Chore Chart For Kids – Weekly Chore Chart Template appeared first on Lady and the Blog.