Happy Earth Month everyone! This Earth Month is going to look a lot different than year's past. I'm bummed that many of the parades, events, workshops, and talks are going to be canceled this year.
But, I hope that many families will still be celebrating at home so I wanted to round up a few ways that you can put the Earth first from the comfort of your own home.
And, once we're able to move about freely again then please check out all of my tips on celebrating Earth Month all year long.
While it's great to have a day on the calendar to mark the celebration of our home, shouldn't we be grateful for our planet every day of the year?
After all, the planet provides us with delicious plants for food, trees to build our homes, plants to turn into gorgeous pieces of clothing, metals to make cell phones - I mean - when you think about it, our planet has done some pretty cool stuff for us… you know?
This post was sponsored all thoughts and opinions are my own. Some of the links below are affiliate links for more information please see my disclosure policy.
while working from home:
get cozy while planting trees:
I'm currently trying to strike the balance between pajamas and what I'm calling comfy-work-from-home-chic.
Anyone else? I'm working on a full blog post and YouTube video coming out later this month, but I had to include one of my favorite brands in this post, Tentree.
Tentree plants 10 trees for every single purchase made, and they've planted over 42 MILLION trees all over the world in countries like the US, Madagascar, Nepal, Indonesia, etc.
Currently, I've been living in their Laurel pants which are very chic, but crazy comfortable. They're made from 100% TENCEL™ Lyocell which is a zero-waste fabric.
All of tentree's products are made using eco-friendly, sustainable, and/or recycled materials, but they recently launched their most sustainable collection yet.
It's made from Fair Trade Cotton which is also Cradle-to-Cradle certified! A Cradle to Cradle product can break down and go back into a biological or technical cycle—through compost or other materials. This way, there is no waste and protects the health of our planet.
You can get 20% off your order with the code 'GOINGZEROWASTE20'.
keep your feet toasty - naturally:
When it comes to work-from-home clothing, there's one very important often-overlooked part - your footsies! Now, it's still pretty chilly and rainy here so I'm wearing socks and slippers all-day-every-day.
I have a few pairs of cozy-indoor-socks, as well as a cozy pair of slippers.
I've been working from home for over two years now, and this might sound a little nuts, but I can't wear my indoor-socks during work hours.
When it's working time; it's slippie time.
There's something about wearing shoes, even if they're slippers that make me feel more productive.
Nootkas Naturals makes soft, cozy, warm, hand felted slippers for both men and women that are breathable and naturally odor-resistant.
Their shoes are both biodegradable and compostable as they're made from responsibly sourced New Zealand wool that's 100% uncolored and un-dyed wool.
You can get 10% off your purchase with the code 'ZEROWASTE10'!
while in the bedroom:
getting snuggly:
We spend about a third of our lives in bed so organic sheets is really important to me. I've had a set of SOL Organics sheets for two years now and am so happy with the quality.
Their sheets are organic, fair trade, and they use no plastic packaging for shipping, but my favorite part of the company is their giveback. They donate $7.50 from each sale goes to one of the 4 charities they've partnered with.
I fell in love with linen sheets a few years back because linen is antibacterial so if you suffer from acne (like me!) switching to linen sheets and pillowcases have made a huge difference in my skin.
SOL Organics new linen collection is made from 100% European flax linen. It's naturally hypoallergenic, moisture-wicking, and stonewashed for softness. If you're interested in giving these sheets a try you can use the code 'GZW25' to get 25% off your purchase.
on your bedside table:
Looking for a little light reading before bed? Then you should check out 101 Ways to Go Zero Waste. It's a super easy to digest handbook full of 101 tips. You can read it cover to cover or just jump to the page/question that you need to read.
It's the handbook I wish I had when I started going zero waste. It's kind, non-judgmental and full of tips, tricks, and never before seen recipes.
The book is completely plastic-free and printed on recycled paper and the cover is forest service certified paper. FSC certified forests meet the highest environmental and social standards, but of course, it's also available via eBook and audiobook!
And, if it couldn't get any better proceeds from each book go to support Plastic Pollution Coalition.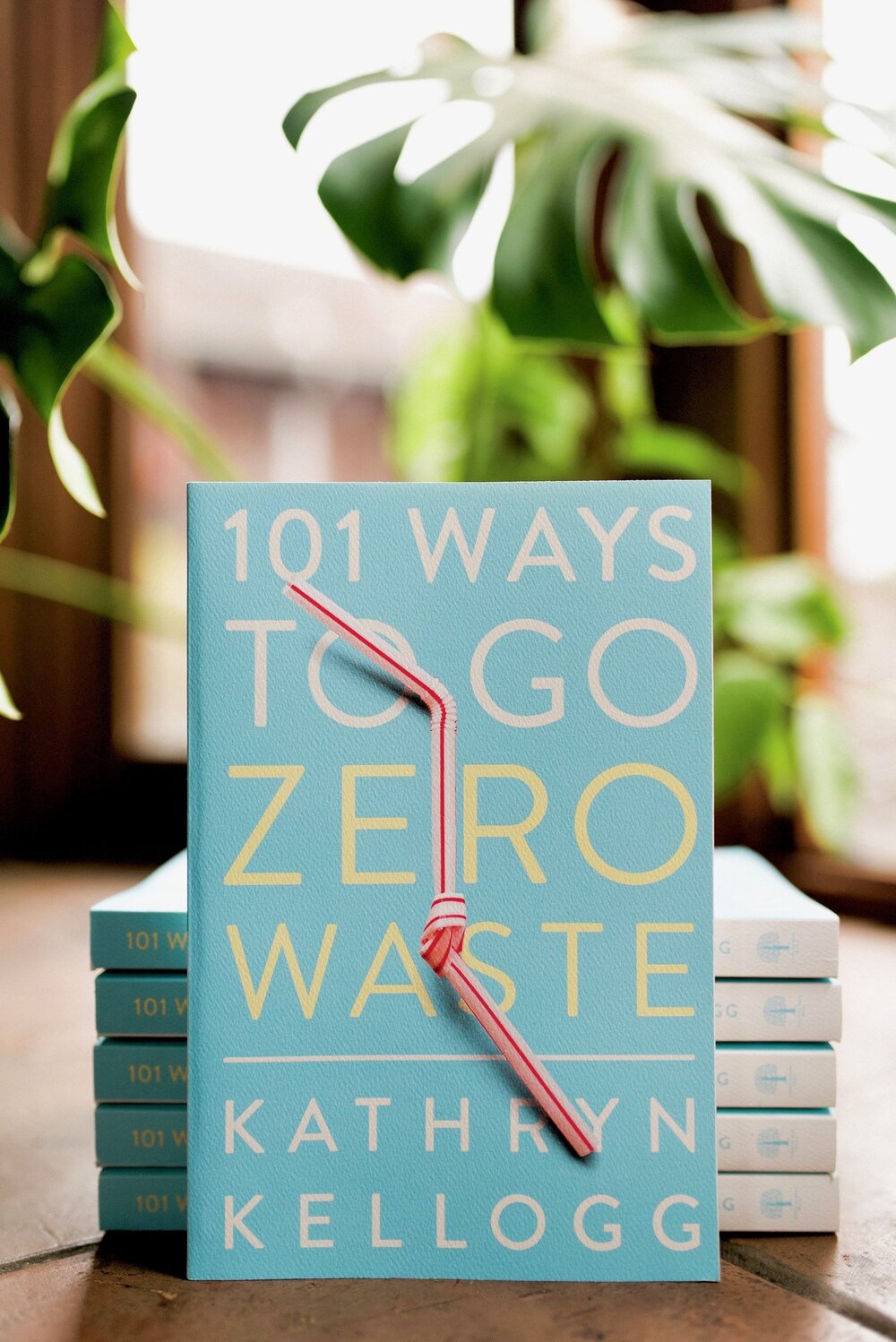 while working out:
get outside and enjoy nature:
More than ever, getting out of the house for a short walk with Nala feels like the best thing in the world. When working from home there's no water cooler or the ability to walk around the office so it can be pretty easy to stay seated all day long.
Make sure that you're taking a little bit of time too get out and enjoy the fresh air. Take a walk around the block and appreciate all the nature around you.
Check out this post, if you're looking for a guide to sustainable and ethical workout clothes. A few of my favorites are Girlfriend Collective, Prana, and Icebreaker.
fresh air and safety first:
During this time, I've been trying to leave the house outside of peak hours to avoid crowds. Justin and I have been going on walks around dusk, and I've been wanting to start jogging again.
But, I've been wanting something reflective or bright to wear since I'll be going in the evening. I'm super intrigued by these Sports Arm Sleeves from Rockay.
Both their sleeves and performance socks are made from ECONYL® which is a fabric made from recycling ocean waste, fishing nets, and landfill fabrics.
And, 10% of Rockay's sales on Earth Day are being donated to oceana.org to support their efforts in cleaning and preserving our oceans. It's our way of giving back to our environment.
while cleaning:
stop microplastics from getting into our waterways:
A lot of our clothing, but specifically activewear is made from synthetic fibers like polyester. If you're buying sustainable brands, a lot of those fibers are made from recycled plastic water bottles.
While I think it's great that we're reclaiming those materials, it's important that we make sure microplastic fibers aren't going out to the waterways.
One of the best ways to prevent that from happening is to use a cora ball, and you can pick one up from one of my favorite zero-waste retailers Earth Hero!
Earth Hero is a one-stop-shop for everything sustainable. They have the largest selection of eco-friendly products and the best part is they price match so you're guaranteed to get the best deal around.
They're also a certified B Corporation and a member of 1% for the planet so they give back a portion of their proceeds to environmental organizations.
As a bonus, you can get 10% off with the coupon code 'GOZERO'.
ditch the paper towels:
When it comes to cleaning, one of the most common items I find in waste audits is paper towels so why not switch to a reusable alternative.
Sweedish Wholesale makes Sweedish Dishcloths which replace both sponges and paper towels. Each Swedish dishcloth can replace 15-17 rolls of paper towels which means you'll be saving a lot of money and trees.
You can wash Sweedish Dishcloths in the dishwasher or washing machine. When they're dry they're flat and can be stiff and scrubby by nature.
However, as soon as they get wet, they become spongy and malleable and are able to absorb up to 20x their weight in liquid.
If these towels still seem too good to be true magic, you can read more about them here.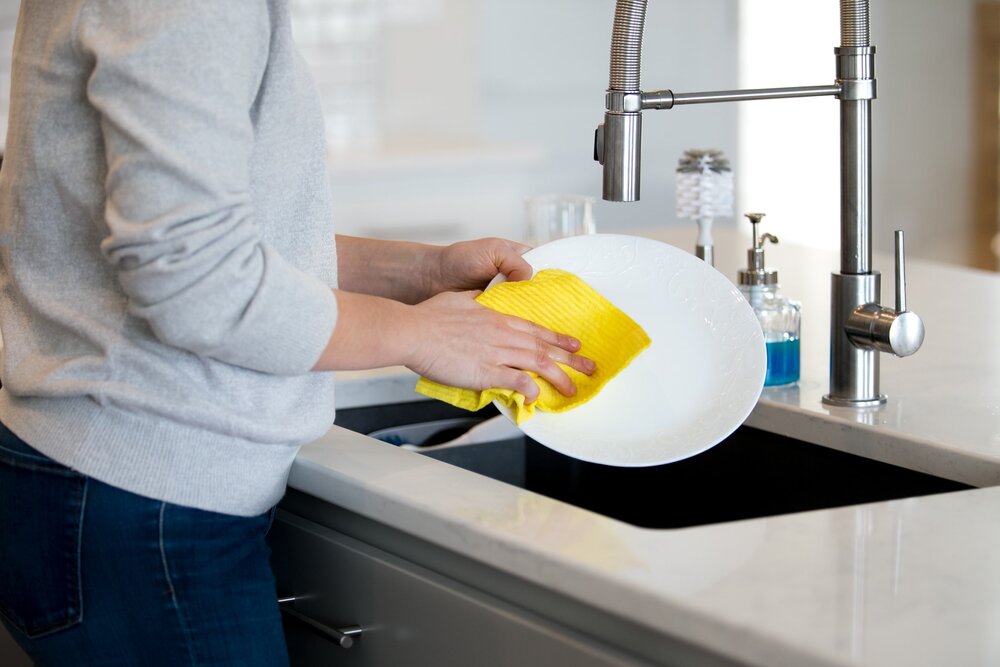 go solid:
You've heard of shampoo bars, but what about bars of soap for cleaning?
Sea Witch Botanicals creates zero-waste home cleaning products like dish soap and produce wash in bar form.
Their soap bars are vegan, free of palm-oil, and are made with organic, fair trade oils.
I'm also really interested in their produce wash which was intended to help remove dirt, pathogens, and pesticides on produce without leaving any residue behind.
You can get 15% off your first order with the code 'letsgozerowaste'!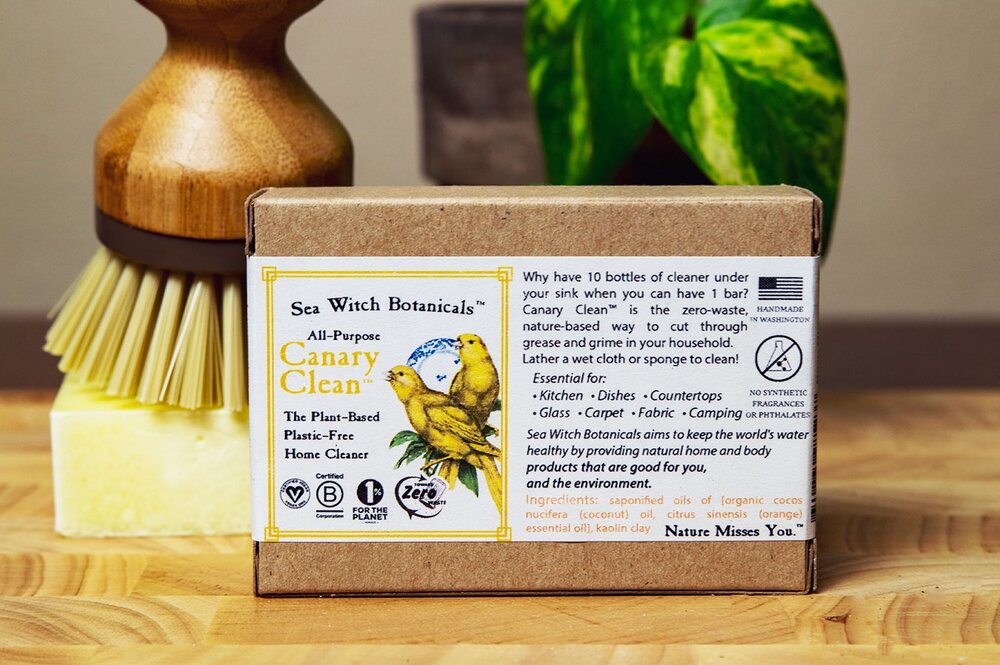 while in the kitchen:
keep it real:
I know a lot of us are cooking almost every meal at home so keep it real around the dinner table.
Use cloth napkins, real plates, and real cutlery. You eat three times a day which means you can make a huge impact with your choices three times a day. 
I wanted to round up a few of my favorite small businesses that create cloth napkins and ceramics!
choose plants:
It's no secret that one of the best ways to have a positive impact on the environment is to eat fewer animal products. Try adding a few plant-based meals to your diet. If you're looking for inspiration, check out my blog post What I Eat in a Day 1 and What I Eat in a Day 2.
Beans are flying off the shelf and are a great plant-based source of protein. Here are a few of my favorite simple plant-based meals.
My favorite way to cook dried beans is in the crockpot. Place them in the crockpot, cover with a few inches of water, place on low and in 8 hours, you'll have perfect beans!
while in the bathroom:
choose to refill:
Whether you're lathering up your hands or your hair, and let's be honest, you're lathering up your hands A LOT more these days, Plaine Products has you covered.
Plaine Products is one of my favorite zero-waste brands. They sell liquid shampoo and conditioner that's non-toxic and vegan in aluminum bottles that you can send back to be sanitized and refilled.
Just make sure you hold onto your plastic pump! They're so serious about refilling that the plastic pump is a separate item, but don't worry it is free with your purchase if you need one.
Plaine Products is also a member of 1% for the planet so you can feel good about a portion of each sale going back to charity.
Check out Plaine Products Shampoo and Conditioner Bundle and use the code 'GZW20' for 20% off
ditch disposables:
If you've been following my blog for a while then this next item should come as no surprise. One of my favorite zero-waste swaps that saves me so much money as well as reduces a lot of waste - my safety razor!
This Rose Gold Safety razor will be your poshest bathroom accessory, but beyond its dashing good looks safety razors prevent a ton of plastic trash from going to the landfill.
This rose gold beauty comes from Eco Roots  a zero waste store that sources all of their products sustainably, and they ship in recyclable and upcycled materials - completely plastic-free!
As a bonus, a portion of each sale is donated to Ocean Conservancy.
Check out the Rose Gold Safety Razor and get 15% off using the code 'GZWRAZOR'
save water:
You'll probably hear me talk a lot about my bidet over the next few weeks. With toilet paper shortages, bidet sales are skyrocketing and I can't say I'm mad about it.
Americans flush 27,000 trees down the toilet every day. (Scientific American) Which is A LOT of trees, and while on the surface using a bidet might seem like a waste of water, you have to keep in mind that it takes 37 gallons of water to make a single roll of tp.
By using a bidet, you're not only are you saving trees; you're also saving water. Justin and I have managed to reduce our toilet paper usage by more than 60%.
I think the bidet is one of the most underrated zero waste swaps. We've installed both a Brondell and a Tushy and we love them both.
For more information on bidet attachments check out this post. 
choose comfort:
My last swap in the bathroom has to be my period panties.
I think that most of my favorite zero-waste swaps are bathroom related. For it being the tiniest room in the house, it can certainly be wasteful, you know?
I've been a Thinx customer for five years now, and they're officially my go-to period product!
They are so much more comfortable than pads. They look just like regular undies, but they absorb up to two tampons worth of blood depending on the style. I have a whole guide comparing and contrasting every style of Thinx offered.
They're super comfortable, cute, and I never have to worry about leaking! Plus, I love how the company prioritizes giving back. That's always something I look for when I make purchases. 
Thinx was nice enough to offer the readers of Going Zero Waste $10 off if you use this link!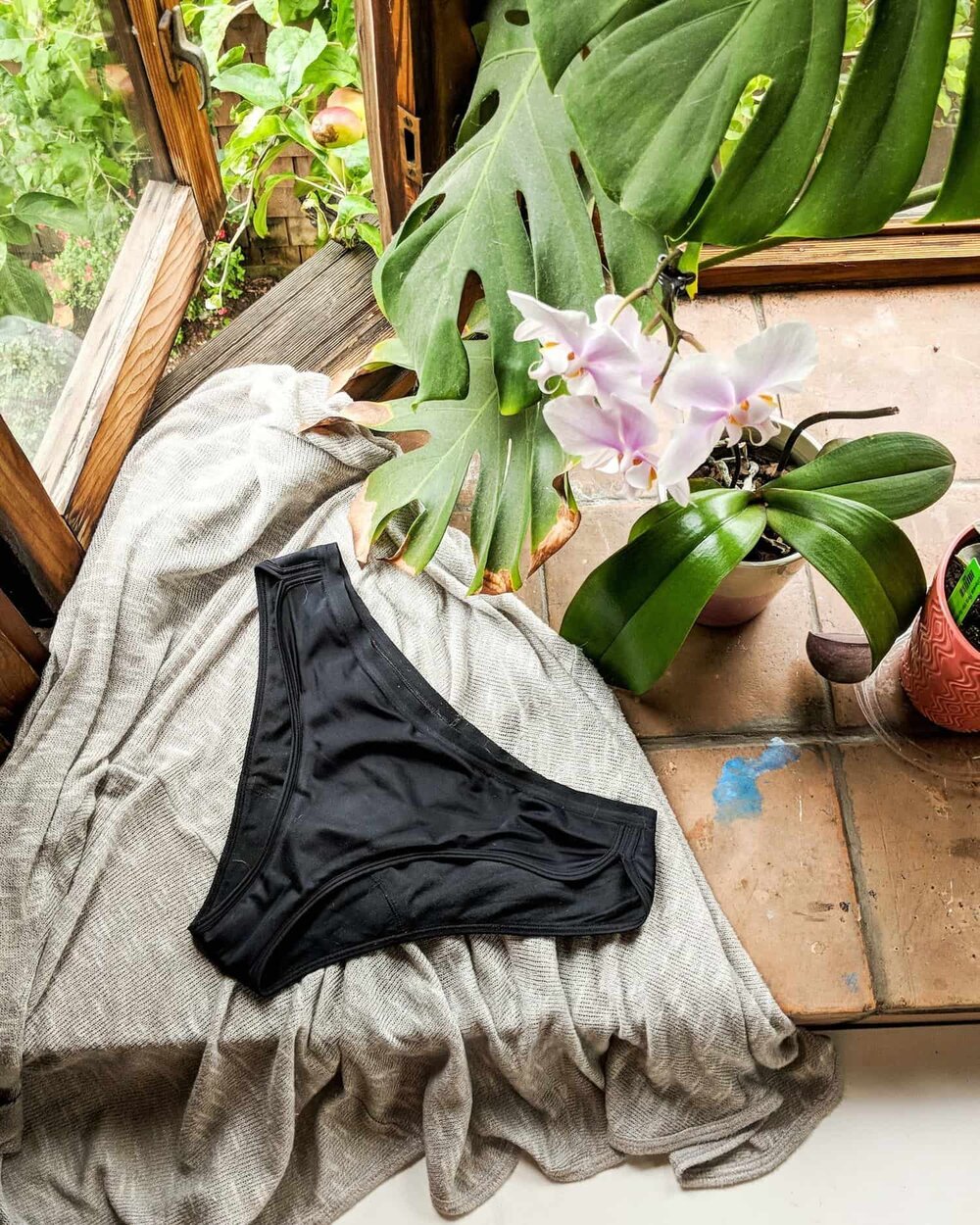 while looking at the bigger picture:
switch energy providers:
A simple thing you can do while home is switch your energy provider. Companies like Arcadia Power and Clean Choice Energy are energy suppliers.
When you sign up, they work with your existing utility company to make sure all of the energy you use is supplied by clean energy sources. This doesn't cost anything extra for you and in fact, you'll probably see your electricity bill go down!
If Arcadia nor Clean Choice supply your area, a quick google search should turn up an alternative!
support Ecocide law:
I first heard about Ecocide Law when I was researching ways for people to help with the bush fires in the Amazon that were burning last fall.
The goal is to add The Crime of Ecocide to The Rome Statute which is one of the most powerful documents in the world and is collectively known as Crime Against Peace. The law currently makes four crimes punishable in International Criminal Court.
1. The Crime of Genocide
2. Crimes Against Humanity
3. War Crimes
4. The Crime of Aggression
The goal is to add The Crime of Ecocide so people who are knowingly destroying the environment, which endangers all of humanity through climate breakdown, can be taken to court. You can learn more and I would encourage you to lend your support!
How will you be celebrating Earth Month this year?