• BusinessCasual • Coat • FallStyle • Shein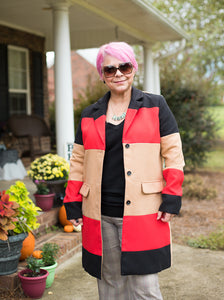 On the one hand, it's been nice to have a break from care-giving and have something that feels normal. I enjoy my job and my co-workers. On the other hand, I feel stress about not being there for Brian and have worry about the time he is alone. Plus there isn't much time for anything extra at the moment. I did manage to squeeze in a super short photo shoot at home earlier this week. I just had to share this color block coat I picked from Shein a few weeks ago. I am all about a great statement coat...
---
Our aim is to inspire and show professional style does not have to mean boring and without personality. We hope you enjoy our 9 to 5 Style! I am sorry for the absence over the past couple of weeks. The last time I posted Brian was on a long weekend trip with Brooks – a father-son trip they had been planning for months to ride their motorcycles together in the northeast Georgia mountains and Tennessee. While on that trip Brian had an accident on his bike and it has been a very long and trying two weeks for all of...