• DIY • Organization • Uncategorized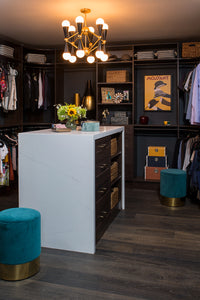 If you live in a small space and you frequently update your wardrobe to stay current with your style, you may be looking for ways to declutter your closet. A well-organized closet helps save you time while you're getting ready for your day and can help protect your clothing from unexpected damage. A systematic closet space often offers more storage space, which could come in handy for someone with limited options. Over The Door Solutions via Breeze Giannasio Utilizing an over the door pocket hanger has so many amazing uses. Use it for its suggested storage item, shoes, or roll...
---
• LifeHacks • Organization • OrganizingWithClosetItems • Repurpose • TipsAndTricks
When it comes to getting organized, I'm a big believer in the power of creativity and resourcefulness! After all, why should you spend a small fortune on bins and organizers when you can use stuff you already have at home? :-) Today I'll be sharing a new set of resourceful organizing tips with you (or as I've chosen to refer to them, "home organization hacks that will make you feel like Macgyver.") ;-) Because much like Macgyver does, these tips are all about using everyday items in unexpected ways! If you missed the first two installments, you can read the...