• Hoodies • Loungewear • Shirt • Shorts • T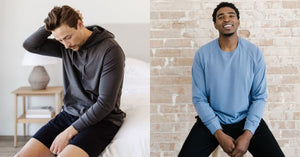 You'll find cotton, spandex, fleece and wool listed as primary materials printed on the tags of various garments, but Cozy Earth is using USDA-certified organic bamboo to create comfy clothes that aim to combine breathability with a super soft feel.  What started out as a husband and wife's mission to craft high-quality, temperature-regulating bedding has spawned a line of luxe loungewear that's taken off with endorsements from celebrities like Tracy Morgan, Kevin Costner, and even Oprah, who boldly proclaimed the fabric as "the softest ever." We don't know about all that, but here are some fast facts. Cozy Earth makes...
---
• CozyLoungewearForWomen • Fashion • FashionInspiration • FashionRoundup • Loungewear
Did we cancel denim in 2020? Because it seems like we did, or rather, any pants that didn't come with an elastic waistband. We're all for a fashion revolution in the name of comfort, and seeing as we've been rocking the same lounge pants since March, it's about time for a winter refresh on our at-home wardrobe staples. See what we're shopping this month to keep us warm and cozy while we hunker down inside. Dame Thermal Sweatsuit ($250) We'd wear this to bed and then to our first Zoom of the morning, it's that chic and cozy. Brunna Seaside...
---
• Fashion • Loungewear • SelfCare • Shopping • StayAtHome
For some, tackling home projects, getting ahead on work, and spring cleaning are keeping them extra busy. For others, watching everything on their Netflix queue, catching up on sleep, and relaxing are more in line with their daily to-dos. And most of us are operating in some in-between of the two. However, all of us are finding our own version of normal, and if a little something that comes in package can do that, we're all for it. Our editors all have their own ideas of normal right now—spending lots of time with our pets, cleaning everything, using a face...