• Giveaway

Damaged Gods JA Huss writing as KC Cross Publication date: July 27th 2021 Genres: Paranormal/Monster Romance When I answered an ad for a caretaker at Saint Mark's Sanctuary I thought I'd be dusting chandeliers and polishing floors. I didn't expect to be tricked into a curse, going in debt to a monster, and being forced to take a self-paced "Let's Learn Magic" course so I can fix a two-thousand-year-old problem. And that monster? Not your ordinary, everyday beast. He has hooves, and horns, and fur on his legs. But ya know where he doesn't have fur? Yep. There. Which is...
---
Starfighter Command Grace Goodwin (Starfighter Training Academy, #2) Publication date: June 15th 2021 Genres: Adult, Romance, Science Fiction I'm obsessed with the game. I spend so many hours playing that I dream about dangerous missions on other worlds…and my gorgeous, in-game training partner, Kassius. That is, until I win. I beat the Starfighter Training Academy. But is it a game? Or alien software designed to recruit new, unsuspecting soldiers for a war in another star system? Because when my hot as heck alien shows up at my workplace demanding I leave Earth and travel to the Vega system? What? When...
---
• Giveaway

Walters Blitz and #Giveaway The Stories Stars Tell C.L. Walters Publication date: October 13th 2020 Genres: Contemporary, Young Adult Ever felt like the sum total of your choices have fixed your story in the stars? For Emma Matthews, she feels like all of her choices are rooted in the fear of letting down her parents… God…of never being good enough. For Tanner James, he's wearing an identity he has created with his friends and their pact—Bro Code—fixed in sex, alcohol and bad choices. Both are longing for a new story they look to one another to help them write. Follow...
---
• 6 • Giveaway • MimiJeanPamfiloff • Review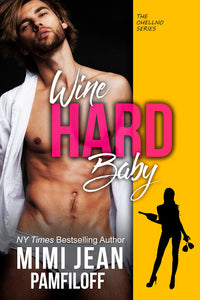 Wine Hard, Baby by Mimi Jean Pamfiloff My rating: 4 stars Series: OhHellNo - Book 6 Publisher: Mimi Boutique, a Paper & Silver, Inc Imprint (May 12, 2020) Publication Date: May 12, 2020 Genre: Comedic Romance Print Length: 254 pages Available from: AMAZON US | AMAZON UK | AMAZON CA | AMAZON AU| KOBO | NOOK | APPLE BOOKS | PAPERBACK CAUTION: CONTAINS HOT COWBOY. Do not mix with wine. Avoid watching him do shirtless labor on hot days. SIDE EFFECTS MAY INCLUDE: Feeling of extreme temptation, excessive drooling over his abs, elevated heart rate, and loss of coherent thoughts when in his presence. My name is Camila Clark. And that sexy cowboy...
---

SpongeBob SquarePants and the unforgettable inhabitants of Bikini Bottom are back for more hilarious hijinks in SpongeBob SquarePants: The Complete Eleventh Season, arriving on DVD March 31, 2020 from Paramount Home Entertainment and Nickelodeon Home Entertainment. Enter DoodleBob's alternate dimension and take a trip to Bubble Buddy's hometown. Help SpongeBob keep Fred's leg out of harm's way, move Bubble Bass out of his mom's basement, and stop SpongeGar from wreaking havoc all over town! Make new friends, including an imaginary hamster, a sea bunny, the Krusty Krab's peculiar night crew and Sandy's nutty nieces. Plus, take a trip to the moon,...