• ClassicLooks • Dresses • EverydayStyle • Style • StyleOver50
I remember going to the grand opening of an A&P Grocery store. My mother held my hand as we walked the three blocks to Cicero Avenue. She was wearing her dress gloves, a woolen cape and a fancy hat. We ran into neighbors that were also dressed in what also looked like their Sunday best. In fact, this wasn't uncommon because decades ago, women wore dresses every day.  As with many fashion trends, daytime dresses have gone by the wayside. I'll be the first to say that leggings and jeans can be more comfortable. However, there is just something about...
---
• Dresses • Fashion • LillyPulitzer • MyStyle • Sales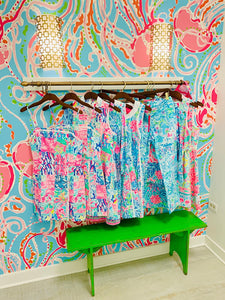 I don't usually do blog posts on Sundays, but the Lilly Pulitzer After Party Sale is definitely a worthwhile reason to do one! 😉This weekend is the in-store preview event for the sale, and I was lucky to be the first person in line at the Charlottesville store to shop it yesterday morning!! Today I'll be sharing all the items I tried on and their sizing information, general thoughts on the in-store preview, and what I'm hoping to purchase in the online sale. I was so excited that the in-store preview fell on my birthday weekend this year!...