• FashionAdvice • Fashioners • FashionInspo • FashionLovers • FashionTrends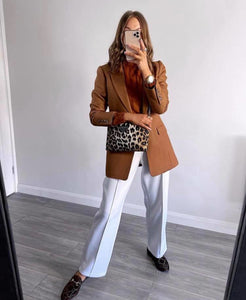 If there's one thing we can agree on, fashion is art. It's a way to express yourself and explore your inner creative spirit. So, as with art, fashion obsessives should know which rules are worth following and which can be left out. Not wearing white after labor day is one of the latter. Even if you've been hesitant before, we are here to convince you to try wearing the white color in fall. We sourced all the inspo you need to get your creative juices flowing, so keep scrolling for some gorgeous white outfits that you can pull off in...
---
• Fashion • FashionTrends • Shopping • StreetStyle • Tips
The year is 2004. I'm sitting in a pedicure chair (bowl: empty; shoes: on) and waiting for my mom to finish up work at her nail salon so she can take my fifth grade ass home. In this smartphone-less world, I'm flipping through one of those relics of the early aughts, one of those—how you say—magazines and just drooling over photos of celebrities in Juicy Couture tracksuits, wishing with all my elementary school might that I may someday get to wear the sacred velour sweatsuit. Fifteen years later, that wish comes true. First off, yeah, 15 years is a damn long...