• BusinessCasual • Coat • FallStyle • Shein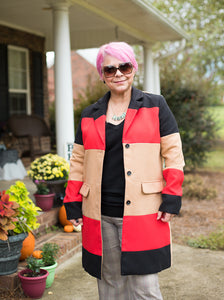 On the one hand, it's been nice to have a break from care-giving and have something that feels normal. I enjoy my job and my co-workers. On the other hand, I feel stress about not being there for Brian and have worry about the time he is alone. Plus there isn't much time for anything extra at the moment. I did manage to squeeze in a super short photo shoot at home earlier this week. I just had to share this color block coat I picked from Shein a few weeks ago. I am all about a great statement coat...
---
• FALLSTYLE • Featured • Outfits • Shopping • Tradlands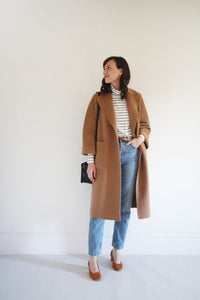 One essential cold weather style that never lets me down is a classic turtleneck. They're just such a great base for so many looks and activities and the moment the temps start pointing south I find myself reaching for them. I was thrilled to see that my pals at Tradlands had released the Monty Turtleneck within their FW19 lineup and in a perfectly striped cotton no less. This piece was an instant hit in my closet and I wanted to share some thoughts on why this contemporary take on a classic is unique along with some ideas on how to wear it. Let's get to it...
---
• FallStyle • Lifestyle • Momofthree • SlowFashion • TwinMom
This was followed by, "I will need to buy us all new outfits." It is so ingrained in me that these type of events require fresh, new clothes. Or at least, it was. Although this is the initial thought that goes through my mind, I'm snapping out of the habits of actually going out and buying the new items. I am so please with how our family photos turned out and the only place I shopped for myself and the girls, was our own closets. The girls wore a mix of hand-me-downs and thrifted items, along with a couple pieces...