• BodyShape • Clothes • Family • Life • Men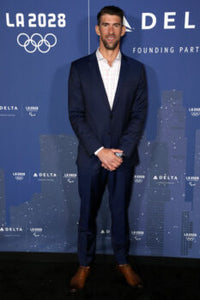 Last week, I introduced the art of dressing according to your body type and featured five talented female designers. This week, let's look at men and get sporty with four exceptional athletes as examples.  Unlike the alphabet letters that characterize women's body shapes, we can use geometric forms to identify men's body shapes: the inverted triangle, the trapezoid, the oval, and the rectangle. Michael Phelps. (Joe Scarnici/Getty Images for LA28)Inverted Triangle: Michael Phelps The inverted triangle body shape is characterized by the shoulders and chest being significantly broader than the waist and hips. This body type is seen in athletes...
---
• family • onlineTechnology • pandemic • wedding
Well, the pandemic brings new experiences every day. This morning I went to an online wedding—not Zoom but an app called GoToMeeting. My niece, Emily Alter, and her fiancé. Max Krol, were married at 10:30—9:30 a.m. in Texas. They had planned an elaborate destination June wedding in Turks & Caicos, which made the Texas Alters rejoice. Colin and Lisa actually lived on Provo, one of the Turks & Caicos islands, and I visited them there. It would have been familiar territory. But COVID-19 interfered. Air travel began to look more and more unwise, and they were unsure about the resort...
---
• Beauty • BulletproofGroundCoffee • Family • MarineCollagen • SmartyPants
Did you see the new updates to CNC's homepage?! It's been a long time coming, and I'm so excited to see the final product. I hope you guys love it, and it's easier for you to find specific content now. The 4 most recent blog posts will always be at the top with specific topics (i.e. workouts, recipes, lifestyle) toward the bottom and quick links in the middle to help you find favorites (i.e. fashion, beauty, family, travel). It's pretty obvious by now that I am obsessed with Amazon Prime. It's kinda ridiculous how much we buy from Amazon –...
---
• Family • ThisWeekAtTheBrennan
This Week at the Brennans' is slowly turning into every other week and a half at the Brennans! Eek! My bad, guys. Lack of sleep is harder than I remember. Here's what happened this past week: Gordon is slowly easing back into work and out of paternity leave. His bosses are giving him evening shifts he has requested that allow him to be home in the mornings to get the older three ready for school and let me sleep in. That is probably the single most helpful thing I have had this past month. Obviously it won't stay like this...