The summer of 2020 is likely to be a summer like never before. However, hopefully you are still managing to enjoy a daily walk. If you are ditching the boots, giving yourself a home pedicure and looking for sandals to keep your feet cooler while out and about, you will find all the best women's sandals for summer below.
No matter whether you are looking for comfortable sandals for walking, a pair of stylish everyday sandals or dressier sandals with a little heel, you'll find plenty of choices in this article.
Best women's sandals for summer
What the best women's sandals for summer are for you will depend on where you want to wear them, for how long, and for which activities. As well as, for example, your foot shape and width, and whether you need any arch support.
I've concentrated on the best sandal styles for this summer which are not only on trend now, but which are timeless enough to wear for many summers to come.
There are sandals here which will be good for sightseeing or just walking in your neighborhood, sandals to take you through from day to evening, and sandals which you should be able to walk for miles in without any discomfort.
1. Popular sandals: Best flip flops
I know flip flops are more usually associated with comfort rather than style.
But, perhaps it's worth investing a little more in your flip flops for a look which offers both, so that you can easily go from beach to cocktail bar, or wherever else your vacation takes you.
The Miller flip flops from Tory Burch are a classic style from the brand which is on trend year after year. This style has more than 6,000 reviews on Nordstrom, with most giving five stars.
2. Comfortable sandals for women: Slip-on sandals
For the minimalists among you, a simple pair of Vionic strappy sandals will go with so many of your outfits. These come in a huge range of colors. They also have fantastic reviews from women who suffer from plantar faciitis.
Wear with a simple black or neutral summer dress, a pair of wide-legged pants or just slip on with your jeans or shorts.
3. Best women's sandals for summer – wedge sandals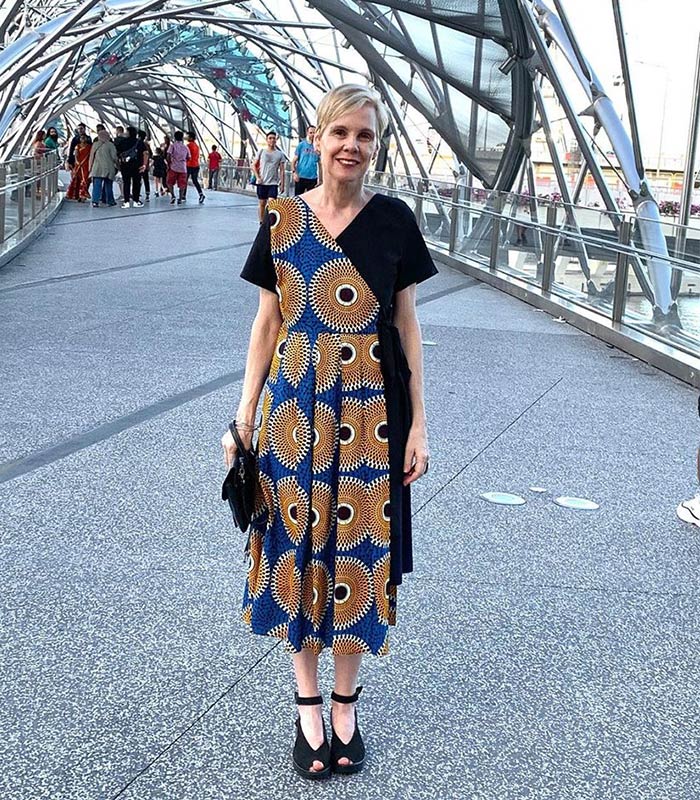 Wedge sandals offer the option of adding some height without adding the discomfort which can come from wearing heels.
There's always my beloved Fly London shoes that I bought years ago and they are still going strong.
Above I'm wearing them with a feminine outfit. I love how the bulky wedges make this outfit a little less girly and a bit more edgy. The shoes add extra height and are still super comfortable.
Since they are perforated and made of suede they feel cool to wear in summer.
They come in all kinds of colors too and I know several women who have this shoe in multiple colors.
When it comes to the best women's sandals, they're definitely my favorites. I'd love to hear yours.
Dayle (above) wears her Fly London sandals with many of her outfits, including this black top and wide-legged pants combination.
Fly London 'Yala' perforated wedge sandal
Another classic option if you want a little height is the Rabea wedge from Comfortiva. The gold shade would look fabulous with white pants for the summer season. Plus, they have a cushioned footbed, making them comfortable to wear all day.
Comfortiva 'Rabea' wedge sandal
Also take a look at our list of the best shoes with arch support for more comfort options.
4. Best slides for every day.
There's nothing that looks more carefree, or is easier to put on that a pair of slides. The braided strap combined with the smooth leather of this Soludos pair add interest while retaining a very classic, casual style.
These are sure to appeal if you have a natural style personality like Jennifer Aniston.
5. Comfortable stylish sandals: red sandals
Who says spring and summer have to be all about pastel shades? A splash of vibrant color can be a great way to add interest to an outfit.
I always think red and white look lovely together as well as adding extra interest to other neutrals.
Red shoes can look particularly beautiful with white dresses. There are more tips here for wearing red and white together.
6. Best women's black sandals
While black can sometimes look 'heavy' for spring and summer, when it's in sandal form, you can get away with it, as you'll have some bare feet showing through.
Plus, black can add a dressier vibe, taking you effortlessly from daytime sightseeing to dinner.
I love this style from Comfortiva. The cork-effect low wedge adds interest while the wide straps are very on trend right now.
Comfortiva 'Emberly' wedge sandals
For more shoe trend inspiration, take a look at the best shoe trends for summer 2020.
7. White sandals
Nothing says summer like white shoes! As well as being all over the runways from the likes of Prada, celebrities and trendsetters are also wearing everything from white boots to white sneakers and sandals.
Just like blacks, or metalics, they're a fantastic neutral which will go with anything in your closet.
Plus, by choosing an option from FitFlop, like the Lainey sandal below, you can give your legs an extra workout on your walks.
8. Gold sandals
Silver shoes are still a classic but I also love gold shoes for summer. They look especially stunning when paired with white outfits. Try with a white dress and statement gold necklace, or white cropped pants.
I love this Söfft pair which combine soft suede with a textured gold foot strap.
9. Navy sandals
Rather than opting for black, how about choosing navy for your summer shoe this year?
A versatile style for vacationing or walks at home, Naot is a good brand to take a look at if you need arch support or you have plantar fasciitis, as a little heel can be more comfortable than wearing flats.
This pair below look very classy, thanks to the combination of navy and tan.
There are plenty of ideas in this article if you need inspiration on colors to wear with navy.
10. Most comfortable sandals: Tan with a small wedge
It's great news that sandals with a little wedge and with wide straps are particularly on trend this season, as they also happen to be a very comfortable option.
A tan color is always a classic option for summer. These Kork-Ease sandals below also feature an on-trend cork sole.
Kork-Ease 'Myrna 2.0' Cork Wedge Sandal
11. Fashionable comfortable sandals: A pop of yellow
If you are looking for a flat option which is a little different, how about adding a pop of bright color with Sam Edelman's flats (below)?
They also come in neutrals or red if you would prefer a different shade.
Sam Edelman 'Gorgene' flat sandal
12. Rubber flip flops
If you will be, or are hoping to be poolside, anytime this summer, it's hard to beat a pair of rubber flip flops, which are easy to skip on and off.
I love the color of the Havaianas pair below which is a kind of metallic lilac.
Comfortable walking sandals
If you are looking for sandals because you like walking at home or you like sightseeing, then you will need a comfortable pair of sandals to make sure you can walk all day without getting sore feet.
Below are some of the best comfy sandals for walking to choose this summer.
1. Walking sandals for women: A classic pair of Birkenstocks
Birkenstock traces its history back to the 1700s, so you can be sure that a classic pair of Birkenstocks will be on trend season after season.
The Birkenstock 'Arizona' is released in different colors each year.
Birkenstock 'Arizona' suede sandal
2. Best hiking sandals for women: ECCO
For more serious walking or hiking, Ecco's 'Yucatan' sandal is a highly-reviewed option that is usually available every year in different color pathways.
They have a contoured, cushioned footbed and you can adjust the straps to get a customized fit.
3. Best sandals for walking and water: Teva
Another good choice for some serious walking, or if you are doing anything like rafting are these Teva sandals. As well as being practical, they also happen to look very trendy for 2020.
4. Supportive sandals that are stylish: Mephisto
For a pair of comfortable sandals which look a little dressier, how about Mephisto's slide sandals? They have a cushioned, contoured footbed, and come in a choice of black, navy or the silver option below.
5. Comfortable walking sandals: UGGs
Another good choice for everyday walking are these slingbacks (below) from UGG. They have a textured sole for extra grip, and come in this lovely metallic blush shade.
Sandals with a little heel – dressier sandals
If you want a sandal which looks a little dressier – perhaps to go with a dress, or for a more formal occasion (when we're all able to go to events once more), then you may prefer to look for a more versatile sandal, with a small heel.
Below are some comfortable dress sandals for you to choose from.
1. Transitional sandals: Bella Vita
I love these sandals from Bella Vita as I can see them going with so many outfits. Because they are styled a little like booties, you could wear for transitional weather as spring turns to summer, or summer turns to fall.
2. Comfortable dress sandals: Sam Edelman
If you are looking for a more formal sandal, but you don't want a huge heel, then Sam Edelman's collection this summer is a good place to start.
The little knot on this Ingrid style (below), which comes in a choice of neutrals and pastels, adds interest.
Sam Edelman 'Ingrid' ankle strap sandal
I also like these heeled slides (below) with the combination of textures.
Sam Edelman 'Illie' slide sandal
3. Fashionable comfortable sandals: Vionic wedges
Of course, you don't have to go for a heel, as such, if you are choosing a more formal pair of sandals. A little wedge will give you a little extra height.
These espadrille sandals have stripes which remind me of Missoni and will look great with a dress or pants. Kate Middleton is a huge fan of wearing wedges during the summer.
Vionic Coralina Orthaheel® Espadrille Wedge Slingback Sandal
4. Kurt Geiger London
You could also choose embellishment to add a degree of dressiness to your outfits, without having to choose a huge heel, such as this pair from Kurt Geiger London.
Kurt Geiger London 'Marco' sandal
5. Camper
For a minimalist style with a little heel, take a look at the Camper brand. The block-heeled style below has a cushioned footbed and would be great for adding some summer style to your favorite black or neutral dresses.
Camper 'Katie' block heel sandal
For more inspiration take a look at this article on how to choose comfortable heeled shoes.
What do you consider the best women's sandals for summer? Do you have any favorite brands, or a pair you wear summer after summer? Let me know in the comments below.
Continue reading:
Did you like this article on the best women's sandals for summer? Save it on Pinterest!
Feature image by Dayle
The post 22 of the best women's sandals for summer 2020 appeared first on 40+ Style.