Read through this at your own risk, you may never want to dine out again. Here are the best takeaway options in Perth to compliment that night on the couch perfectly.
Central Suburbs
Filos And Yiros | Perth
The rise of Greek takeaway is happening and we're so happy about it. If you're yet to dip your toes into the wonderful world of gyros, smoked eggplant and pita, let Filos and Yiros be your introduction. The baby sister of Brika, this hole in the wall operates from the same kitchen serving yiros, loaded patates, halloumi salad and of course the delicious filo pastry desserts we can't get enough of.
Authentic Bites | Northbridge
If you're after amazing dumplings then look no further than Authentic Bites Dumpling House in Northbridge. It's no wonder people queue up outside from as early as midday to get their hands on those delicious pan fried dumplings, not to mention the dumpling soups! If you're not in the mood to brave the line, just order ahead and grab those pan fried kimchi dumplings to go.
Two Fat Indians | Highgate, Northbridge, Carousel, Joondalup
There's something about the craving for a Two Fat Indians garlic naan and butter chicken that hits us like a truck. Once you remember it exists, there's no way around it until you order a spread. Just make sure you get the palak paneer, rogan josh and a saffron rice while you're there—may as well make the most of the trip, right?
S&T Thai | Northbridge
If you're looking for a good larb, S&T Thai is the place to find it. It's a bit of a hole in the wall, right by Viet Hoa on William St, but once you find it you'll be here every week. Their curries are out of this world, their pad thai noodles are saucy and come with lots of extra garnish (crushed peanuts, fresh chilli, and bean sprouts) and their tom yum soup is absolutely delicious. 
Garum | Perth
Transport yourself to Italy for the night with a little help from Garum. You can recreate the aperitivo experience at home with a stunning lil gourmet grazing hamper complete with scrumptious bites like giardiniera (homemade pickled veggie relish), marinated olives, sourdough bread, tris salumi and grissini, with mozzarella in carrozza (a gooey and delicious cheese toastie) and to top it all off, a mouth-watering tiramisu. Add a bottle of Voyager Estate wine onto that, and you're set.
Siena's Of Leederville | Leederville
When you picture a gigantic, hot bowl of carbonara (or gnocchi), a garlic bread and a pizza at home with the girls or guys on the couch, Siena's of Leederville is exactly what comes to mind. Whoever Siena is, we thank her for everything she has done for our unnecessary carbo-loading. They' are open from 5pm every day for takeaway.
Takas Kitchen | Perth
Takas Kitchen, just opposite the Perth train station is the embodiment of cheap and cheerful. $8 for a large chicken katsu or $9.50 for a large mixed tempura udon is the reason we go, but the free miso soup is the reason we stay. Closing at 8pm on Friday nights and 7pm every other night, get in for an early dinner and "accidentally" order your body weight in sushi and tempura to eat on the couch while you catch up on The Bachelor.
Northern Suburbs
Noodle Inn | Scarborough 
Offering nothing but the best hawker classics, Noodle Inn of West Perth is the place you need to be during the lunch rush. Tucked away from the hustle and bustle, you'll find the best wonton noodle soup, curry laksa, Hainanese chicken and rice and our favourite—barbecued pork noodles. Best get in early as Noodle Inn is open between 11am and 3pm, the small window is a testament to how great the food is, trust us.
General Public Food Co | Scarborough
Those familiar with General Public know it's all about their famous sourdough base. It's the perfect base for one of the world's finest foods—we're talking about pizza of course, and these guys do it a serious justice, with next-level choices like carbonara (yep, like the spaghetti) to meatballs, pulled pork, and even a play on your mum's classic Sunday roast. Yum!
Stone Jetty | Scarborough
A takeaway fish and chippery slash fresh fish market, Stone Jetty in Scarborough has earned a lot of love since opening its doors and for very good reason They do seriously epic takeaways including fresh oysters and the most amazing gluten-free fish and chips, which you can very easily take down to the beach to enjoy… or just back to the couch—whatever you're in the mood for. 
Drasko's Hot Chicken | Mount Hawthorn
Ever pondered how hot is too hot for your gob to handle? A fried chicken feast from Drasko's Hot Chicken is the perfect way to test your theory. The signature sando is a no brainer (go the 'Blame Drasko' heat level if you're feeling brave), but we reckon you may as well throw on a serve of house pickles, mama's beans, some chips and a 1L bottle of their homemade iced tea while you're at it. 
Monsterella | Wembley
Incase you've been under a rock, or just unaware of where to find the best pizza and pasta in Perth, let us introduce Monsterella. Making for a slightly easier decision when you want to brainlessly eat carbs at home, there are only three pastas on the menu—spaghetti with meatballs, truffle pappardelle carbonara and a kale and spinach pesto spaghetti—each handmade daily. And obviously, you can't go without a pizza and tiramisu. The Ronaldo and Milliano are great, but then again, all pizza is great—especially when its from these dough lords. 
Southern Suburbs
Mikado | Bicton
Mikado, means emperor in Japanese, which seems totally appropriate. The agedashi tofu, gyoza and karaage chicken coming from these guys is seriously fit for a king. Open 11am 'til 8.30pm, Monday through Saturday, you'll probably be here every day of the week once you discover it. Don't forget to pick up a yakisoba with added chicken for a life-altering takeaway experience. 
Peko Peko | Attadale 
This Dunsborough institution has graced the southern suburbs with its tasty, fresh interpretations of the Asian classics and we're here for it. If you're in Attadale for lunch, or in need of a takeaway dinner mid week , grab a sashimi salmon and avo hand roll, a few teriyaki tofu rice paper rolls, a couple gyoza and a steamy bowl of customisable noodles home and you're set. Maybe add in a packet of Maltesers and Legally Blonde, then you can really call it a night. 
Lions And Tigers | Fremantle
Coming to us from the team behind Duck Duck Bruce, Lions and Tigers is the kind of place that Fremantle locals try to keep hidden from the rest of Perth, but we're onto them. The team has perfected modern Indian cuisine and every dish we've ever tried is teeming with flavour. The sourdough naan is basically a right of passage and you don't want to go past the roti tacos—the filling changes on the reg so you can keep going back for more. 
Il Ciao | Applecross
When you need carbs and cheese, you need Il Ciao. This Applecross gem is responsible for the best takeaway carbs, plenty of cheese and seriously mouth-watering cotoletta parmigiana. Sitting unassumingly on Canning Highway, call up and order as you're leaving work, then swing by en route home so you can completely boycott that 5:30pm hanger. Let us know if there is anything better than coming home and being able to tuck straight into a margherita, gnocchi and veal scallopini. 
Tankk Gourmet Fish And Chips | Como, Winthrop And Melville
With three locations south of the river, Tankk Gourmet Fish & Chips has got plenty of loyal followers, thanks largely to its insanely delish lemon pepper seasoning. Couple that with their killer $10 fish and chips deals on Mondays and Tuesdays and we completely get what makes Tankk's so damn good.
Mother India | Fremantle
Mother India never lost touch with the common man. They still have a good old fashioned takeaway meal deal for two, three or four people. For $45 (for the two person option) you can take home two curries, dhal, rice, naan and poppadoms. Let it be on the record that when we did this, we had curry, rice and naan for both of our lunches the next day. We would've had raita too, had we not un-glamorously taken to the container with a spoon to eat it straight. 
Eastern Suburbs
Cecchi's | Inglewood
This small, fine dining restaurant in Inglewood has all of us non-Inglewoodians jealous of their little hidden gem.
Cecchi's
is small, intimate, cosy and warm, with a delightful menu as the cherry on top. Our perfect takeaway would probably consist of the garlic bread, followed by the duck tortellini, finished off with some ricotta doughnuts. Droooool. The crew here will be responsible for the best takeaway Italian that leaves you looking slightly pregnant but feeling very happy. 
Old Lira | Bassendean
They're doing things a bit different at Basso pizzeria,
Old Lira
. Don't go here wanting a blistering base and a chewy crust—their hand-stretched sourdoughs are on the more minimalistic side, but they're nonetheless delicious. Keep it super simple and soak up the fresh flavours, or even try one of their 'fresca' pizzas which come served at room temperature.
RoyAl's Chicken and Burgers| East Victoria Park
It's Friday, your sleep bank is empty and your social battery died on Wednesday. You simply cannot muster the energy to go to work drinks, so what do you do? You call RoyAl's. Once you've called, you order a Stanley burger, six buffalo wings, fries and blue cheese sauce. Once you've done this, pick it up, eat it and you'll most likely have healed yourself of the Friday lacklustre and maybe even achieved world peace?
Hakata Gensuke | East Victoria Park
In case you weren't aware, Hakata in Japan is the home of tonkotsu ramen, so it's not surprising that Hakata Gensuke is dishing out just that. Made with their own secret recipe, all we can tell you is that there's uber flavoursome pork broth, pork chashu and thin noodles involved. Apart from the signature ramen, the menu also features their Black Tonkotsu (with black sesame paste), the God Fire which is nice and spicy and the Shio Tonkotsu (a lighter version of the signature dish). There's not much we love more than slurping down a big bowl of these ramen noods at home as soon as it's slightly cool out.
The Prophet | East Victoria Park
Hummus girls and hummus boys, rejoice! Since 2001 The Prophet in East Vic Park have been serving the tastiest, wallet-friendly Lebanese food we can find in Perth. The great thing about The Prophet is you skip that greasy, heavy feeling you usually have after a takeaway, because these guys use the freshest ingredients, and really know their way around a falafel. If you're ordering from here, don't skip on the baba ganoush, fried kibbeh and the shish tawook and be prepared to undo the button on your pants.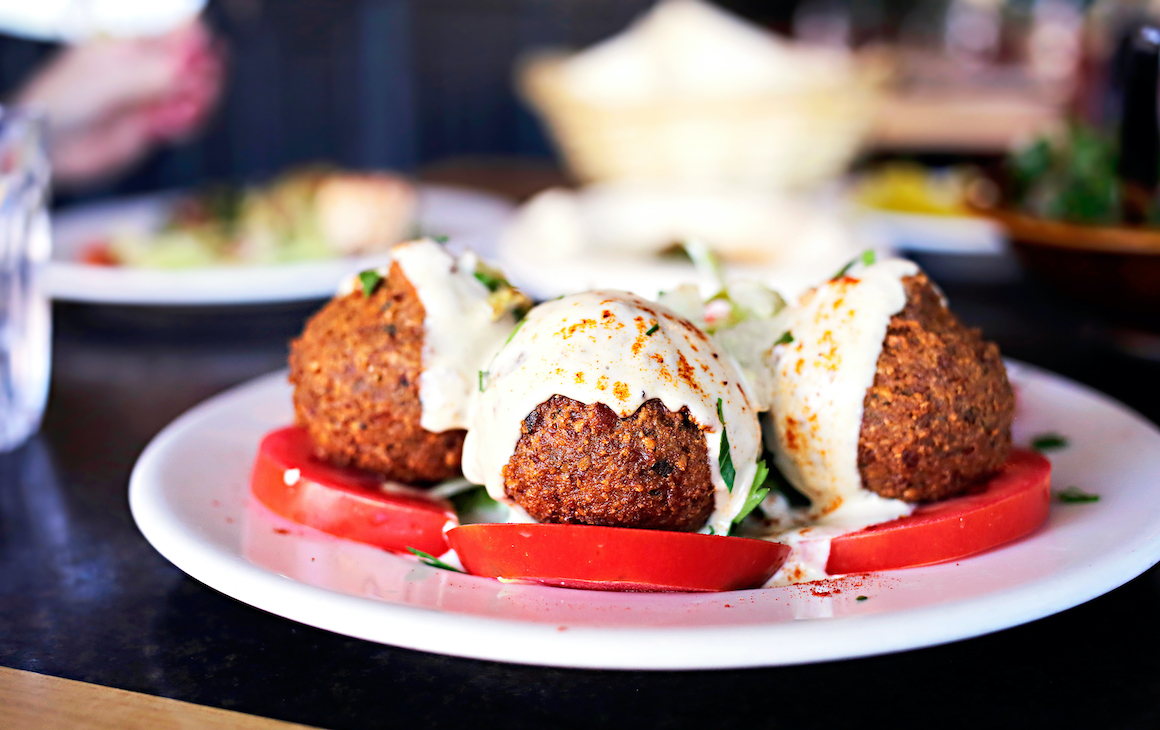 Western Suburbs
China Tang | Nedlands
The embodiment of cheap and cheerful, China Tang in the broadway shopping centre holds a very special place in our hearts. Whether you're after a big bowl of kung pao chicken noodles, cucumber salad, as many dumplings as you can possibly handle or the best fried chicken you'll ever eat, China Tang has you covered. You'll feel your stomach rumble when you walk in the door, but your wallet will barely feel it when you pick up that midweek takeaway feast. You won't ever catch these guys with a quiet restaurant, which is a testament to the quality and freshness of the classics they pump out Monday to Sunday (closed on Wednesdays). 
Flipside | North Fremantle, Wembley, Northbridge
A staple in the western 'burbs. Flipside burger bar is responsible for the freshest burgies made with the best ingredients—which is exactly why they're the best in town. If you're a fan of blue cheese, the blue train burger may or may not change your life. For the classics, try a Taxi Cab, their spin on a chicken, avocado and bacon burger. Order on the phone and trot down to pick up a burger that you really need to sit down to tackle, yet you will somehow finish on the way back every time because they're so damn tasty. Don't forget to get two serves of their thick-cut, housemade chips and chilli mayo that will make you weep tears of joy. It would be hypocritical if we judged you for eating it with a spoon.
Nazar Kebabs | Mosman Park
Next Sunday morning, after some unceremonious, tequila fuelled Saturday adventures, we strongly encourage you to make your way to Nazar Kebabs. We all have a certain attachment to our local kebab joint, but we promise Nazar is a front runner. There is a spinach and cheese gozleme shaped hole in our heart when we have a quiet weekend and opt for an acai bowl instead. Don't let this be you. 
Canteen Pizza | Cottesloe
Don't act like you came here just to see if your favourite pizza joint that you visit multiple times a week made it onto the list. Of course it did. Canteen Pizza has quickly become the golden child of the Cottesloe dining scene, no surprises here given its wildly successful neighbour and sister, Il Lido is owned by the same people. Here you'll find caprese salads smothered in fresh pesto, burrata atop Nduja pizza and who could forget the garlickiest, bestest ever porchetta. Dial up to order takeaway and be prepared to have the best meal your couch will ever see.
Pizza Lounge | Swanbourne
We can't seem to pry ourselves away from a takeaway Pizza Lounge, for obvious reasons. Where there is dough, spicy italian sausage, cheese, garlic and rocket, there is us. Lucky for you, Pizza Lounge has all of these things and more (including wine). The doughboys at Pizza Lounge have been operating since 2001, and boy have they perfected their art. Don't be a stranger next time you're looking for someone else to cook dinner.
Mortazilla by Lemongrass | Claremont
Larb isn't the most attractive word visually or verbally, but it IS the best thing on the menu at this Claremont gem. Mortazilla by Lemongrass is slinging some of the most authentic Thai in the western suburbs, we've never had a Massaman curry quite like theirs, and we think about her often. While you're there, make sure you add a crab fried rice to your order and finish everything up with a coconut mousse.
North Street Store | Cottesloe
There isn't much more needed from North Street Store than a cinnamon scroll and a shaken iced coffee. Unless of course it's a weeknight and you can't be bothered cooking. Then we'll need their signature gnocchi with fresh pesto, grilled lemongrass chicken and vermicelli noodle salad, a chicken parmi and a chermoula chicken with Moroccan couscous salad and charred cauliflower for balance. The catch with this midweek takeaway haven is they feature a three item menu that changes daily. They also sell any leftovers for a discounted price the next day, packaged up in a neat box ready to take to work for lunch. Just make sure you tell your colleagues that yeah, you just whipped it up last night, no biggie. 
Now finish the night with some of Perth's best desserts.
Image credit: Drasko's Hot Chicken, Elle Borgward, North Street Store