The DeSantis Gunhide holster company, of Amityville, New York, is a family-owned business that's been around for more than a generation. In that time, holsters, guns, and the demographics of who carries them has evolved. DeSantis Gunhide has also, offering not only their classic leather designs of old but also new holsters and ,more materials to meet the demands of modern gun carriers.
Among the newer designs is an inside waistband (IWB) holster called Super Stealth. In an era when IWB holsters are seemingly ubiquitous and dreadfully alike, this one is different. Those differences will make it the ideal carry accessory for some concealed carriers who aren't settling for the usual.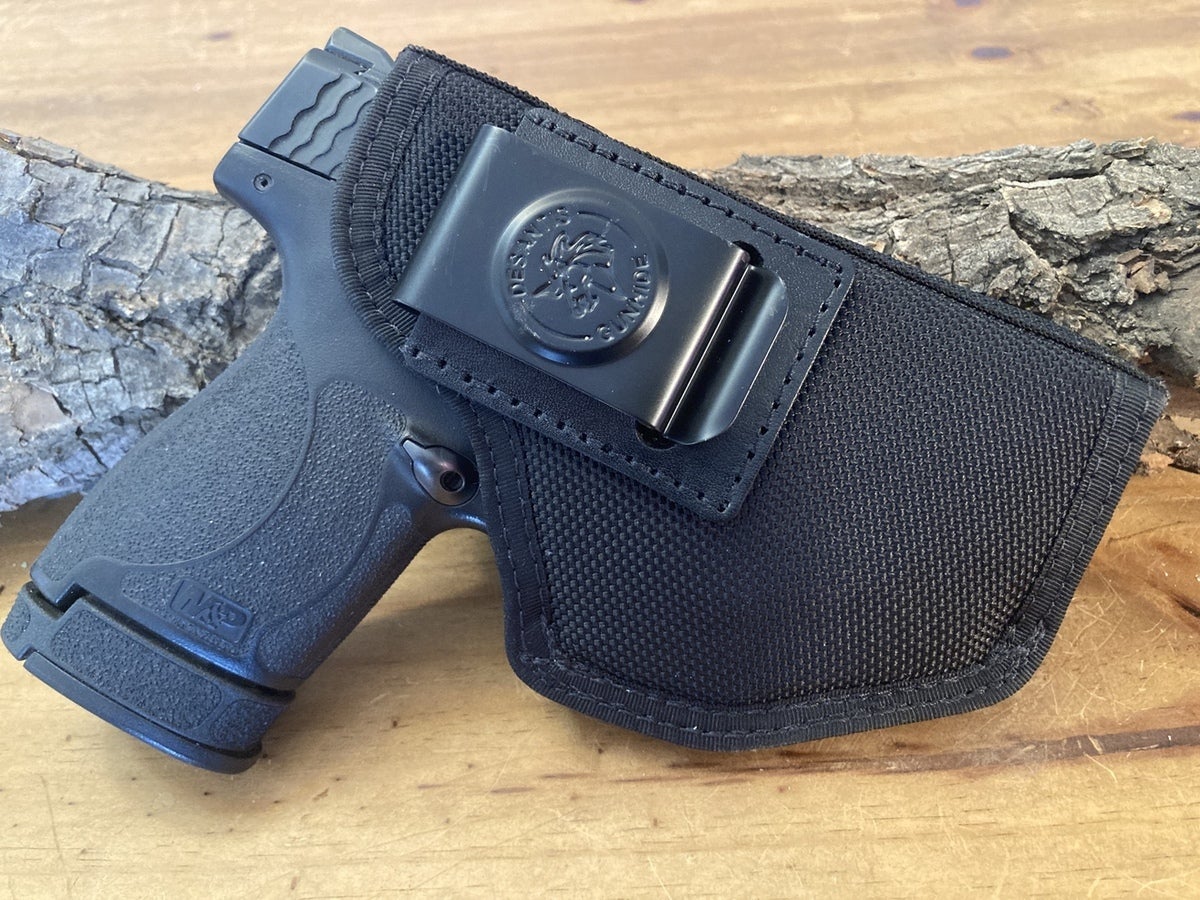 First, it's not Kydex. The Super Stealth's outer shell is made from tough 1060 Denier nylon mesh. That means that, unlike Kydex or even leather, this holster allows for some air circulation and is less prone to cause that awful under-holster swampiness.
Despite having fabric surfaces in contact with both skin and gun, the Super Stealth stays open when the gun is drawn while the holster stays in place. A rigid inner skeleton bridges the top-of-gun side of this holster, serving to keep it open and safe for re-holstering while still being worn. This is a great advantage and time-saver for range practice as removal of the holster from the pants isn't required for safe re-holstering, assuming the user keeps his/her fingers out of the trigger guard and exercises muzzle discipline. These are skills, of course, that should be the habit of anyone carrying concealed regardless of carry method.
Another advantage of the Super Stealth is its firm grip on the waistband. The IWB holster arena is overpopulated with holsters that employ a single polymer clip or are clip-less. Both of those types are prone to come out as a package with the gun as part of the draw. That's an obvious disadvantage in most situations for which a concealed gun is carried!
The Super Steath's superior retention on the belt is achieved by a two-component system that consists of a very strong, coated steel clip that goes over the belt. It fits belts up to 1.75 inches wide. The second part of this secure attachment is a strip of metal in the body of the holster that meets the outer clip from inside the pants. It's simple, and performs very well to keep the holster in place. In fact, this slip arrangement is so tight that anyone with long nails or rather arthritic fingers would likely reject this holster, as installing or removing it from pants/belt takes a firm grasp that's sufficient to hold the clip open to clear the belt.
"Retention" can refer not only to how well a holster stays attached to its wearer; it can also be commentary on how well the holster prevents the gun from falling out. That aspect is also excellent with the Super Stealth. An internal armature that encompasses part of the holster keeps it rigid despite being made of soft material. That armature offers the comforting "click in" action similar to the feeling when a gun is fully inserted into a custom Kydex holster. That same armature inside the Super Stealth ensures the trigger guard is impenetrable while the gun is holstered—an essential safety feature of any holster, but unfortunately not the case for some on the market (none of which are DeSantis products).
That retention system is part of what makes the Super Stealth a practical and unique holster in a very crowded market. It has Level 1 retention, which means retention of the gun inside the holster is accomplished by virtue of insertion into a holster whose interior is a match to the shape of the central frame. But, unlike other Level 1 holsters, one Super Stealth can fit many guns. For example, the holster I tested is a fit for Glock 26/27, Taurus G2C, G2S, G3C, Smith & Wesson M&P Compact 9mm/40S&W, Shield 9mm/40S&W, FN 503, Ruger SR9/SR40 Compacts, Kimber R7 Mako, Walther PPS, PPSM2, CCP, and the Springfield XDS guns with a 3.3-inch barrel. What a practical and economical alternative to each model needing its own holster. In this test, I carried both a M&P Shield 9mm and a Glock 26 and experienced identically solid retention. The gun selector function on the DeSantis website works well, and automatically selects the correct holster for a particular gun. And unlike many holster makers that offer fits for only a handful of the most popular guns, DeSantis has a replete list of guns to fit. And to exemplify "replete," there are 49 Smith & Wesson models and nine Rugers it'll fit, and that's a small sampling. Along with this impressive show, I do have to express some disappointment that DeSantis has not embraced the Canik brand for any of its holster fits.
Yet another advantage of the Super Stealth is its combination of a slim profile and rigidity. It's slim, with a shape that provides a flattening effect of any gun's profile. That's really beneficial for discreet concealment.
This is one of the few concealment holsters on the market that allows for a full firing grip while the gun is fully holstered. Considering that a defensive handgun is carried for events that generally cover a five-second span of time, having full control and a good grip on the gun from the moment a hand is laid on it is something I consider essential and a safety measure in its own right. As with any Level 1 holster, a firm grip and quick motion is required for a good draw. A steady pull will just result in a wedgie of sorts, as the pants will come up with the holster.
As if all of the above isn't a long-enough list of advantages, there's yet another. This holster is ambidextrous. The metal belt clip can be slid out of its leather-patch mooring on one side and transferred to another on the opposite side.
This holster is low-profile, so much that it doesn't cover the last 0.75 inch or so of either gun I tested in it. That may or may not matter to an individual user; generally this concern is limited to those who sweat a lot or are moving about in hot climates.
Caution is always warranted when holstering any handgun. It's the time when most negligent discharges occur. The internal gun retention structure of the Super Stealth requires the user to push the gun past some initial resistance to get to the right, sweet spot. Normal re-holstering safety requires that users stop if resistance is felt, long enough to inspect the situation. But resistance is necessary for proper use of this holster. It is possible, and advisable during practice, to re-holster the gun while the Super Stealth is in place on the waistband. However, extreme care is advised to ensure there aren't any foreign objects inside the holster. And as with any system, muzzle and finger discipline are non-negotiable rules for the act of holstering. Dry-gun practice is always a good idea; I advise it as essential with this holster regardless of the user's experience level. Developing a feel for its unique retention device is necessary for regular and safe use.
The Super Stealth offers numerous advantages for the concealed carrier, and is a great value at current retail of $51.99, perhaps even less if purchased during one of DeSantis's frequent sales.
The post AO Review: DeSantis Super Stealth Holster – Semi-Custom Concealment appeared first on AllOutdoor.com.