Valentines day is coming up on 14February and its a perfect day to go on a romantic date with your significant other. But what are the best Valentines outfits for this romantic evening?
Here are a few of my ideas on what to wear on how to dress for Valentines Day with your beloved.
Valentines outfits to wear on a date
Do you celebrate Valentines Day? Do you tend to go out with your loved one?
While Valentines Day is often called a hallmark holiday, it does at the very least focus the attention on spending quality time with the one you love.
If you are heading out on a date, lucky you! Here are some Valentines outfits for you, no matter whether you are going to a swanky restaurant for an evening meal, or you are celebrating in a more casual lunch venue.
Dont forget to let me know what you will be wearing for Valentines Day, or what your favorite date night outfit is, in the comments at the bottom of this article.
Below are my favorite ideas if youre thinking about how to dress for Valentines Day. Id love to know what you think.
Should you wear red for Valentines Day?
Red is considered the color of love and passion, so red is definitely an obvious choice if you are choosing how to dress for Valentines Day, and theres a shade of red that will suit all skin tones, whether you opt for a shade which has more orange or more blue in its mix.
For a more romantic feel, you could add a touch of pink to your outfit. Or, just wear any color which makes you feel great!
Shannon (above) teams red with white and adds a romantic flounce with the ruffles on her blouse.
Recreate her look with this similar silk blouse, cardigan, pants and slingback pumps.
Also take a look at how to wear red.
Fabric choices
I always think Valentines Day is the perfect time to wear tactile fabrics such as silk or satin, or to choose chiffon with a camisole worn underneath.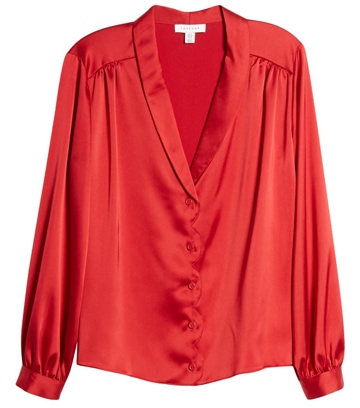 Petra (above) opts for a style which has a romantic, old-fashioned feel to it, yet still manages to be very modern because of the addition of the patent accessories.
Check out these mock neck blouse options from Merlette, ROMWE and Floerns, and this similar midi skirt, booties and handbag.
9 Valentines Day outfits for you
If you still have to decide on what to wear for Valentines day this year, here are 9 suggestions for you. Let me know which outfit you would be most likely to wear.
Red dress
I think that a dress should be your number one option to look at. Certainly when you dont normally wear dresses. That makes it extra special!
Op for something sexy that shows off thepartsthat you wish to highlight about your body. Dont be afraid to show off some of your curves and be proud of them! Men love a woman whois confident about her body.
That doesnt mean you have to go ultra-short or ultra-tight. Simply choose a dress which shoes off the part of you that you like best, whether that is your shoulders, decolletage or your legs.
Monika (above) opts for a below-the-knee pencil style.
Check out these red dress options from Badgley Mischka, Floerns and Milumia and pair the dress of your choice with these similar pumps and a similar Gucci bag.
Eliza J asymmetrical lace dress Amalfi by Rangoni pump Olga Berg embellished shoulder bag Halogen linear drop earrings
Red pants with neutrals
If you would like to wear red in a more casual way, you might like to opt for a pair of red jeans.
White is always a beautiful option with red.
4SI3NNA tie waist blazer Splendid tank MOTHER straight leg jeans J. Rene sandal Olga Berg embellished shoulder bag Dean Davidson drop earrings
Satin dress
For an outfit which looks luxurious and has subtle sex appeal, you could choose satin.
Gala (above) wears an all-neutral outfit, but chooses to add color with her leather jacket.
Steal her look with a similar pair of Christian Louboutin nude pumps and wear with this similar dress, moto jacket, clutch, and wide brim hat.
Levis moto jacket Forest Lily satin shirtdress Dolce Vita bootie Urban Originals tote Halogen linear drop earrings
Satin skirt
Also very romantic is to wear a skirt. I like the idea of wearing a flowery skirt or you could wear your satin as a skirt rather than a dress, but then roughen it up with a leather jacket or make it more casual with a sweater.
Anita (above) wears her satin skirt with a cable knit sweater and booties.
Get her look with this similar cable knit sweater, satin skirt, tights, booties, tassel necklace and crossbody bag.
All in Favor ribbed sweater Leith satin midi skirt Dolce Vita bootie Urban Originals tote Kate Spade New York pearl linear earrings
Purple pants and red shoes
If you prefer to wear pants, how about wearing colorful pants in whatever your favorite shade is, whether you love purple, red, or pink for example.
You can keep the rest of your look neutral. A snakeprint or leopard print also works as a neutral and can be worn with any color at all.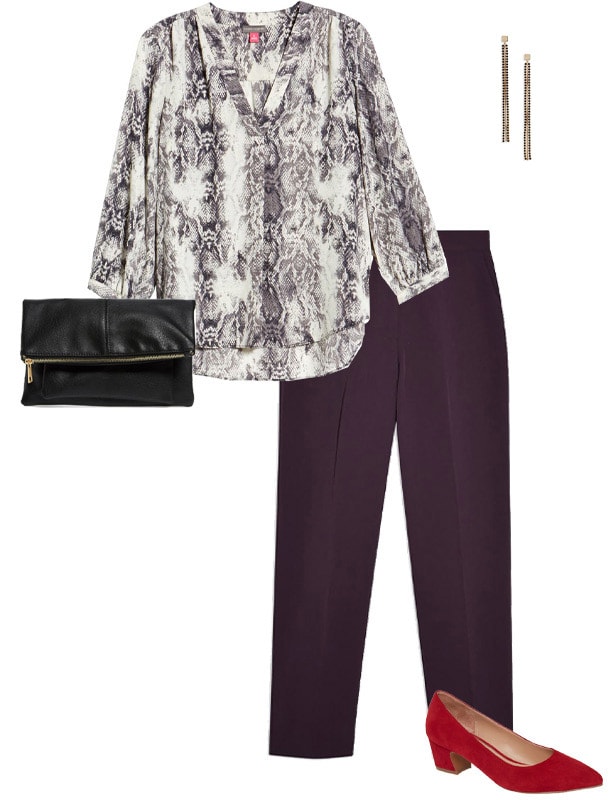 Vince Camuto blouse Topshop trousers Linea Paolo pump Sole Society clutch Halogen linear drop earrings
A wrap blouse or dress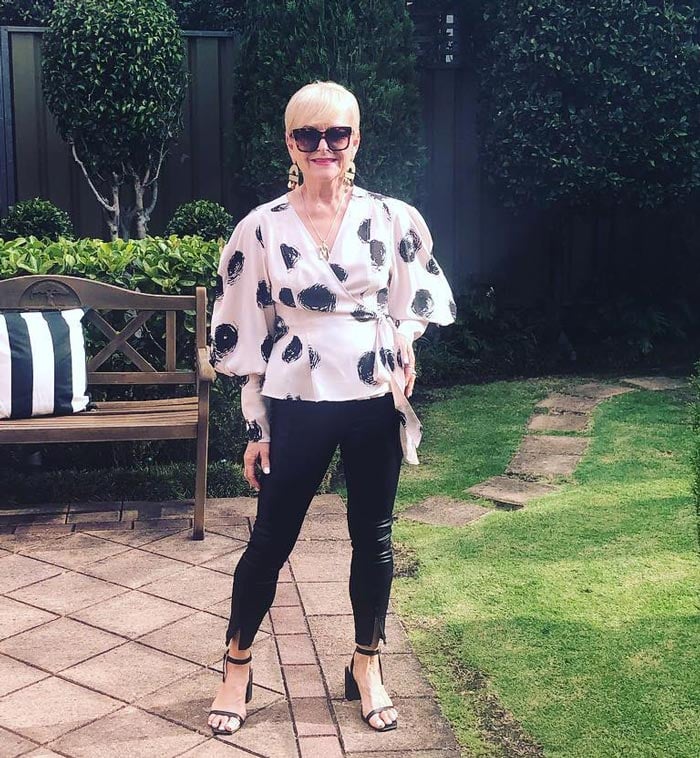 For a universally-flattering style, you really cant go wrong with either a wrap top or wrap dress.
Marina (above) wears on-trend polka dots along with leather.
Check out this similar wrap top, leather leggings, ankle strap sandals and drop earrings.
Bailey 44 colorblock wrap top 7 For All Mankind wide leg jeans Amalfi by Rangoni pump Sole Society clutch Kate Spade New York pearl linear earrings
An off-the-shoulder top
Another romantic outfit with subtle sex appeal is an off-the-shoulder top. You can wear with jeans or wide-leg pants.
If you do choose an off-the-shoulder style, you may need a strapless bra.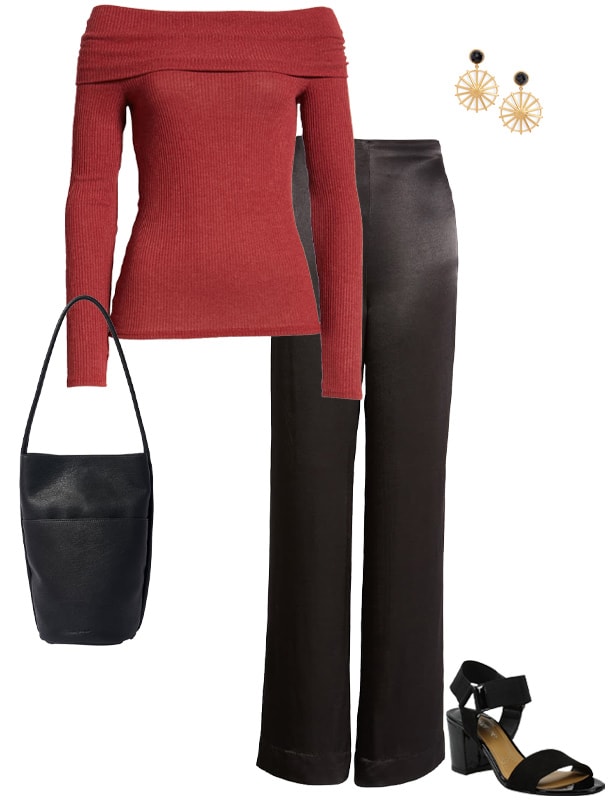 Treasure & Bond off the shoulder top Socialite wide leg satin pants J. Rene sandal Urban Originals tote Dean Davidson drop earrings
A red jumpsuit
Rather than a red dress, you could choose a red jumpsuit if you prefer to wear pants.
Sandra (above)
Get her look with this similar jumpsuit, belt and ankle strap sandals.
Blank NYC drape jacket Charles Henry culotte jumpsuit Amalfi by Rangoni pump Sole Society clutch Dean Davidson drop earrings
Heart sweater
I couldnt resist this heart-print sweater for a playful take on your Valentines outfit.
Kate Spade New York mock neck sweater Mavi Jeans bootcut jeans Sbicca mule Sole Society clutch Nordstrom pearl stud earrings
Here are the Valentines outfits from above together in a capsule wardrobe.
You could easily mix and match many of the tops, jackets and bottoms here.
For instance, how about wearing the white leather jacket with the satin skirt, teaming the white blazer with the jumpsuit, or wearing the off-the-shoulder sweater with jeans?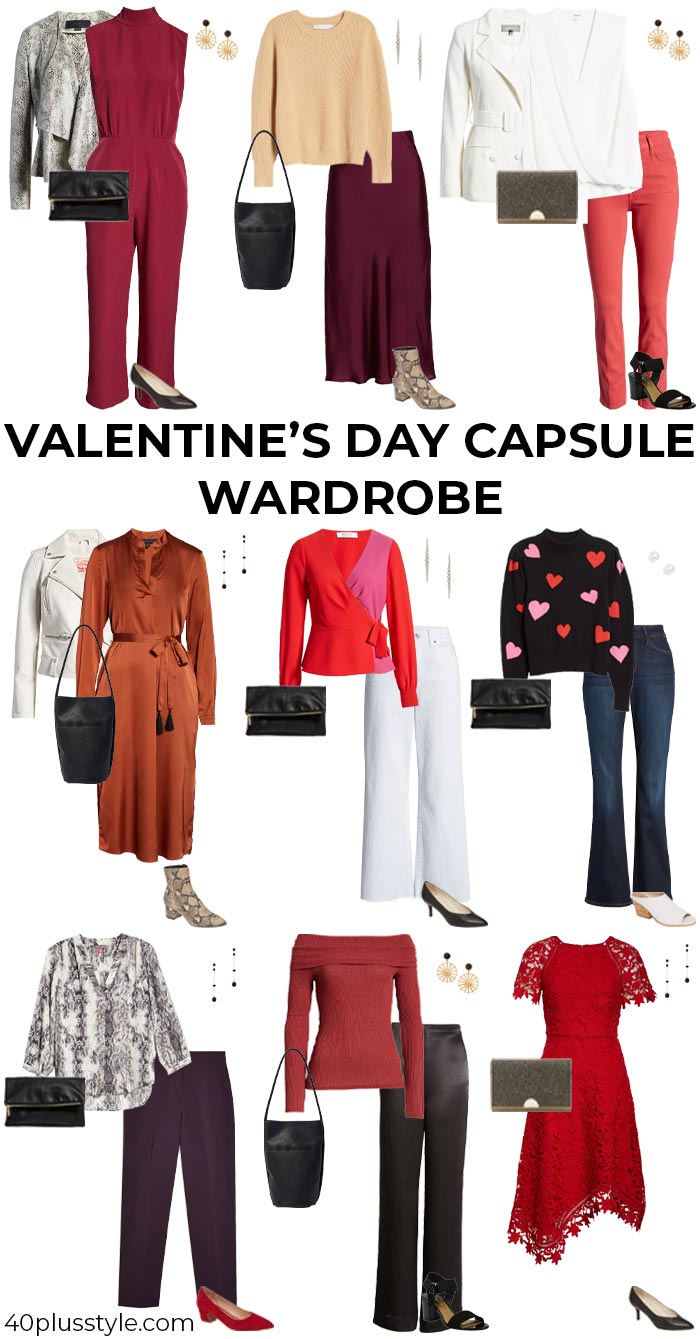 Will you celebrate valentines day this year? What do you plan to wear?
Continue reading:
Like this article on how to dress for Valentines Day? Share it on Pinterest
Feature image by Petra
The post How to dress for Valentines day? appeared first on 40+ Style.