We've all said it before: "I have nothing to wear." Perhaps you sighed it in exasperation while flipping through your closet hangers for the umpteenth time, behind in your morning routine and growing more frustrated by the minute. Or perhaps you've run this age-old adage through your head while scrolling through your favorite brand's newest collection drop, adding items to your virtual cart with vehement justification before remembering that your bank account isn't necessarily primed for a total wardrobe overhaul. Either way, we're guessing you know the feeling—that feeling of being totally bored with everything you own.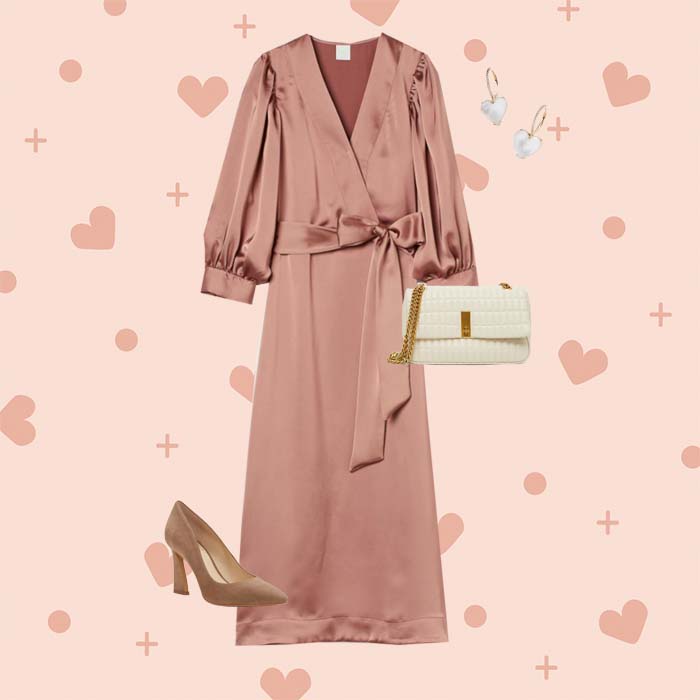 fancy date? girls night? couch night? we've covered everything

The good news is, falling back in love with your closet doesn't have to mean applying for a higher limit on your credit card. Instead, there are a number of things you can do to make the items in your closet feel brand new. 
The secret to dressing well in 2022? Shopping in your own closet. Here's how to make your clothes feel new again.
Mix and match
Pieces can feel tiring when you style them the exact same way every time. Shake up your usual outfit combos and have fun mixing and matching. That top you always wear with jeans? Throw on a skirt instead. Those boots that look great with your leather leggings? Try a different pair of pants or a maxi dress. Go bold and pair unexpected patterns, prints, and colors. 
If you don't know where to start, challenge yourself to wear the pieces you gravitate toward in a new way the next time you wear them. Once you start to get out of the box, you'll break free of only styling things in ways you're used to.
Layer, layer, and layer some more
Layers are not only practical, but they also add visual interest. Add a turtleneck under your favorite pinafore, throw a structured jacket over that gauzy top, or style that plaid skirt with a pair of tights. More layers equals more opportunity to mix, match, and create brand-new looks from the pieces you already own.  
Even if you're just throwing on a crewneck sweatshirt, adding a turtleneck or mock-neck top underneath can transform how it looks—and how you feel about wearing it.
Freshen suede and leather
Uggs looking a little "ugh?" Give your suede boots, bags, and accessories a facelift with a suede or leather cleaning kit. Many of these kits are affordable, easy to use, and can truly improve the look of your favorite pieces (that likely cost a pretty penny). 
Outside of cleaning your suede and leather pieces, make sure you're taking care of them when you wear them (as these materials require a little more maintenance) by emptying belongings out of pockets when you aren't wearing them, using protective products, and storing them in dust bags if they came with one.
Accessorize 
Feeling bored with that sweater-and-jean combo that has become your uniform? Dress it up with jewelry, scarves, hats, and hair accessories. Especially if you're wearing an outfit full of basics, the accessories you pair with it have the power to make it feel brand new—and change the way you feel about it.
Trying new accessory-clothing combos will get your creative juices flowing and help you see pieces in a new light. As a fun exercise, pick an accessory and plan your outfit around it instead of vice-versa.
Clean your jewelry
Just like suede and leather, jewelry requires a little more TLC than other parts of your wardrobe might.
If your jewelry has lost its shine, use a polishing cloth to remove tarnish. Your jewelry will look sparkly and new again and you may or may not be shocked by just how dirty the cloth is once you're finished. Put your favorite Netflix show on while you polish your collection for an oddly relaxing yet productive evening. The next time you reach for that bracelet or pair of hoops, you just might forget that you've owned it for years.
Take care of sweater pilling
As sweaters and knit pieces are washed and worn, the fibers in the garments begin to form pills, leaving your pieces with that worn-out, fuzzy appearance—which isn't a good look no matter how you cut it.
A sweater shaver is a cost-effective way to breathe new life into your favorite knit pieces. Outside of removing pilling, make sure you're taking care of your sweaters by following the care instructions that are written on their tags. As much as you might want to just toss them in the laundry and run them with everything else, taking care of them the way they're intended to be taken care of can make them last years longer.
Do a seasonal clothing swap
Putting off-season pieces away and out of sight is a great way to not only keep your closet more organized but also give you a mental break from your clothes. As you do your swap and pull pieces out of storage for the months ahead, you might even be surprised to see specific items, having forgotten that you owned them in the first place. 
At the start of every season, pull out the pieces you know you won't be reaching for for a while and put them in storage. That way, you won't need to reach around them every time you get dressed, and you'll actually feel like you have more clothes in the meantime (trust us!).
Address tailoring needs
We all have pieces in our closets that we bought knowing they'd need to be hemmed or taken in in order to be wearable—but often, actually doing so feels like such a chore that we never get around to it.
Put those pieces in a pile outside of your closet, and put it on your to-do list for the week to actually take them to get the tailoring they need (the same goes for pieces that need to be dry cleaned). If you decide doing so isn't worth it, donate them instead. No matter how you cut it, keeping pieces in your closet that don't fit isn't worth it. 
The post How to Make Pieces In Your Closet Feel Brand New appeared first on The Everygirl.