Kermit the frog may have said that its not easy being green. However, maybe he was wrong! Green can be one of the most beautiful colors in your closet.
In this article youll find how to wear green as well as what colors work well with green.
If you dont already have green in your closet, our ideas may well convert you
So how can you add a touch of green to your own wardrobes?
Which shade of green is for you?
First of all, what color do you think of when you consider how to wear green?
There are so many different shades of green. You only have to look at the catwalks for spring/summer 2020 to see that every hue of green you can think of is on trend.
Models walked down the runways in everything from mint to olive, sea green to emerald. Below are just a few of the greens that are on trend this year.
Which is your favorite?
Green outfits on the catwalks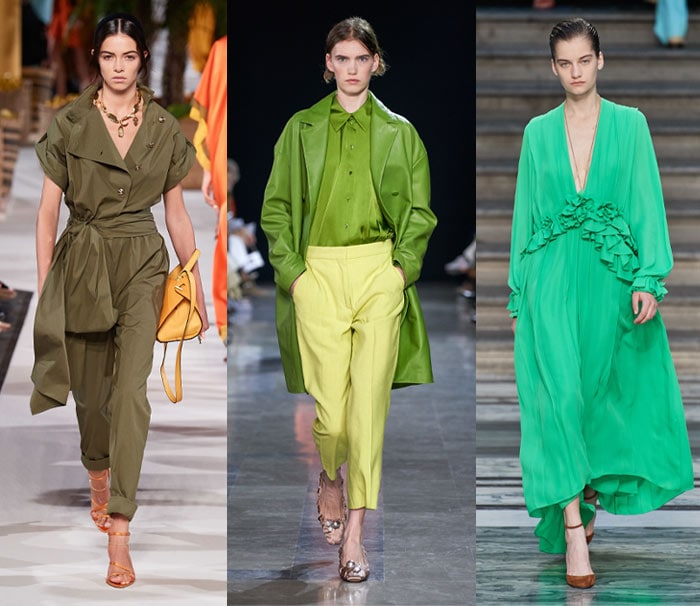 Oscar de la Renta Rochas Victoria Beckham
Another source of inspiration is colourlovers where you can simply type in a color and see which your favorite combinations are.
Here are some color combinations you could choose from. You could choose from these to wear with your green, or keep reading for more ideas.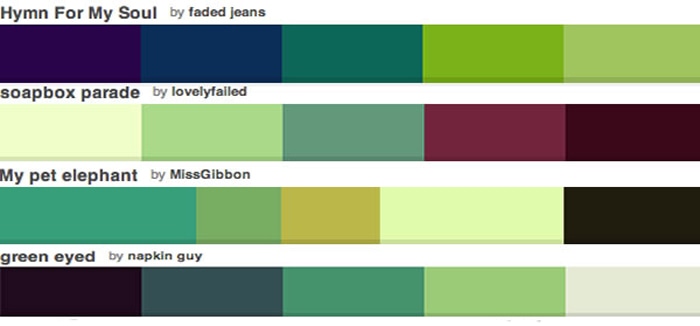 How to wear green: The perfect green clothes and accessories
Before you start to put together an outfit featuring green you will, of course, need the perfect green top, skirt, pants or dress whatever your choice may be to act as a base for the rest of your colors.
The perfect green top
Suzie (above) chooses a forest green with her white jeans.
Check out these green top options from J.O.A. and Bobeau that you can wear with this similar jeans and shoes.
You could also opt for a brighter hue if your prefer.
Vince Camuto rumple fabric blouse
The perfect green pants outfit
Greetje (above) shows how green can act as a neutral, to be worn with animal print.
Get her look with this similar top, trousers, pumps, belt and handbag.
Marks & Spencer wide leg trousers
The perfect green skirt
Monika (above) opts for an on trend pleated style.
Recreate her look with this similar pleated skirt, moto jacket, sweater and booties.
Allegra K pleated metallic midi skirt
The perfect green jacket outfit
One of the easiest ways to wear green can be to choose an olive color.
That way, your green works just as well as any other neutral, giving you a versatile option to wear with any color.
Elke (above) chooses olive and black, and wears with a Dior saddle handbag
Check out this similar army green coat, skinnies, sweater and studded boots.
If you have a classic style, but would like to give your outfit a twist, you could look for a green trench coat.
Sam Edelman double breasted trench coat
The perfect green dress outfit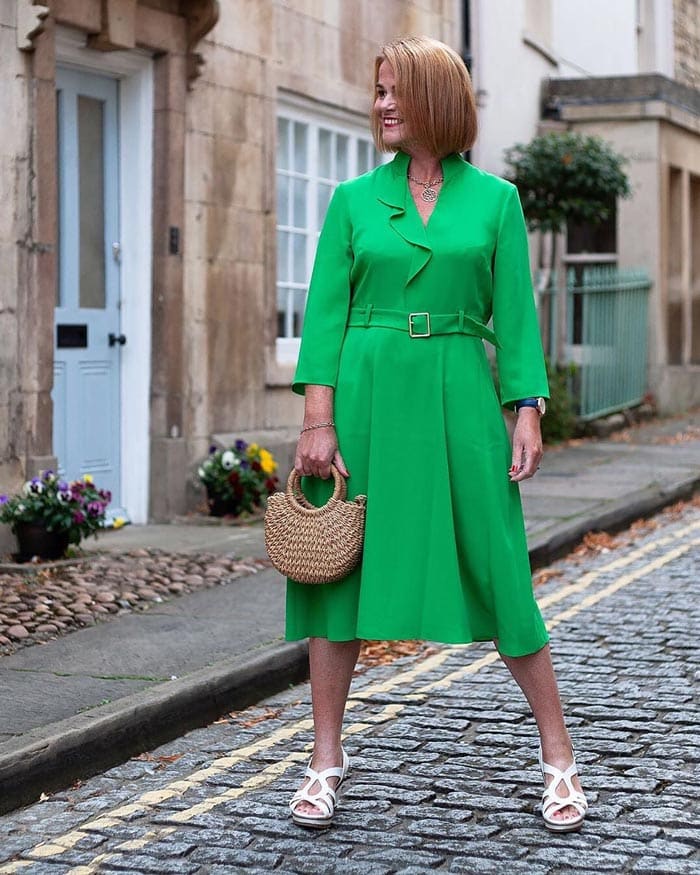 If youre looking for an alternative to your little black dress, how about a little green dress. Its an unexpected choice that is sure to get you noticed.
Rachel (above) chooses an emerald green dress and teams with white.
Check out these green dress options from Milumia and MUXXN, similar pair of white sandals and rattan bag to steal her look.
A darker forest green could also be a lovely option, particular for a night out.
Green shoes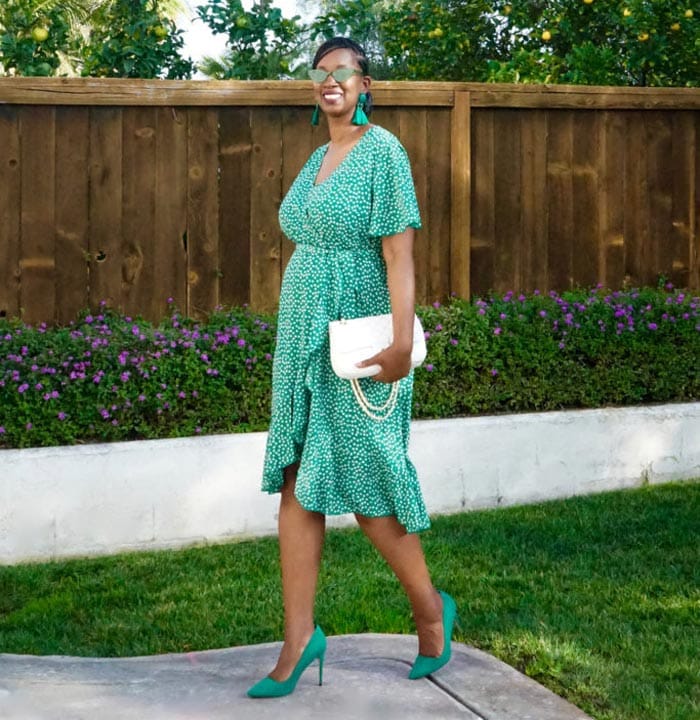 If you arent sure you want to fully embrace the green trend, you could choose a pair of green shoes to wear with your existing outfits.
Or you could choose a stylish matching option like Tanasha (above).
Recreate her look with this exact dress from Shein and pair it with these similar pumps, earrings and bag.
Green handbag
Another great idea to add a new color to your closet is to do so with your accessories. Just adding a green handbag can give a new look to existing outfits.
Alice (above) is wearing a green handbag from Dolce & Gabbana (you can also try this alternative from Amazon) and a pair of green pumps from Gucci (here is a similar pair from Amazon).
Complete her look with this similar coat, plaid jacket, jeans and socks.
Frances Valentine crossbody bag
Colors that go with green
So, now that youve chosen your favorite piece of green clothing, what are the most stylish colors to wear with it?
Here are some of my favorite ideas, but Id love to know what you love to wear with green.
1. White and green: green jeans outfit
White and green can look clean, fresh and very stylish.
Pepa (above) opts for a toned down version of white and green by choosing an olive green and cream.
Check out this similar oversize blazer, tee, jeans, booties, tote and neck scarf.
Below youll find more white and green inspiration.
Gibson notch collar blazer Ming Wang pleated neck tank Marks & Spencer wide leg trousers Marc Fisher LTD slingback pump ADORNIA pendant necklace
Sam Edelman double breasted trench coat Forest Lily sheath dress ALLSAINTS pump Sole Society foldover clutch Panacea link statement necklace
Levis moto jacket ATM Anthony Thomas Melillo stripe tee Halogen bias cut midi skirt Antik Kraft suede messenger bag Fly London sneaker
Pink and green
Pink and green goes wonderfully together. And, thats hardly a surprise when you consider that pink flowers and green foliage exist side-by-side in nature.
Mel (above) wears pink with green stripes.
Check out these skirts from MONASAMA and ThusFar that you can pair with a similar pink long sleeves top and shoes.
This tried and true color combination doesnt have to look preppy.Choose accessories in pink to create a strong contrasting color to wear with a bold green.
There are three more pink and green ideas for you below, whether you are looking for a casual, or dressier, outfit.
According to the old saying, pink and green are fit for a queen, and its easy to see why.
Marks & Spencer wool blend coat Eliza J floral midi dress Botkier slingback pump Sole Society clutch Kendra Scott drop earrings
AG denim jacket 1901cashmere sweater Rachel Parcell wide leg suit pants Earth open toe bootie Sole Society foldover clutch
Court & Rowe houndstooth peacoat CENY v-neck sweater Hudson Jeans bootcut jeans Fly London sneaker Topshop crossbody bag Lele Sadoughi hoop earrings
Blue and green
Whoever said blue and green should never be seen clearly needed to break a few style rules once in a while.
Fonda (above) wears her green with navy.
Steal her look with this similar sweater, polka dot shirt, trousers and leopard print shoes.
You could also try an emerald green with your navy.
J.Crew four season blazer Vince Camuto rumple fabric blouse Jag Jeans flare jeans Fly London sneaker Ted Baker London shopper bag Halogen twisted earrings
Topshop trench coat Halogen cap sleeve blouse Halogen tie waist pants Botkier slingback pump Rebecca Minkoff satchel Halogen twisted earrings
Club Monaco funnel neck sweater Leith midi skirt Bella Vita perforated cage pump Reiss tassel clutch
Below are all the outfits from above put together in a capsule wardrobe for you.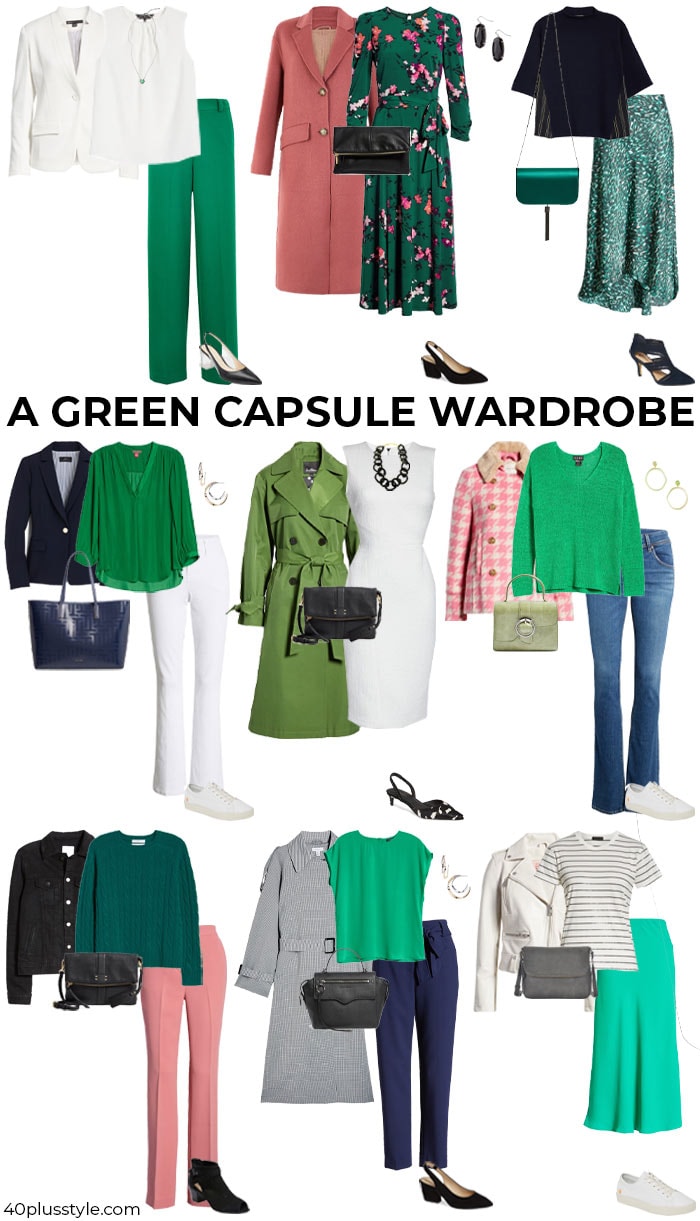 Other colors that go with green
Of course, these arent the only options. Youll find that green is an incredibly versatile shade. Below are more ideas for you.
Black and green
Gail (above) looks stunning in black, green and white.
Steal her look with this similar blouse, skirt, booties and tote.
Beige and green
Beige is often seen as a so-called boring color.
But, how about adding your beige accessories like Kylie (above)
Chck out this similar dress, sandals, belt and earrings.
Red and green
As its on the same color spectrum, you will find that red and green goes just as well as pink and green.
Jeanne wears a striking duster jacket over her green pants.
Steal her look with this similar white top, kimono, trousers, sandals and statement earrings.
Olive green outfits: Gray and green
As gray is one of the best neutrals you can have in your closet, youll find you can wear gray with any color you choose.
Oxana (above) pairs a pale gray with her olive green.
Check out this similar parka jacket, sweater dress and sneakers.
Green and purple
If you want a really striking option, how about wearing green with purple?
Lucie (above) color blocks by matching her green coat with her purple dress.
Get her look with this similar coat, sweater dress and tall boots.
If you arent sure, pair with a neutral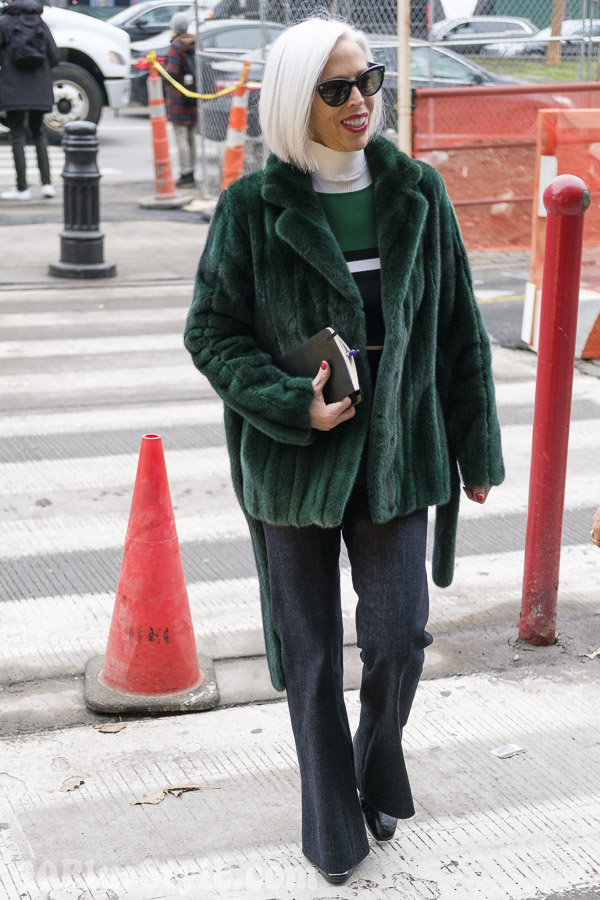 Linda Fargois lookingas fabulous as ever during the New York Fashion week. Note the gorgeous color green she is wearing and that fabulous striped sweater (Photo by Denton Taylor)
As she shows, an easy way to wear green is to pair this strong color with a neutral. You can pair with cropped white, black or navy pants, or wear a green trouser with a more subdued blouse. The green will add an unexpected pop of color.
Keep it simple.
Overall, when thinking about how to wear green, as it is such a strong color, you dont really need to overwhelm your outfit with lots of details, so stick to a more paired down silhouette.
How do you like to wear green? What colors do you wear with your green?
Continue reading:
Like this post on how to wear green? Share it on Pinterest!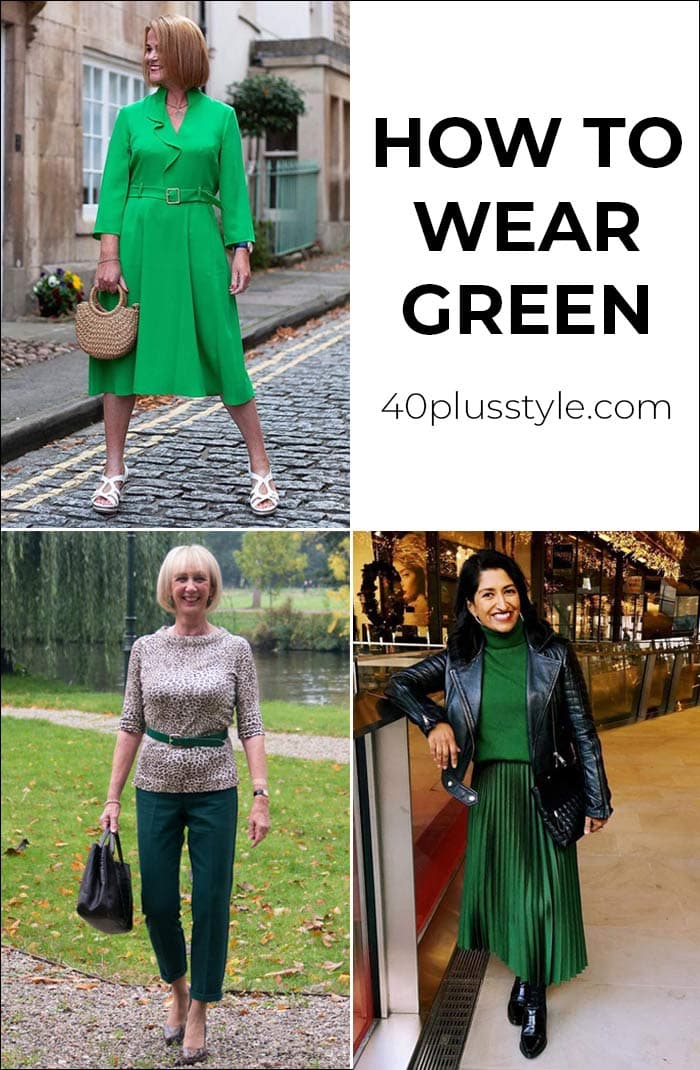 Feature image by Greetje
The post How to wear green which of these color palettes and outfits is your favorite? appeared first on 40+ Style.