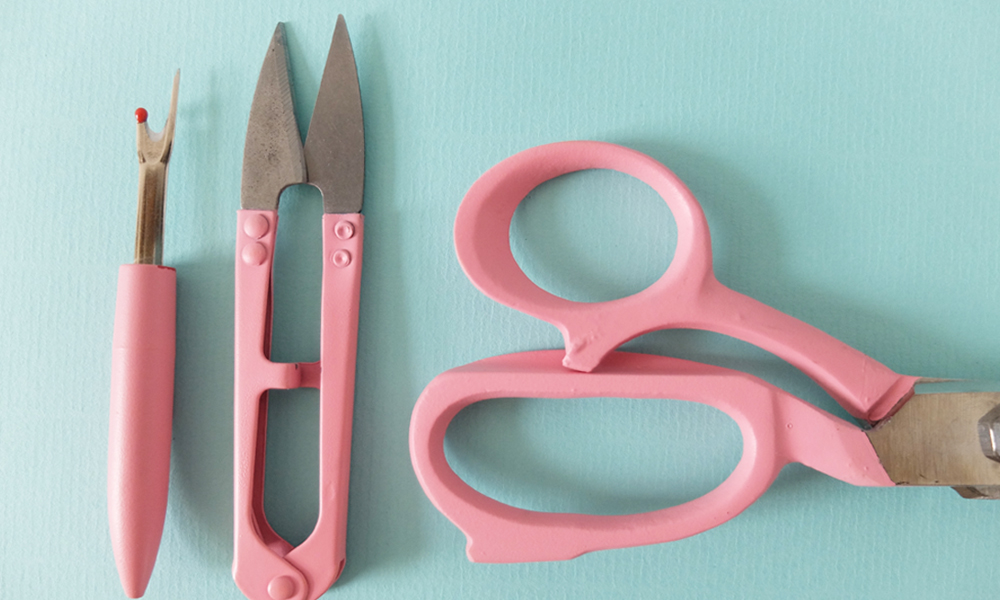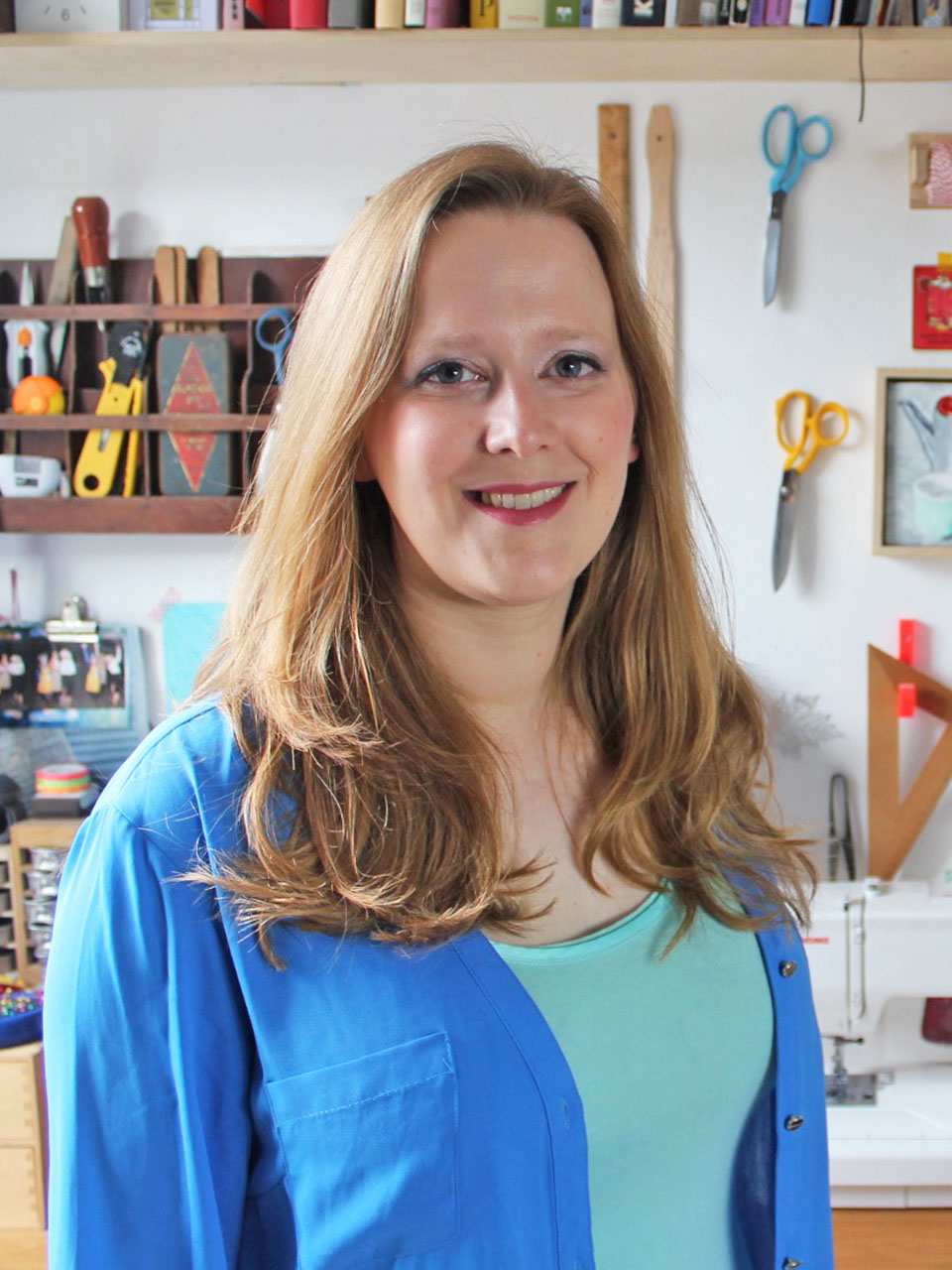 Happy Easter! We hope you were able to find yourself some Easter eggs and that you're currently eating your way through your chocolate stash!
We've got some good news: our website is back to normal again and we're able to send out printed patterns & printed copy shop patterns! We will be running a limited service to make sure we do it in the safest way possible and we're doing two post runs a week. For this reason it will take a little longer to get your orders out to you, but we hope you understand.
Also on the blog this weekend: Hacking Your Favourite Sewing Patterns. Enjoy and have a great weekend!
---

This top looks awesome on Sienna from Not A Primary Color. She already made multiple versions of the LB Pullover by Paper Theory Designs and we can see why! Head over to her blog to see the others she made.
These statement sleeves are jaw-dropping gorgeous! Manju aka Sewmanju made the McCalls 7838 button up shirt and we cannot get over those fabulous cuffs.
The pairing of this Helen's Closet Ashton Top and the Cashmerette Calder Pants are a match made in heaven. Gillian from Crafting a Rainbow absolutely smashed it!
Erica – who blogs at Erica Bunker, is ready for a party in her Vogue Patterns 1672 dress! Doesn't she look gorgeous?!?!
We are obsessed with this perfect-for-Spring-outfit from Mimi G Style. She paired the McCall's 7869 top and McCall's 7931 skirt and it looks so lovely together!
We found Joy from the Pink Coat Club making an appearance on the Sew Me Sunshine blog in her new Untitled Thoughts Chandler Pants. They look super comfortable and they are navy blue with a leopard print design… These trousers get a 10+ from us!
The Patsy Overalls from Ready To Sew made it to the top of our wish lists after seeing Emily of Self Assembly Required, who made this awesome green number!
Yasss to this comfy loungewear set in reptile fabric! Brittany aka Brittany J. Jones used Simplicity 9020 to create it and we think we can all use a set like this one in our lives..
Oh my goodness, this dress looks goood! Katie from Katie Makes A Dress stitched McCalls 8033 and it's a floaty tiered dress of dreams.
Kathy from Sew Dainty was a pattern tester for the Cocowawa Crafts Coconut Pyjamas and she looks amazing in her floral set!
Rachel @rachelintime made Vogue 1617 in this stunning floral print and you can catch her detailed pattern review on our website.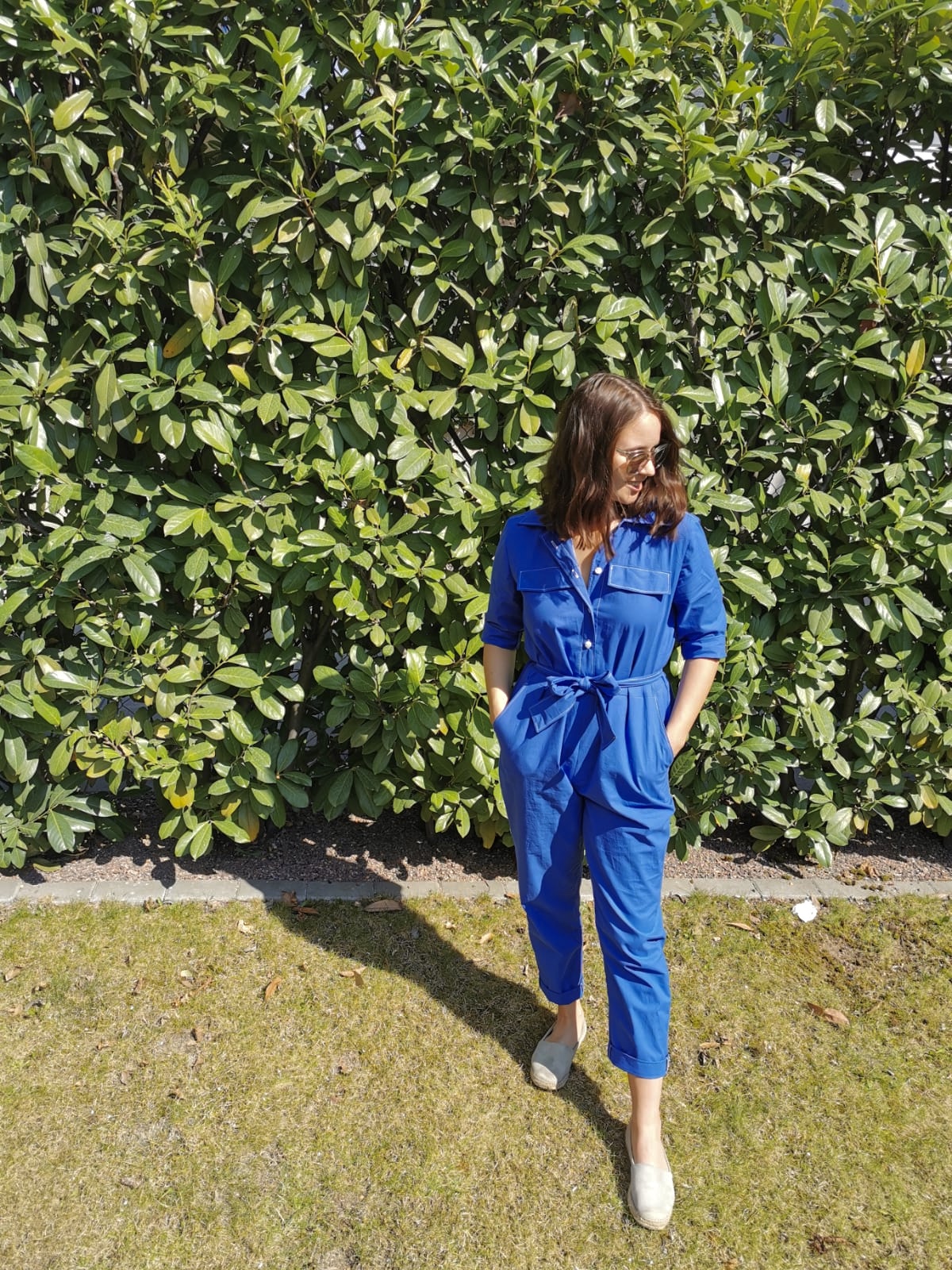 Denim boilersuits for the win! Ruth-Therese made the Gimlet Boilersuit from Our Lady of Leisure and you can read all about it here.
---

Here are the latest new sewing pattern releases from independent designers in the sewing community. We are passionate about championing indie designers in the sewing community and we are always looking for new sewing pattern designers we can feature. With over 200 designers from around the world creating patterns for us to sew with, there is a lot of choice. If you need some help finding your next sewing project search for more ideas using our sewing-specific search tool.

---
We love nothing more that sitting down at the end of the day and watching sewing blogs, it's always fun to see what patterns other makers have been sewing up or what they've bought in their fabric hauls! Each week we share sewing videos from the sewing community where you can pick up tips, sewing advice and catch up on the latest high street and fashion trends. You'll also be able to see what other makers in the community have been up to.
Abi at What Abi Makes: Spring Sewing Pattern & Fabric Haul
Kealy at Voice of a Creative: Sewing Plans for the Jersey Top Collaboration with Stitch Rip Repeat
Tamlyn at Sewn On The Tyne: What I'll be sewing this month! | Fabric and pattern matching
Lisa at And Sew On: New Makes And Fabrics
Victoria at Victoria Smith: Fibremood Martha Trench Overview
Karina at Lifting Pins And Needles: A nosey into my unfinished sewing projects. Tackling the UFO box
Lizzie at Lizzie B: Sew & Tell March 2020
Lindsey at Inside The Hem: April SEWING Plans
Suzanna at Threadquarters: My Recent Makes – Feb-Mar 2020
---

There is nothing better than listening to people talking about their favourite hobby while we sew. Grab yourself a cup of tea, get the sewing machine warmed up and sit down to listen to the conversations of sewing bloggers, indie designers and other makers on topics from how to design a new sewing pattern to sorting out your fabric stash. Here we have curated a list of sewing podcasts hot off the press this week. Have a listen this weekend for your weekly dose of making inspiration.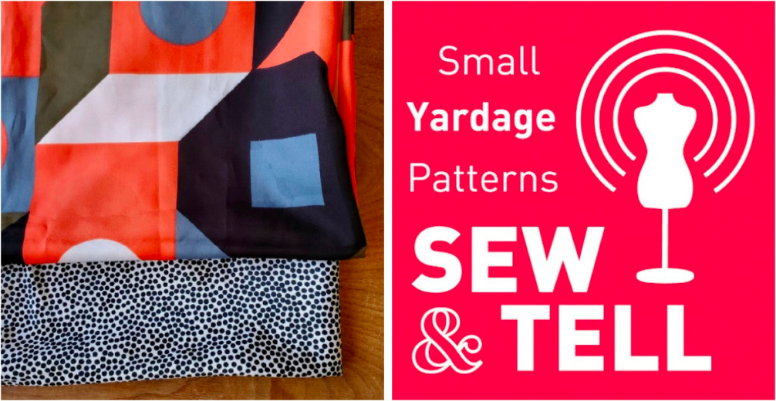 Sew and Tell with Meg, Amanda and Kate: Small Yardage Patterns — Episode 36 Bonus
Love To Sew with Helen and Caroline: TOILES AND TRIBULATIONS WITH RACHAEL GILBERT-BURNS
Sewing For The Weekend with Beth and Nina: Fabric Shopping Online Part 3
Sewing Out Loud with Zede and Mallory: Sewcial Distancing 2: Adult Bib and Mending
Dressed: The history of fashion with April and Cassidy: Fashion History Mystery #43: Lady Curzon's Peacock Dress
Bande a Part with Rebecca & Beatrice: What's Up, Doc?
---

Each week we also share all the new fabrics, haberdashery and kits from independent sewing businesses that we work with. You'll find the latest fabric collections to hit the shelves, new haberdashery sales, offers and other exciting launches. Take a look at all the products that small businesses have curated from your perusal this week.
These delicious cotton prints from Cloth & Candy are making us weak at the knees… Spring outfit, here we come!
We had one of those "I need that fabric in my life ASAP" moments when we saw this layered cotton at the The Draper's Daughter! It's the perfect pale blue/grey shade, and we love the jacquard weave that gives it a quilted look and feel.
We're long term fans of a navy and white combo and this lightweight stretch cotton jersey from Lamazi Fabrics is just perfect. We love the 'Catch & Release' print!
Adding labels to your me-made garments is all the rage right now and Pink Coat Club has got some awesome designs available! Now only one question remains… Are you team cat or team dog??
This one is for the paisley lovers! Don't you think the colours are amazing? It's a viscose twill from Cloth Spot and it would make such a beautiful dress.
If you want to receive your very first Sew Hayley Jane's sewing subscription box in May then you want to sign up now! And don't forget: save 10% using the discount code FOLDLINE10.
Ohh we spotted some lovely new fabrics at Sew Me Sunshine and we're most excited about these cute little dotty prints. So colourful and perfect for this time of year!
This really cool Alice in Wonderland print is available at Fabrics Galore in three fabulous colours, but this charcoal colour is most definitely our favourite.
Some seriously cool monkeys are printed on this viscose fabric from Lulou Designs!
We love this super stylish two piece! It's Vogue 1665 (pictured below). The pattern includes an asymmetric top, a skirt and trousers and it works beautifully in the same fabric.
---

We keep a handy list of sewing events, exhibitions and meet ups happening in the sewing community all over the world on our sewing social calendar here.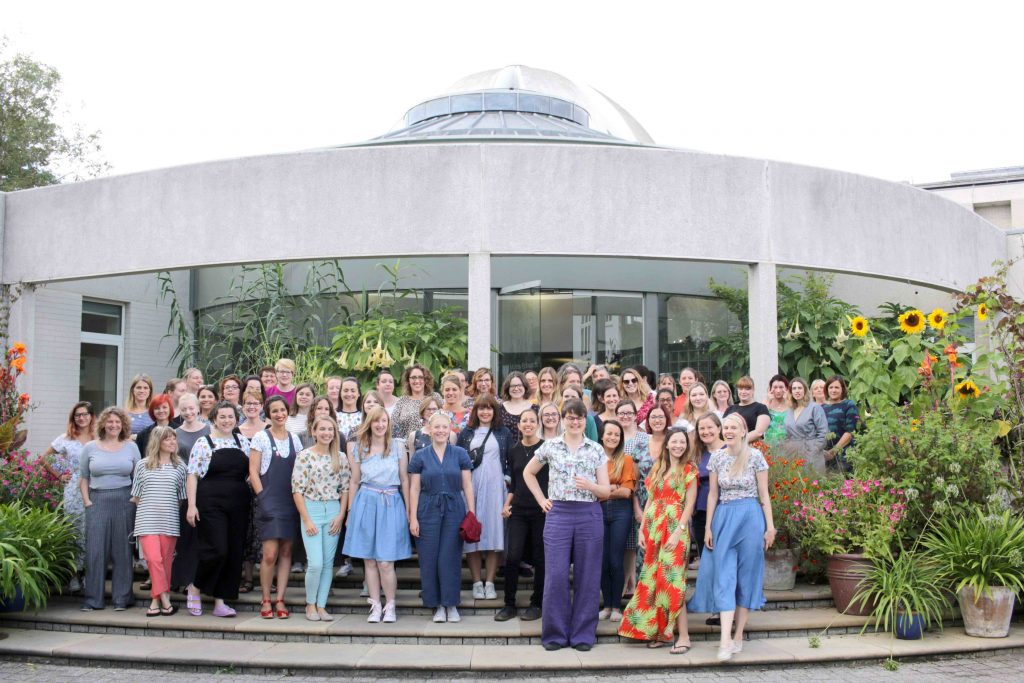 ---

Come and join our sewing Facebook group where we are chatting about sewing plans, new patterns and helping each other out with projects.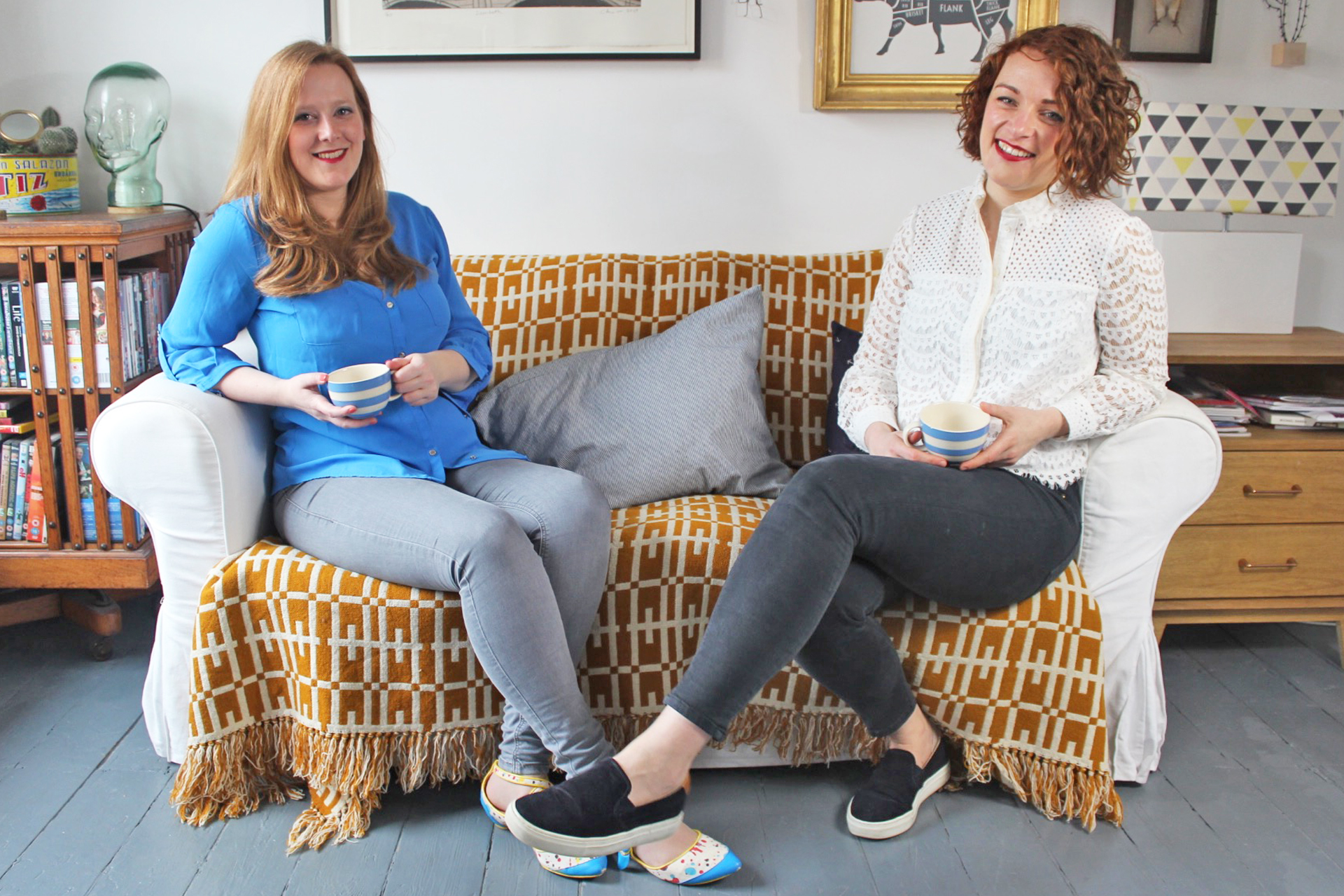 ---
The post Sew Reporter – 12th April appeared first on The Foldline.