As the weather starts to warm up, it's the perfect opportunity to rethink your wardrobe. You can add some lightness and freshness to your outfits by creating a summer capsule wardrobe.
What makes the perfect summer capsule? Well, there's obviously no one-size-fits-all answer. What is right for your summer outfits won't be right for someone else. But below you'll find plenty of ideas about colors to wear, summer staples, accessories – and how to put them all together into countless outfits to see you through the summer months and beyond.
What to think about when putting together a summer capsule wardrobe
Before looking at my chosen summer capsule clothes and accessories, let's take a look at what to think about when creating your summer outfits, so they suit your style, and your lifestyle.
If you want to read more about the best way to create a capsule, you can always take a look at our ultimate guide to creating a capsule wardrobe that works for you.
Add a bit of color to your closet
Summer is the perfect time to experiment with color. Even if you are a neutrals lover, you can still think about adding a pop of color to your summer wardrobe.
Sara (above), for example, keeps her top, bag and sneakers neutral, but adds color with the lovely coral shade of her skirt and the magenta of her bag.
Recreate her outfit with this similar shirt, skirt, sneakers, crossbody bag and necklace.
Swap your dark neutrals for paler shades
You may usually opt for black or navy as your neutrals of choice, as these can be perfect for the cooler months.
But, you will find that paler shades can add some summer flare to your closet. White, beige and pale grays are just as versatile as your darker neutrals, and will go with just as many other colors.
Josephine (above) chooses white as her neutral shade, and adds a blue shirt.
Check out this similar blouse, pants, sneakers, necklace and hat.
You can still add flattering layers
While layers can be your friend when it comes to creating flattering looks, particularly if you have parts of your body, such as your belly, that you aren't quite so keen on.
This can be easier during the cooler months. However, even though the weather is warmer, you can still add lightweight, or sleeveless, layers to flattering effect.
Dina (above) chooses cool, lightweight layers in linen.
Get her look with this similar tank top, shirt, linen pants, slides, straw hat and sunglasses.
There are more ideas in this article on how to hide a belly with the right clothes.
Keep your eye on the summer trends
You don't have to be a slave to fashion. But if you know what is on trend, you can cherry pick the trends which suit you. Just adding one or two can bring some modernity to your existing outfits.
Mimi (above) adds a puff-sleeve top to her summer skirt.
Check out this similar puff sleeve top, skirt, slides, handbag, necklace and sunglasses.
If you want to refresh your memory, take a look at the best trends for spring and summer 2020.
Summer capsule inspiration
Below, you will find that I have been inspired by some of the summer trends, while also keeping this summer capsule completely timeless, so you could wear everything for many summers to come.
I've kept to a palette of blacks, white, gray and monochrome, and added some summer freshness with pastel shades.
Summer capsule: Tops
Every summer capsule needs a great t-shirt or two. However, you don't have to opt for a plain tee. Look out for ruched and drape styles which will be more flattering.
You could also look at some longer tops or tunics to go with leggings, and think about graphic prints which look modern and hip.
Caslon ruched t-shirt – Madewell ribbed t-shirt – COS linen sleeveless top – COS printed top
Summer style: Jackets
Unless you live somewhere where it is hot throughout the day, you are likely to need a cover-up at some point, either for cooler evenings or if you want to stay warm in cool air conditioned buildings.
Helen (above) wears a lightweight moto jacket with her midi skirt and yellow sandals.
Recreate her look with this similar knit jacket, midi skirt and sandals.
The Club Monaco moto jacket (below, left) might look like a traditional leather jacket, but it is actually lightweight nylon – perfect for adding a little warmth for summer evenings without being too hot.
You could also consider sleeveless cover-ups to add flattering layers without too much warmth.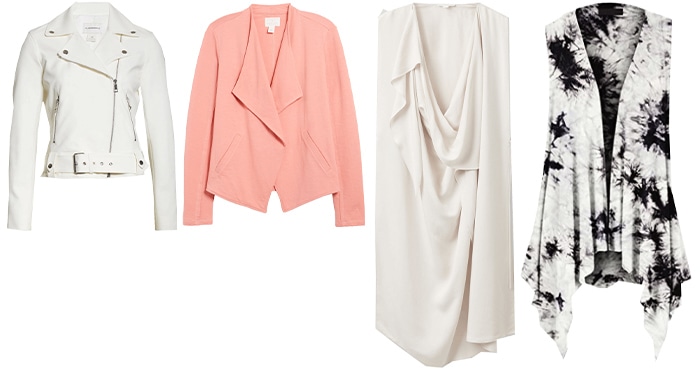 Club Monaco moto jacket – Caslon drape collar blazer – COS neck-tie cover up – Lock and Love open front cardigan
Summer trends: Pants & Jeans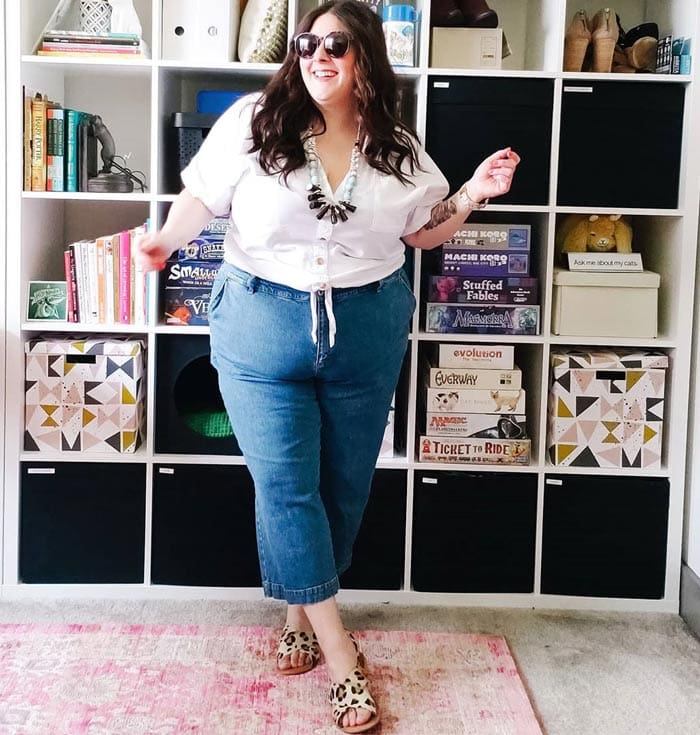 I actually started my summer capsule with the bottoms rather than the tops. This is often how I begin to put together a capsule. The pants and jeans in my capsule act as the base and will mix and match with any of the tops in my wardrobe.
I knew before I started that I wanted to include a pair of white jeans, crop flare jeans, some shorts and a pair of print pants.
Jamie (above) chooses cropped jeans to show off her lovely slim ankles.
Check out this similar front tie knot top, crop jeans, flats, necklace and sunglasses.
Lafayette 148 New York crop flare jeans – 7 For All Mankind crop skinny jeans – Rag & Bone denim bermuda shorts – Marks & Spencer floral cropped trouser
Summer dresses, jumpsuits & skirts
Even if you don't usually wear dresses or skirts, then summer could be the time to swap your jeans or pants for a skirt. Or, if you still prefer pants, how about trying a jumpsuit?
Sandra (above) opts for a stylish, floral jumpsuit.
Get her look with this jumpsuit from LOFT, and wear it with this similar pair of ankle strap sandals, earrings and necklace.
There are more jumpsuit ideas in this article on the best summer jumpsuits for women over 40.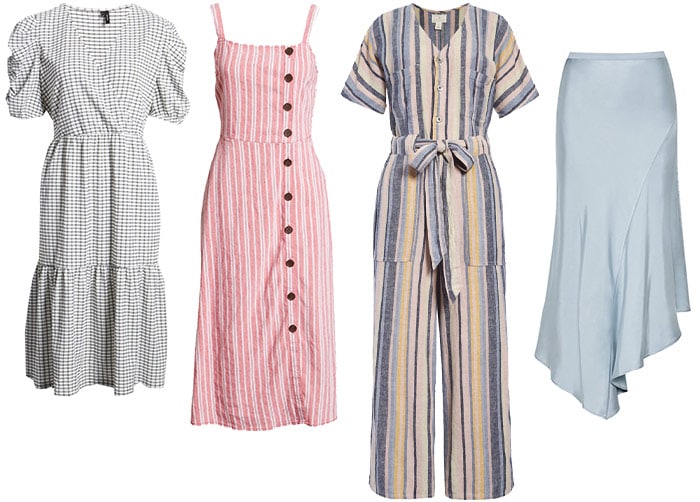 VERO MODA puff shoulder midi dress – Treasure & Bond button linen midi dress – Caslon stripe jumpsuit – ANINE BING asymmetrical silk skirt
Summer shoes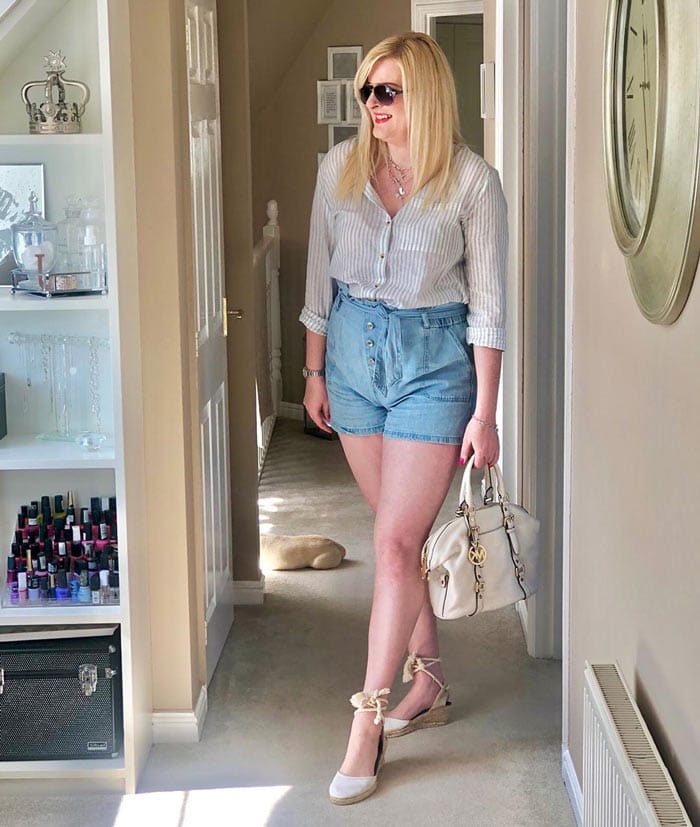 You're unlikely to want to wear anything too heavy or to cover up too much of your legs during summer. Instead, look out for sandals, wedges and sneakers to go with your summer outfits.
You could always add a pair of ankle booties too for transitional weather if you would like to.
Jo (above) chooses ankle-tie espadrilles with her shorts and striped shirt. She achieves a lovely balance with her outfit, showing off her legs, but then covering up with her shirt.
Check out this similar shirt, denim shorts, espadrille sandals, handbag, layered necklace and sunglasses.

Caslon flat slide sandal – Cordani peep-toe sandal – Toni Pons linen wedge sandal – 27 Edit slip-on sneaker
Accessories to wear in summer
Accessories are, arguably, more important during the summer months than any other time. You will want to protect the delicate skin around your eyes from the sun with a stylish pair of sunglasses, and keep the sun off your face with a hat.
Jas (above) wears a pair of mirrored aviators.
Steal her look with this similar dress, espadrille sandals, handbag and sunglasses.
And, of course, your accessories don't have to be purely practical. You can also look at some neutral bags, pretty jewelry and lightweight scarves to add some extra flair to your summer capsule.
Sole Society tote – FashionPuzzle crossbody bag – Brixton straw fedora – Nordstrom silk square scarf – Quay Australia sunglasses – Sole Society pearl pendant necklace – Sole Society hoop earrings
Putting Together Your Capsule Wardrobe Into These Summer Looks
Below you can see how you could put some of the clothes, shoes and accessories featured above together into your summer outfits.
There are just 9 ideas here, but you can mix and match to create plenty of different additional options.
What do you think of this summer capsule wardrobe? What would you feature in your own summer capsule?
Continue reading:
Like This Post On Creating The Ultimate Summer Capsule Wardrobe? Share It On Pinterest!
Feature image by Josephine
The post Summer capsule wardrobe: 27 items, countless ways to wear them appeared first on 40+ Style.