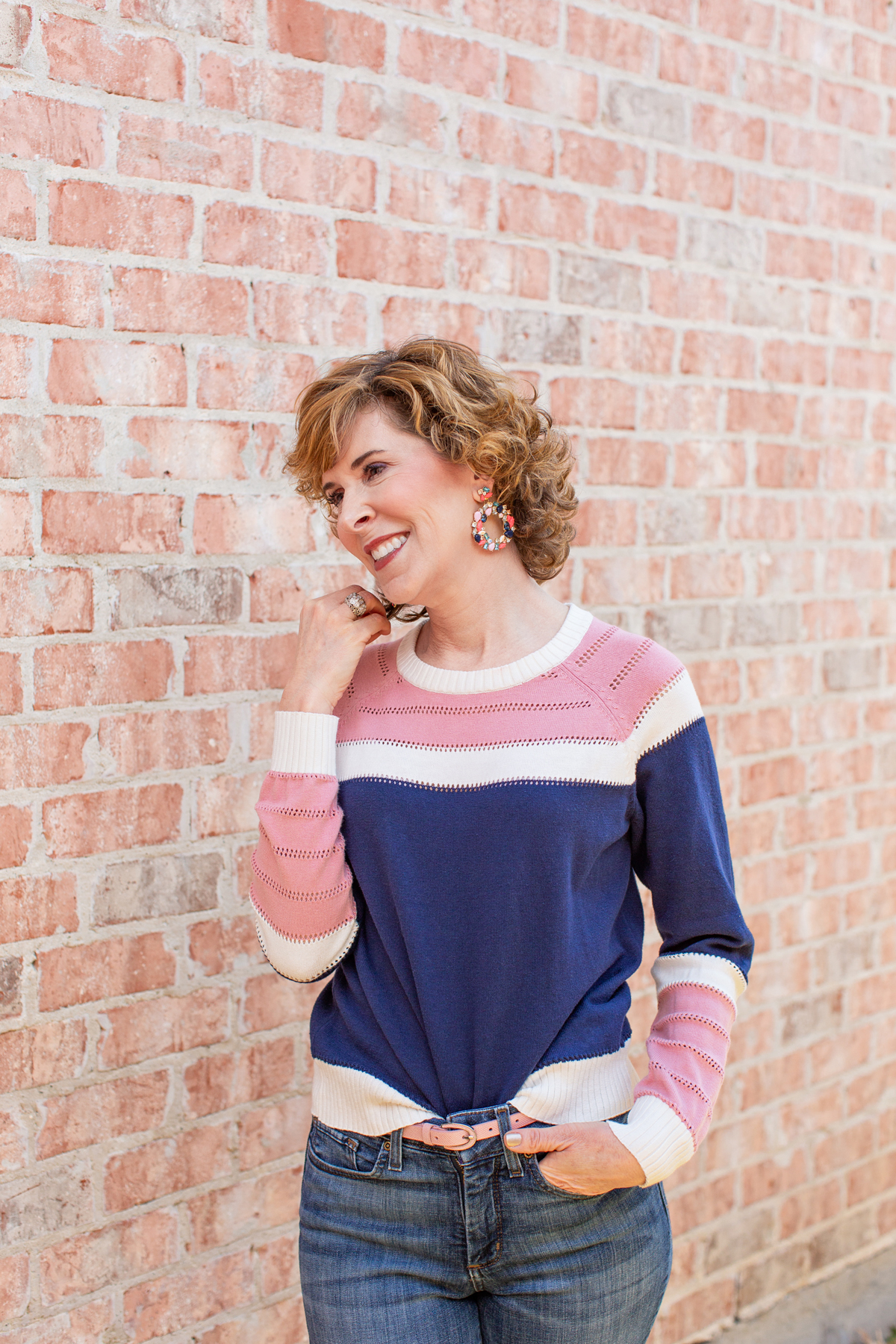 Happy Weekend, everyone! What's up for you this weekend? My two boys (men!) are coming into town to go to an XFL game with Bob, so I'm excited to get some time with them before they all head out for the game! After that, I'm headed to WHBM to film a fun try-on session for Instagram next week! Then on Sunday, we'll go to church and I'm going to try to clean out my files!


Don't forget to set your clocks
forward this weekend! To me, that's a sure sign that spring is right around the corner. It also means we'll all go to bed an hour earlier on Saturday night, right?

Not a chance for us! Bob and I are in the middle of watching The Devil Next Door on Netflix and WE. CANNOT. STOP. It's unreal.
Instagram Roundup
Every once in awhile, I like to do an Instagram roundup! Since I know some of you aren't on Instagram, or you might have missed my posts the first time around, I'm running them down again, complete with all the links you need if you want more info. (BTW, if you think you're missing my daily Instagram posts, click HERE for more info.) Lots of these pieces are on sale this weekend, so be sure to click through if you see something you like!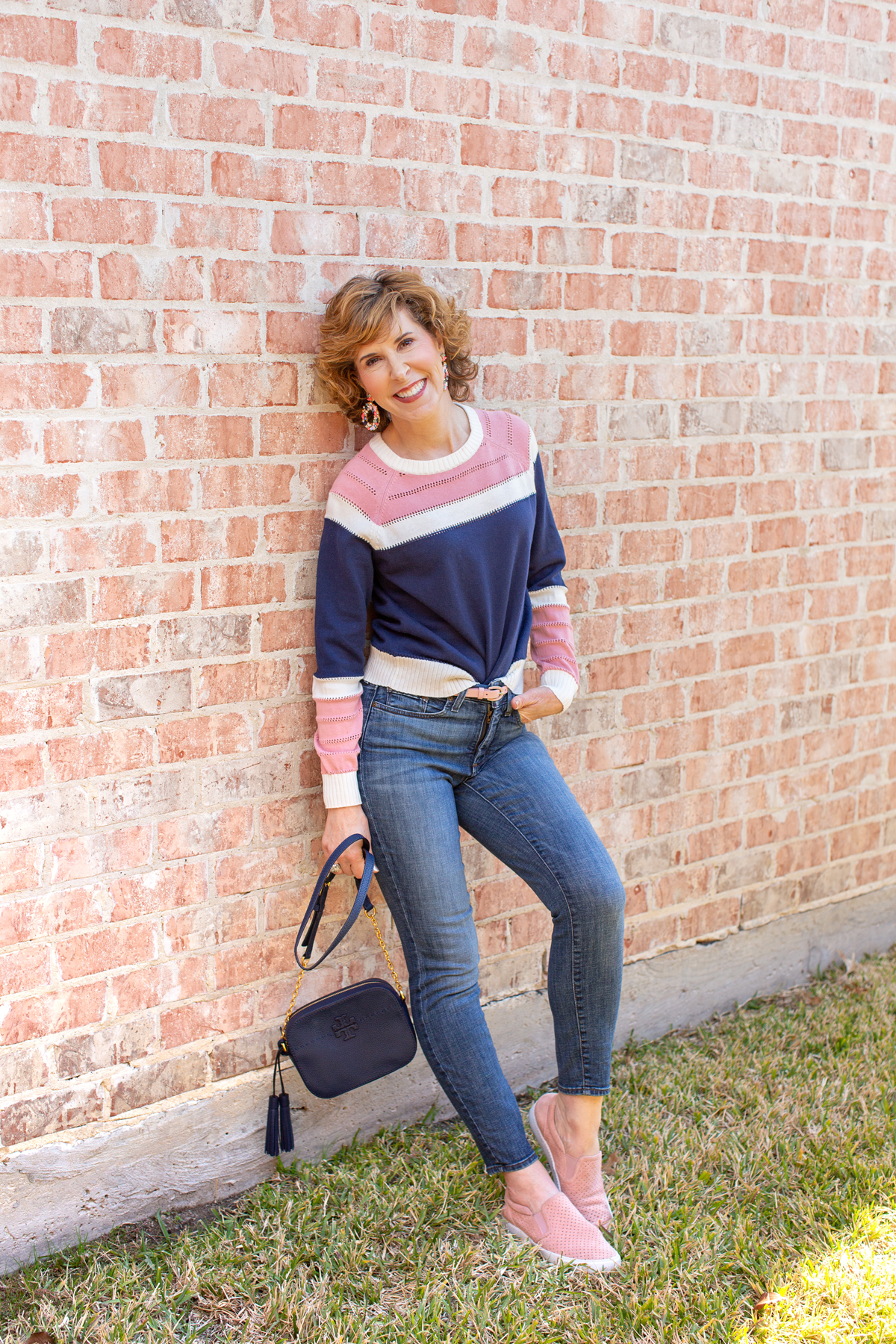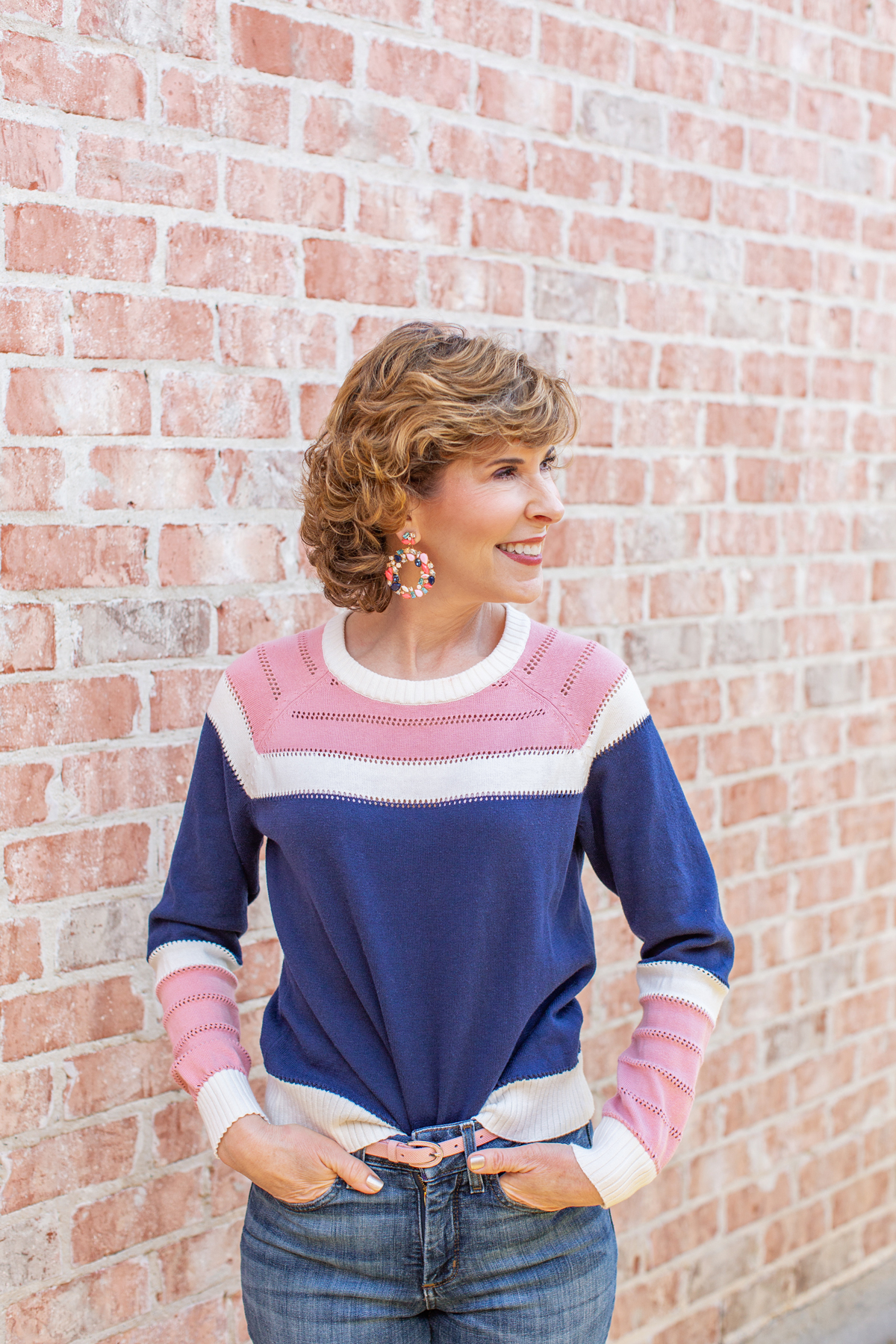 Lightweight Colorblock Pullover (3 color combos) | NYDJ Jeans | Similar Blush Belt (3 belt set) | Similar Blush Sneakers | Similar Navy Blue Camera Bag | Similar Floral Earrings

My favorite thing about this pretty light cotton sweater is the small hole detailing! It looks so feminine. It has a boxy fit, so I did a front tuck. It fits TTS, and I'm wearing an XS for reference. It comes in three different color combos, and I think the black and gray one is so chic!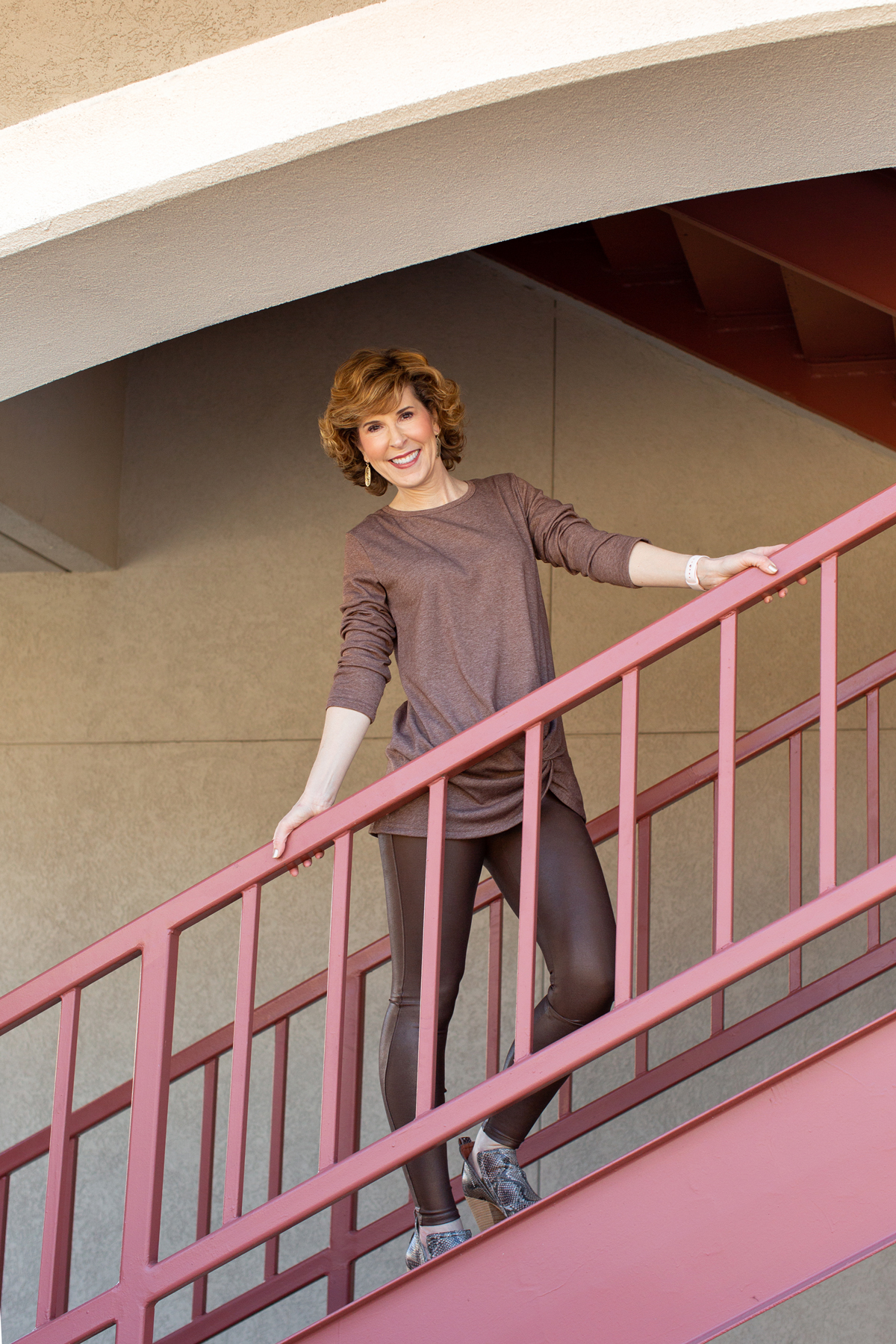 Twist Knot Tunic (multiple colors) | Bronze Faux Leather Leggings | Snake Print Booties – sold out | Similar Gold Filigree Earrings

My twist knot tunic comes in so many colors you won't believe it! It also comes in short sleeve variations that are so cute! It fits TTS and I'm wearing a size small. It's a little shorter than I usually like with leggings, but I couldn't resist putting them together when I saw how well these bronze faux leather leggings went with it.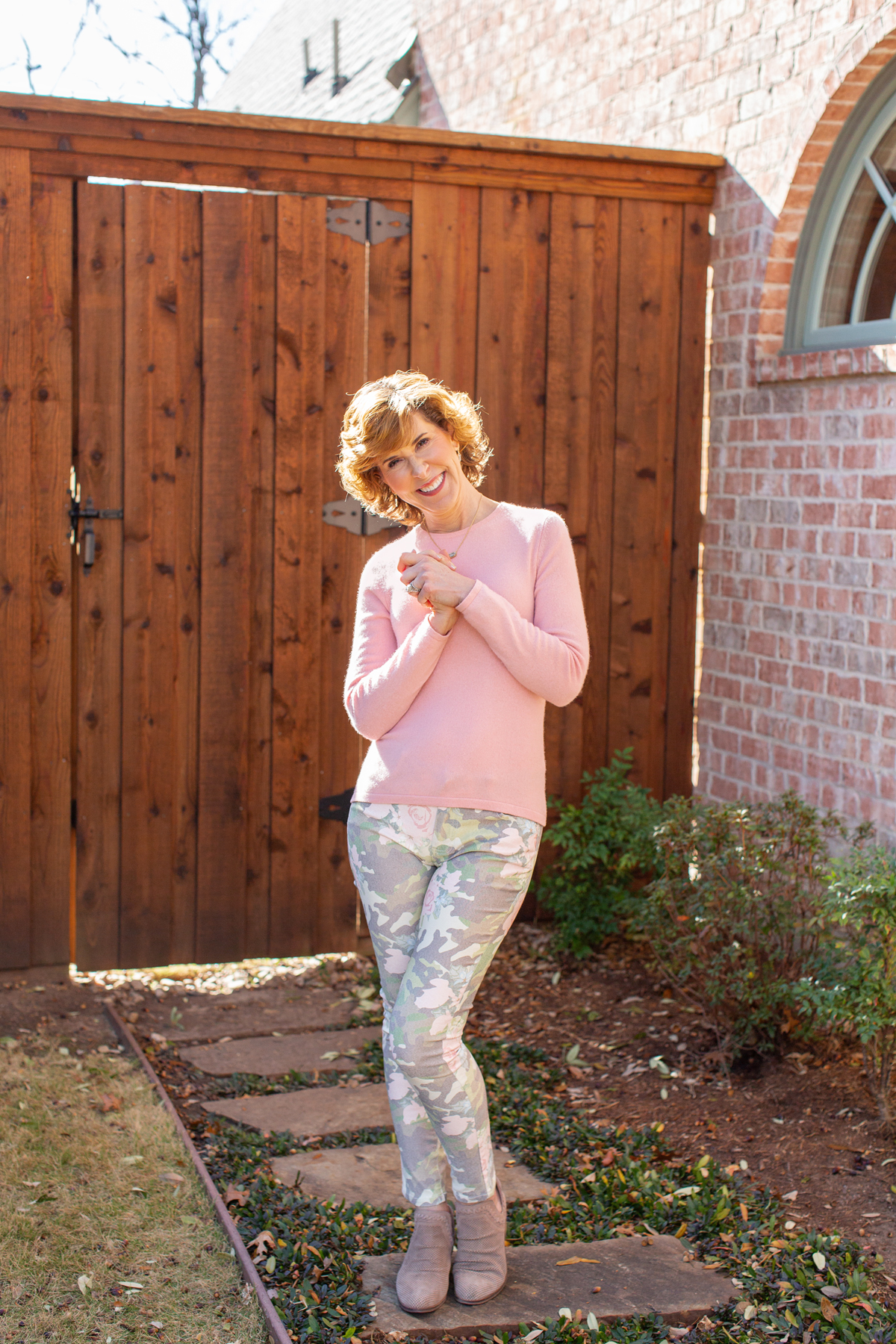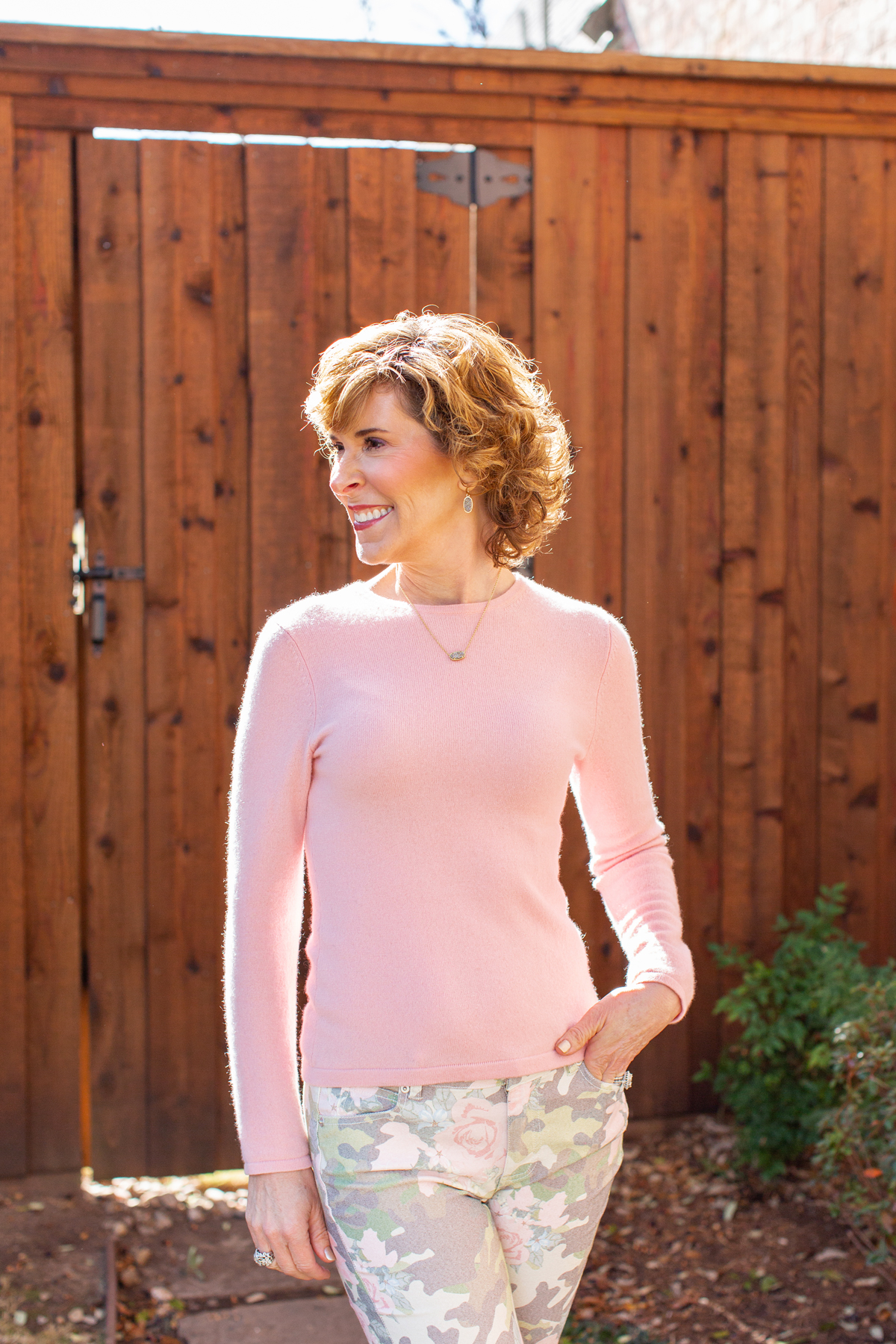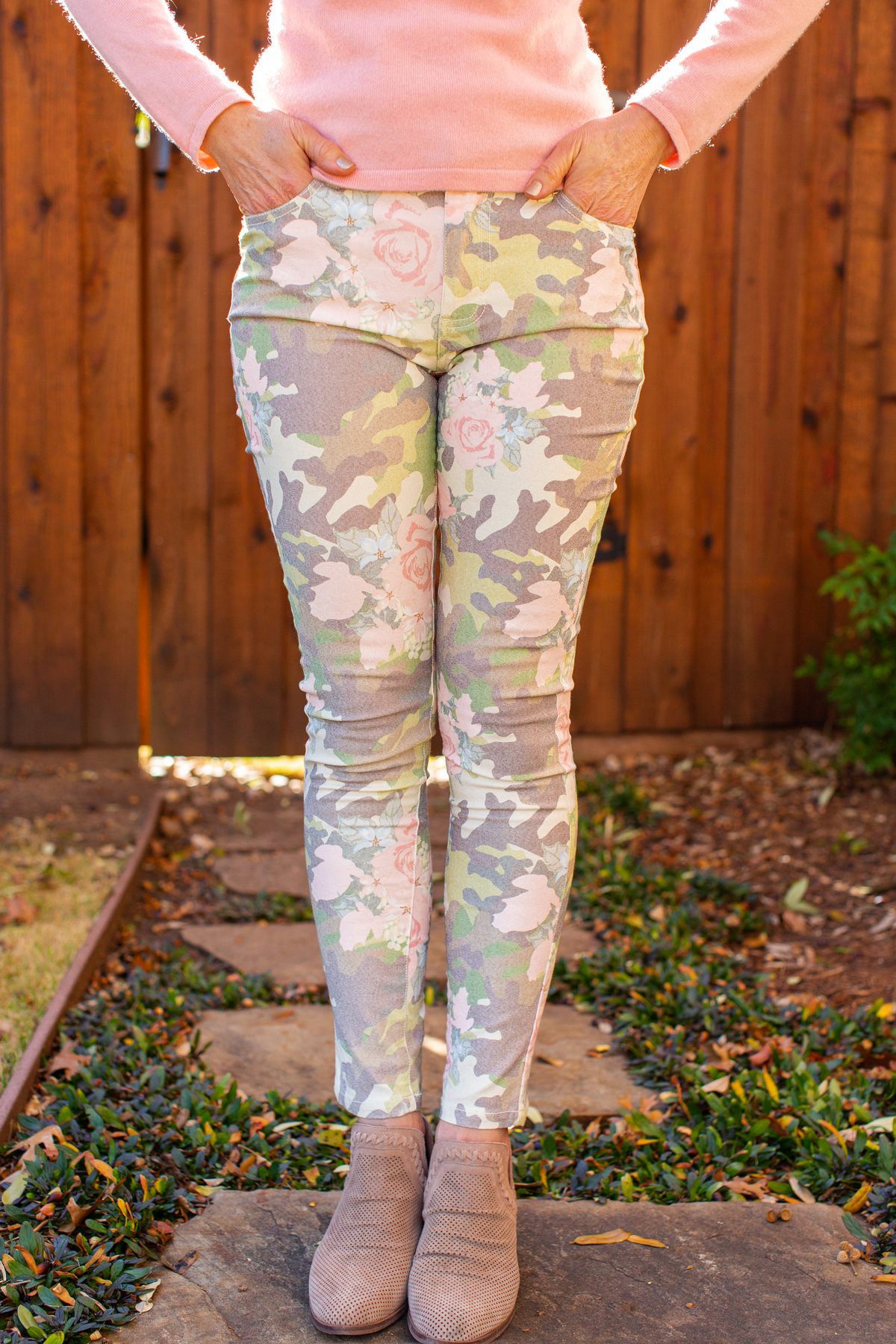 Similar Pink Cashmere Sweater | Floral/Camo Jeans | Taupe Suede Perforated Booties | Necklace | Earrings

Honestly, I planned this entire outfit around these floral/camo jeans! I think they're just so special. They're already sold out in some sizes, so hurry if you want them!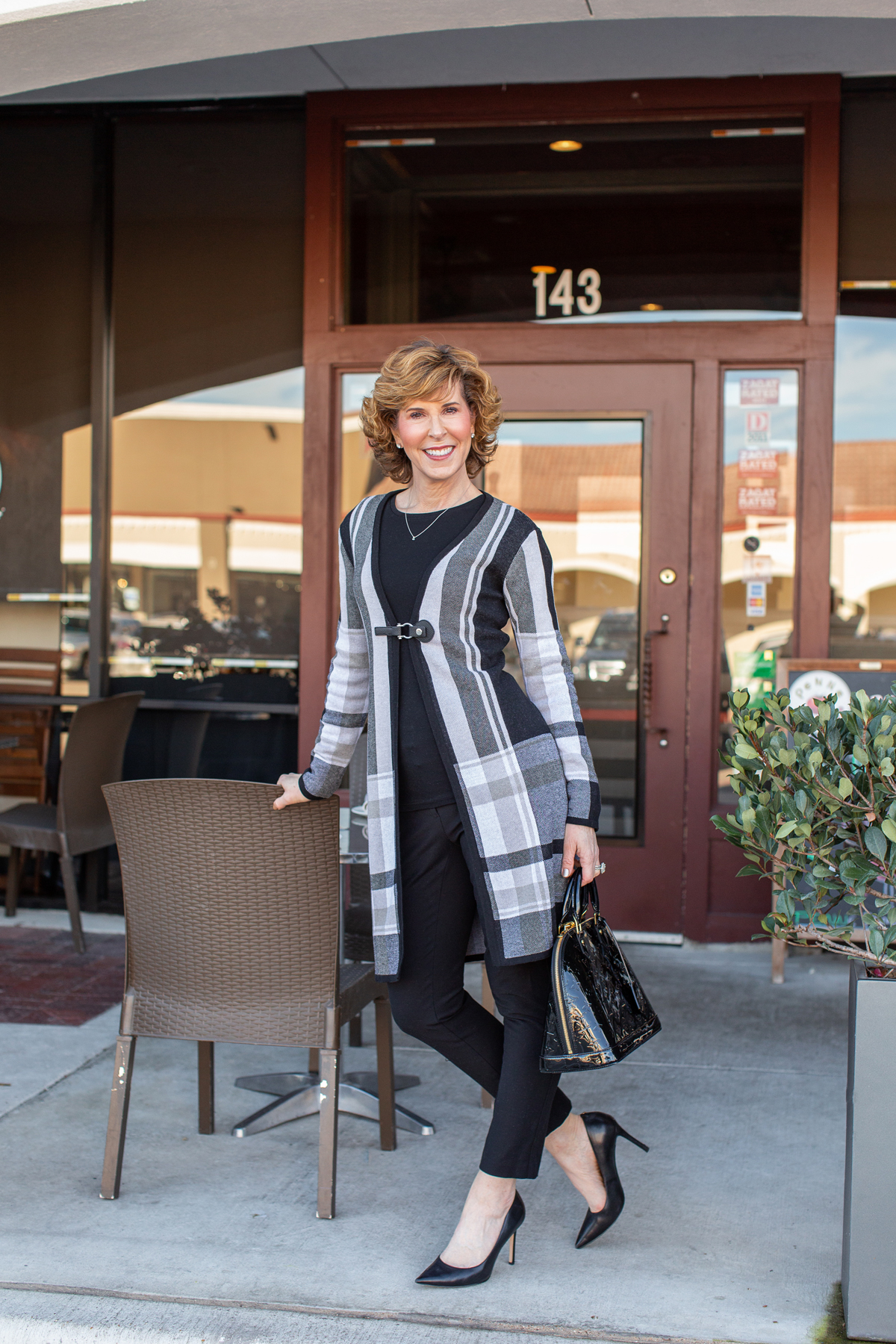 Black Plaid Coatigan | Black Ankle Pants | Long Sleeve Black Crew Neck Tee | Black Pumps (in wide width!) | Pre-owned LV Handbag | Initial Necklace | CZ Earrings

In my 2020 spring & summer style guide, I told you to watch out for the coatigan trend this year! It's a fun combination of a cardigan and a coat, and this chic plaid one is a perfect example!
Navy & Cream Ponte Knit Dress | Navy Suede Pumps | Faux Sapphire & CZ Earrings

I shared this beautiful and flattering Ponte knit dress with you in February's SO in the KNOW post! The darker side panels and the light middle panel make is so slimming! The fact that it's a Ponte knit means it washes well, and it's so comfortable! And the tie at the neck directs all of the attention to your smile, which is just how you want it, right? Also, don't miss these affordable faux sapphire & CZ earrings from Amazon! They look authentic!
Lightweight Cowl Neck Tunic Dress | Taupe Suede Perforated Booties | Rose Gold Earrings | Rose Gold Sandals (warm weather alternative!)

I wore this rose tunic dress the last time I flew to our beach condo in Florida! (It's a lot pinker than it looks in this photo! Click HERE to see the actual color.) While I was traveling, I wore it with my bronze faux leather leggings, and I put my silk long underwear under it because it was cold when we left Dallas. When we got to Flordia, I peeled off the leggings, long underwear, and booties, and I added these rose gold sandals!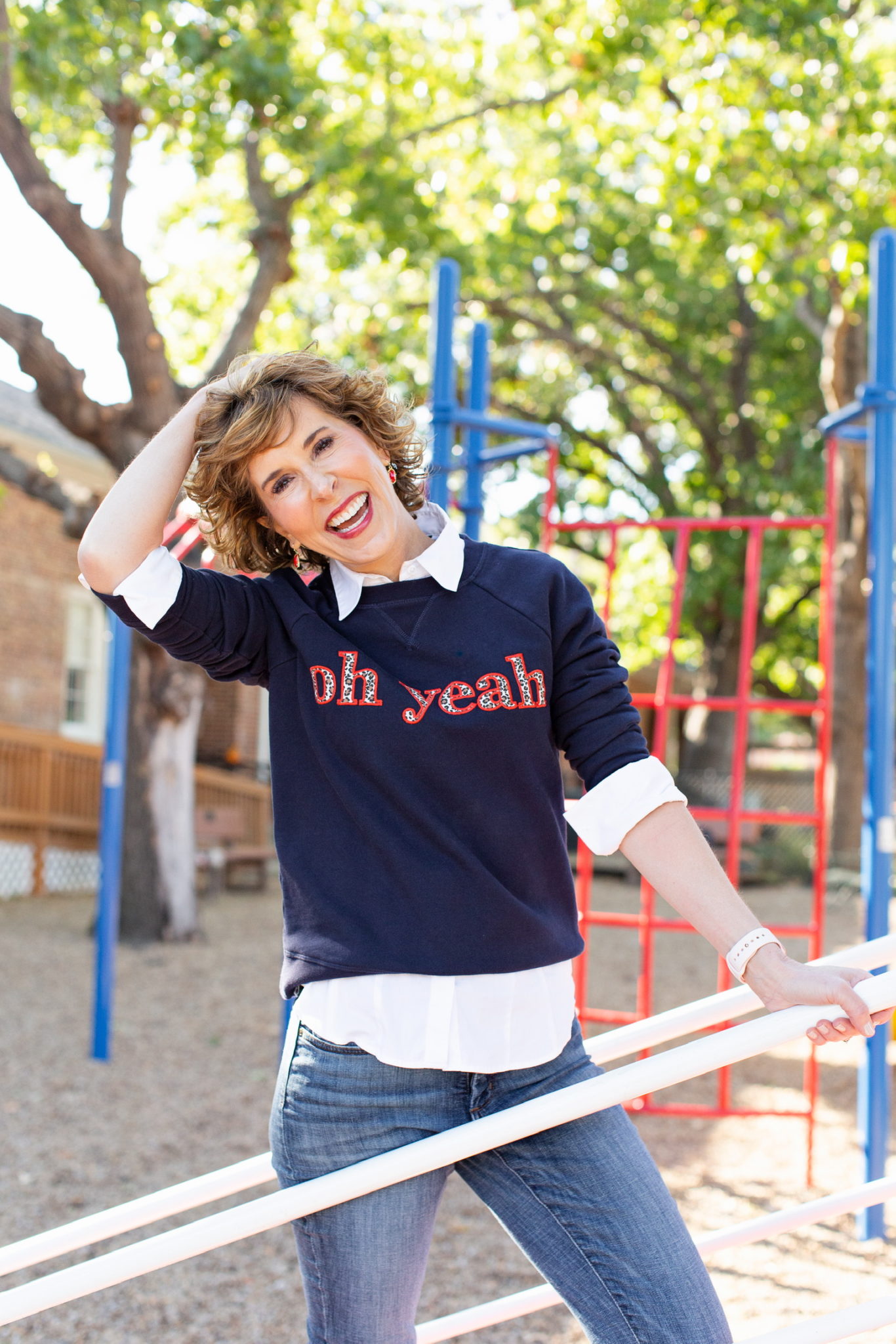 Oh Yeah Sweatshirt (30% off) | White Button-Down Shirt | NYDJ Jeans | Red Suede Ballet Flats | Earrings

This sweatshirt has been on repeat this winter! Isn't it fun? It's 30% off right now! I usually wear it with these red suede ballet flats or with these animal print ballet flats!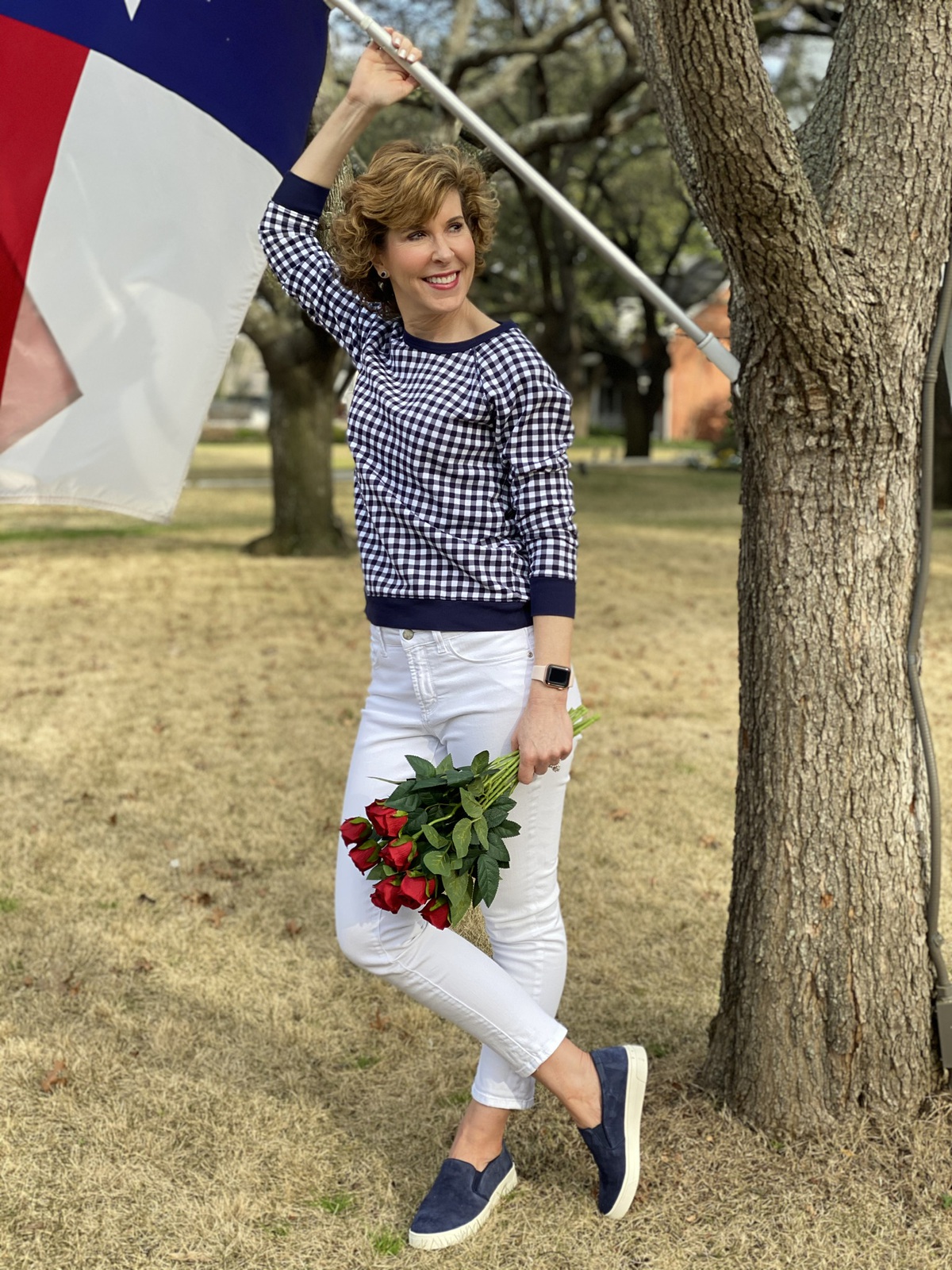 Lightweight Gingham Pullover | White Jeans | Navy Suede Sneakers | Faux Sapphire & CZ Earrings | Red Roses

It should be clear right now that I have a thang with navy and white together! I think it's such a clean look, and I love it for spring and summer! This lightweight gingham pullover also comes in light blue and white and yellow and white. The red roses I'm carrying are made of velvet, and they're less than $15/dozen. I think they look so real! If you need some in red, white, or pink for an upcoming wedding or something, you can check them out HERE.
Best Weekend Sales
If you're headed somewhere tropical, you'll want to check out the swimsuits on sale at J.CREW this weekend!
ANN TAYLOR |  40% off entire purchase with code FRIENDS40.
BODEN | 15% off + free standard shipping over $49 (sale items excluded)
J.CREW | 30% off vacation getaway styles with code GETAWAY (lots of cute swimsuits in this sale!) + 40% off sale styles
J.CREW FACTORY |  40% off new arrivals! How cute would this dress be paired with these block-heeled sandals?
LOFT | 40% off entire purchase with code NEWNOW +  EXTRA 10% off for Loft Rewards cardmembers Hooray for brands with styles for petite, regular, and plus!
NORDSTROM | New markdowns, including this vacay-ready knit maxi I just bought and more! 
NORDSTROM RACK | The greatest thing about Nordstorm Rack is that you'll find deals on lots of brands you know and love right in one spot! This week's hot deals:
TALBOTS |  30% off entire purchase. I love this pretty dress with flattering gathers at the waist from their March collection!
TARGET | Get your patio ready for spring and summer with 25% off + and an additional 15% off patio furniture, pillows, cushions, and more! Also 40% off furniture and up to 25% off home items. I seriously feel that I might need this vase very, very badly. Chip & Jo's Hearth & Hand with Magnolia collection launches Sunday 3/8! You can preview the collection HERE.
WHBM | 30% off entire purchase VIP sale starts Saturday 3/7.
Have a great weekend, friends!
Blessings,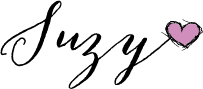 The post What's Up, Weekend? | Insta Roundup + Spring Forward Weekend Sales appeared first on Empty Nest Blessed.