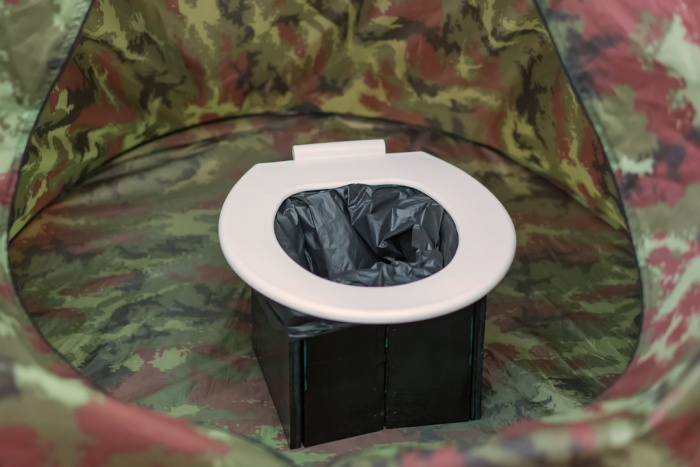 What do you need in your emergency bathroom kit? Have you ever been in an uncomfortable situation where you really needed to use the restroom but there wasn't one to be found?
The desperate moment can be extremely painful and utterly terrifying, especially when thoughts start running through your head that your britches might not make it out of this one unscathed.
Maybe you found a restroom just in the nick of time, but you'd be too afraid to let your dog use the facility? Gross! 
What You Need in Your Emergency Bathroom Kit
Whether you're out hiking in the woods, or driving past endless cornfields out in the country and the urge becomes real, not only should you be able to find that much-needed relief, but you should be able to take care of business in a sanitary way.
You don't necessarily have to be a prepper for this one, as this smart solution applies to everyone. Here's what everyone needs in their emergency bathroom kit. If you missed my OTC Medications You Should Store, please read it and stock up when you can.
Tums
Dealing with an upset stomach far away from home can be awful. Make sure you bring along Tums to help bring your stomach the relief you so desperately need. 
Antidiarrheal
Not too many things in life are worse than having diarrhea when you're out shopping at the flea market or backcountry camping deep in the woods with your friends. Nip it in the "butt" with an antidiarrheal. You'll be more than glad you have it with you! 
Toilet Paper
Unless you want to resort to using leaves or skipping wiping altogether (heaven's no), make sure you pack plenty of this no-brainer item.  
Hand Sanitizer
There might not be a place where you can wash your hands after you've used the restroom. Hand sanitizer for afterward is a must! 
Extra Underwear and Pants 
This one's not just for your little tyke who's getting potty trained. Yep, this one includes you too mom and dad. Just because you're older now doesn't mean you're not accident prone when there's simply nowhere to go.
Make this embarrassing scenario easier on yourself by packing an extra pair of undies just in case. But don't stop there. An extra pair of pants would be a good cover-up story and you'd be able to laugh easier afterward.  
Plastic Bag or Trash Bag
You need something where you can put your child's peed clothes, or your own soiled clothing in. I can't think of anything better than having a few extra plastics or trash bags handy. 
Pop Up Privacy Shelter
When you got to go, you got to go. When there's nowhere to run or hide, a Pop-up Privacy Shelter can de-escalate some of your mind's reeling hysteria and pandemonium from the situation.  
Travel John Emergency Kit
These TravelJohn Emergency Kits help you to make a close-call situation a more sanitary and manageable moment. They include 3 portable urinals, 3 solid waste bags, 5 vomit bags, and they are odorless and disposable. 
It's a unisex kit that can be used for whatever bathroom emergency scenario you can think of. It also comes with an adapter and spill guard so that you won't be cleaning up a mess afterward. (Perfect for families who travel with children who have to go constantly and dads that don't want to pull over.)
Emergency Car Toilet Kit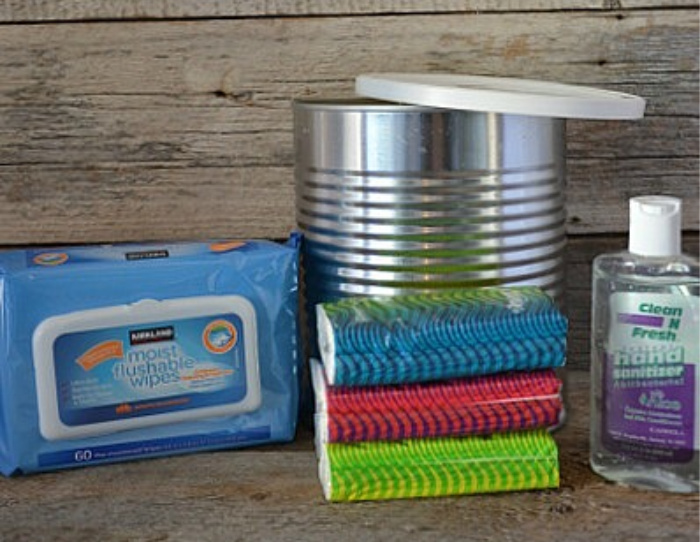 Do you find it absolutely disgusting to use a portapotty, but you're to the point where desperate times call for desperate measures? Or maybe the facility is much more sophisticated, but still nothing short of disgusting?  
I wrote this post many years ago, but if you missed it, here it is: Emergency Car Toilet You Need In Your Vehicle. All you need is a #10 can, several 4-gallon bags, toilet paper, tissues, baby wipes, and hand sanitizer.    
Emergency Toilet Kit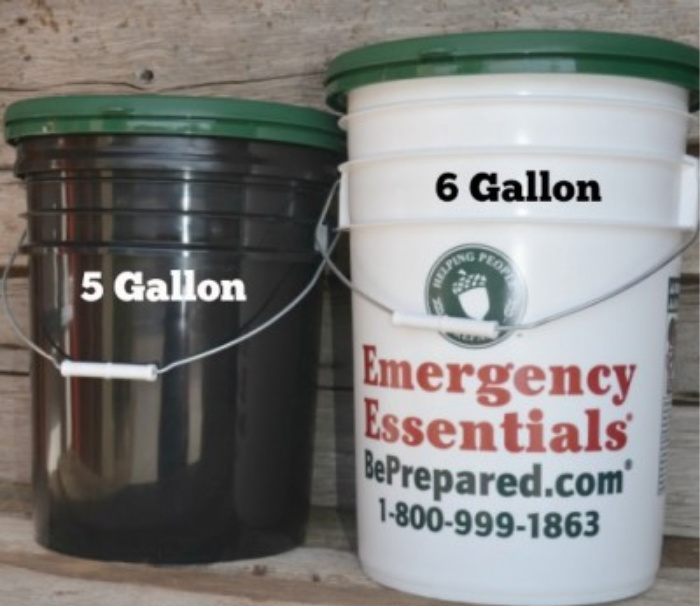 If your family is ever put in an emergency situation, or are camping at a site that doesn't have any restroom facilities nearby, this kit is perfect to have on-hand. An Emergency Toilet Kit is a 5 or 6-gallon bucket with a toilet seat that comes attached to it.
The lid is snap-on, so it can perfectly seal its contents inside. Toilet Seat Lid. I buy a box of 500, 10-gallon bags at Costco for these emergency toilets.
Final Word
At the time it's no laughing matter when you turn blue in the face or your eyeballs are starting to float and you're needing to experience some quick relief. Hopefully, these items and kits will help make your future close-call situations much more manageable. Sure, they take up a little extra room in your vehicle, but when they need to be used you'll be so glad you took them along. I'm sure that I'm not alone on this one. Please keep prepping, we must. May God bless this world, Linda
Copyright Images: Toilets Camping Deposit photos_347448486_s-2019
The post What You Need in Your Emergency Bathroom Kit appeared first on Food Storage Moms.