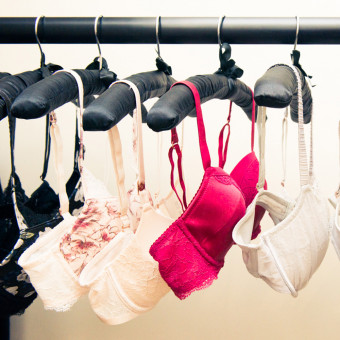 This week on Open Tabsan assortment of links we have on our open tabs for the weekwere giving you a peek into our own internet habits and the stories and themes we cant seem to stop talking about, like how knowing your breast shape is more important for a well-fitting bra than you think, the newest release from Fenty Beauty, the latest updates concerning Iran and the U.S., and much, much more.
1. Why You Need to Know Your Breast Shape (viaCosmopolitan)
Theres a moment we look forward to after a super-long dayits that time when you finally take off your bra (unless you dont wear onein that case, free the nip), and you let out this huge sigh of relief. Whether that sigh comes from the pain and discomfort of your bra or just the sheer fact that youre happy to have it off, the way your bra fits could have a lot to do with the shape of your breasts. There are over 10 different types of breast shapes, and no two are exactly alike. With that being said, its even more important to understand the best bra shape that corresponds to your boob size [and shape], compared to just knowing your band and cup size.
2. Fenty Beauty Announces Release of Its First Mascara (via Essence)
Even though Rihanna didnt release her ninth studio album before the year ended as promised, she is starting 2020 off right with the upcoming release of Fenty Beautys first mascara! Bad Gal Riri took to Instagram on Tuesday to announce that the Full Frontal Mascara is set to hit stores on January 16th. With its innovative flat-to-fat brush, the mascara will lift your lashes while also adding definition and curl to expose them all. You get volume, lift, and curl, all with one product, says Rihanna.
3. Everything You Can Do to Help Australia (via The Cut)
Climate change is happening right before our eyes, with Australias devastating wildfires just the latest side effect of a true environmental crisis worldwide.Starting back in September, bush fires across the country continue to spread and cause a substantial amount of damage. An estimated one billion animals and 25 humans have been killed, and 12.35 million acres of land containing approximately 2,000 homes have been incinerated. There is a lot you can do to help Australia in its severe time of need, such as donating money to relief efforts or even taking the time to learn more about environmental activism.
4. All the Updates Concerning Iran & the United States (via New York Times)
Since the killing of one of Irans top generals and the countrys airstrikes on two American military bases, there are a lot of rumors flying in the media about the conflict escalating.While the thought of another war is extremely unsettling, its best to stay informed about the matter and what the next steps each countrys government is planning to take. Here is all the information you need to stay up to date.
5. A New Teaser for the Upcoming Ivy Park x Adidas Collection Is Here(via Elle)
We love a great celebrity collaboration, and Beyoncs Ivy Park is the one to watch this year. Queen Bey announced she would be working with adidas back in April of last year, and we couldnt wait to see what the collection would finally look like. It's all we can think about since Wednesday night, when the entertainer took to Instagram to release the official trailer for the collection. Itsfilled with a maroon-and-orange color scheme in various leggings, track pants, sports bras, and crop tops along with a pair of ultra-boosts that youll for sure want to get your hands on. The Ivy Park x adidas collection will be released on January 18th.
Want more stories like this?
Help! Im an Adult and I Need New Friends
15 Pieces from the Mens Section to Add to Your Closet
Fragrance Lovers, RejoiceCHANEL Scents Now Come in Pencil Form